What do you get when you bring all of these things together, into one place at one time? 1.2 tonnes of salvaged yummy vegetables, 2 circus marquees, hundreds of people with peelers, brushes and kitchen knives, a culinary crew with mega sized catering  kit, and a sound system with some funky djs?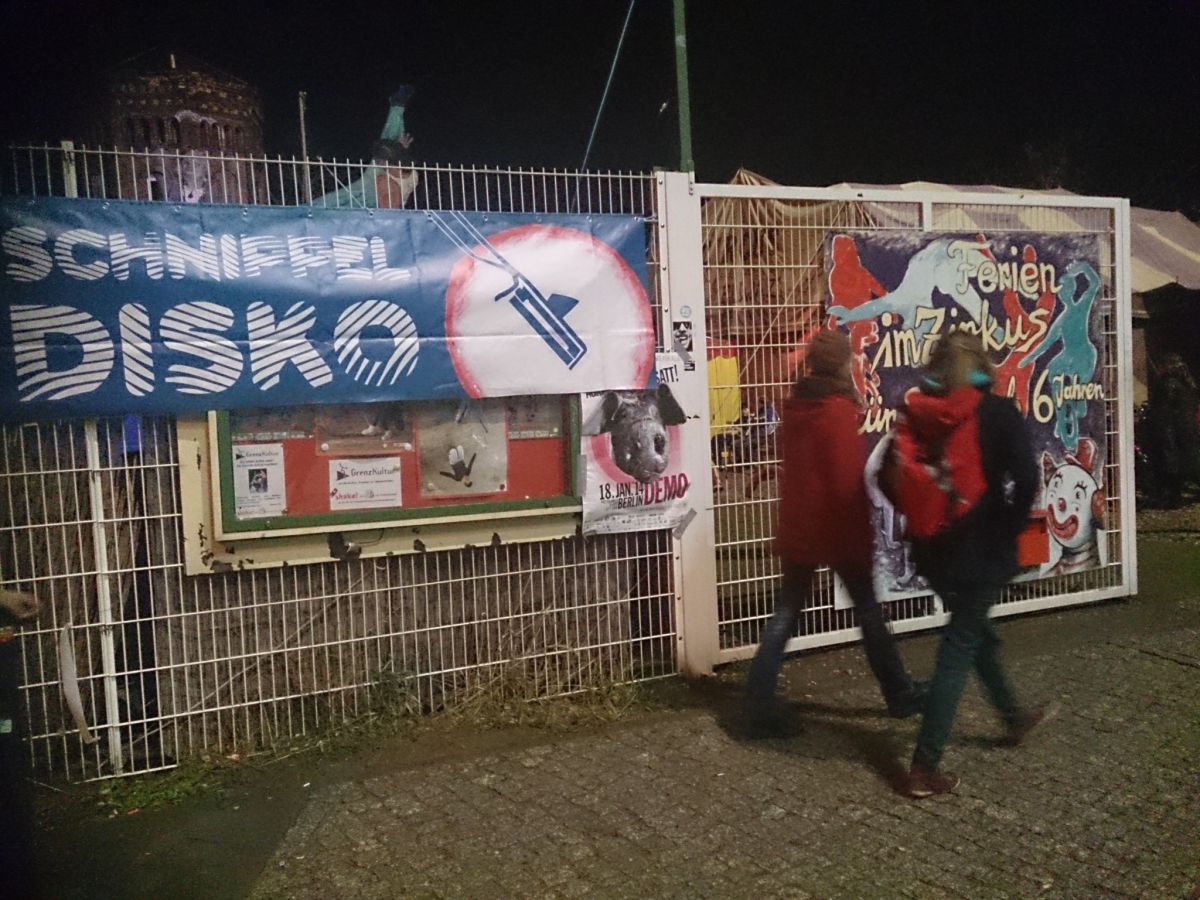 Why, you get a schnippeldisko! Schnippeldisko, or Disco Soup is a fun way to make a really important point about food waste.
Last Friday, the 17thJanuary, in preparation for the WeAreFedUp demo a large Schnippeldisko, or disco soup, was held in the Cabuwazi circus tent near Berlin's Postbahnhof. Legendary kitchen action team Fläming Kitchen brought their huge pots to cook up a culinary feast for the hundreds of colourful, carnavialesque participants of many ages, regions, nationalities and backgrounds.
DJs florinn & decent from the Green Music Initiative provided the sounds, while gripping speeches were delivered by Carlo Petrini of Slow Food International and a host of others.
Most importantly, hundreds of people came to the five hour show. They brought their kitchen kit to brush, wash, peel and snip the gloriously shaped foods of various colours, sizes and tastes. Dozens of tables were occupied by rows of eager, busy choppers of all ages as well as carrots, cabbages, pumpkins, potatoes and lots more vegetable varieties from the Brandenberg region. At the Schnippeldisko, supposed retail imperfections are ignored; the homogenised, uniform, standardised food of the supermarket are not vegetables that get chosen for this marvelous moment.

Instead, vegetables that would otherwise go to waste, adding to the shocking mountains of food that is produced but never consumed, are the stars of this culinary show.
"Disco Soup is a culinary and community experience that involves gathering, sourcing, cooking and celebrating food. Everyone has the power – and the responsibility – to help solve the global food waste scandal and join the food waste movement." said Tristram Stuart, founder of Feeding The 5000.
Its about the pleasure of conviviality, of great food, and the joy of collectively letting loose in a way that's good for the locale and the planet. Its the ultimate in that most elusive of consumer conundrums; managing to, somehow,  construct an ethical life around pleasure. Yummy
This Schnippeldisko is now globally growing into a Disco Soup movement. This movement is just a few short years old. Slow Food Youth in Germany were its initiators, and it has spread around the world, first to the rest of Germany, then France, where its popularity is growing at a spectacular rate, recently New York and Oxford in the UK.
So the big question is where next? How about your village, town or city?