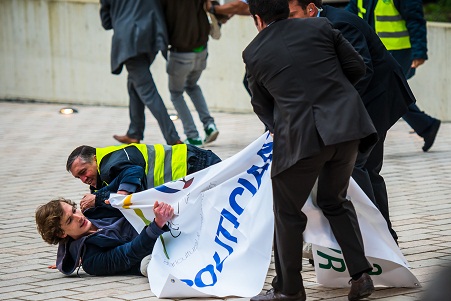 Hostile reception: "You promised a green, fair and local CAP – politicians don't cheat your citizens!" was the message held up this morning by three European activists from the civil society platform ARC2020 to welcome EU agricultural ministers in Luxembourg. EU Ministers are in town to close a deal amongst themselves and the European Parliament on the European Union's agricultural policy, worth over 50 billion € per year.
The young people and their message were obviously not welcome at the EU Councils VIP entrance. They were pushed to the floor by armed police and taken to the local police station.
Later in the day, as Members of the EU Parliament arrived in Luxembourg the group reconvened to hold up the banner again.
See all photos here: http://www.flickr.com/photos/80493129@N08/
See press coverage here: