In Germany Young Friends of the Earth's reCAP campaign has been running under the slogan "die Landwirtschaft zurück erobern!" (Take agriculture back!), with many local groups from across the BUNDjugend network running actions. Groups had the chance to borrow animal and vegetable costumes for their actions and collect signatures on postcards that will be handed over to the German Agriculture Minister Ilse Aigner.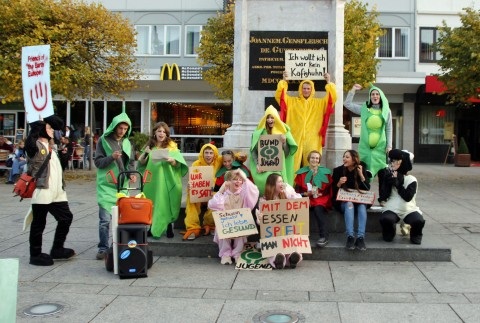 The campaign began on 16 September with an action at the Alexanderplatz, drawing attention to a variety of abuses in the European agricultural policy. To focus on the problem of subsidizing factory farming from EU funds, the Berlin activists dressed up in animal costumes, were put in chains and squeezed into tight squares.
On 29 September, activists in Bad Nauheim (near Frankfurt) dressed up as animals with ironic slogans, creating a lot of attention as they marched through the streets demanding more sustainable agriculture and promoting more nutritional awareness among the general public.
As part of World Food Day on 16 October, local BUNDjugend activists in Bielefeld organised a protest march through the town and called for a redistribution of EU subsidies in favor of rural development and sustainable peasant agriculture.
On 19 October the BUNDjugend Rheinland-Pfalz and a group of volunteers France and Germany, took the reCAP campaign through the streets of Mainz. It even took a delegation of Friends of the Earth Japan (the Japanese partner group from the Earth).
Next, the BUNDjugend Baden Württemberg organized a great reCAP action in Heidelberg during this year's Youth Action Congress on Food and Agriculture. Participants of the "Burger, Bauern und Banditen'" (citizens, farmers and bandits) themed youth conference, also participated with an action against factory farming in Hannover as part of the reCAP campaign. At both meetings, many young people were informed about what the reform of the CAP means. Find all the photos here: http://www.flickr.com/photos/_bundjugend/sets/72157631572711396/
What's next?
There are more actions are planned by the BUNDjugend group. For example on 18 November in Essen, they are organising a protest against monoculture and factory farming. They also plan to bring over 100 young activists to Germany for the "Wir haben es satt!" demonstration on 19 January 2013 in Berlin, together with activists from the YFoEE Food & Agriculture working group. More information about the demonstration coming soon.