By Nathalie Markiefka in Greece
It's quite a thing to encounter – a bag made from a refugee's life jacket, by refugees and locals on Lesvos island. Lesvos has seen many thousands of refugees and migrants arrive, and then have to remain, on the island since 2015. Lesvos Solidarity Project is an inspiring social enterprise, one of the creative responses encountered on 9-11th November this year, in Thessaloniki, Greece. There, more than 300 participants from 40 countries gathered for the 7th international CSA Symposium. Aptly, the theme of this Symposium was "Beyond Borders" and we spent some days finding out how the CSA movement is working to transgress political, social and economic borders, from Lesvos to China, the US to Palestine.
The Symposium was organized by the International Community Supported Agriculture Network urgenci and it's Greek partner, the Hellenic Network for Agroecology, Food Sovereignty and Access to Land, Agroecopolis.
Community Supported Agriculture has come a long way and finally has also been recognized by the FAO as one of the solutions to the challenging issues we're facing globally such as climate change, biodiversity loss and food insecurities. This is the fruit of the persistent advocacy work done in international institutions, at meetings around the world by the Irish native president of urgenci, Judith Hitchman and urgenci's advocacy officer from the Basque Country Isa Alvarez.
This year showed that finally also large international institutions are moving towards acknowledging the crucial role of small-scale agro-ecological farmers in not only feeding the world with healthy food, keeping rural communities alive but also in being the custodians of our natural environment. The adoption of the UN declaration of the rights of peasants is therefore instrumental to protect peasant farmers and fishermen against the destructive agendas of the agro-industry.
NEW: Third Committee approves the UN Declaration on the Rights of Peasants and Other People Working in Rural Areas
Solidarity is the main ingredient
During the first two days, symposium participants worked on diverse areas such as food justice, solidarity economy, practitioners exchange, advocacy work aiming to enhance the visibility of CSA. The next day participants came together in over 30 workshops to share experiences, knowledge, tools and helping new entrants to get started with CSA. This Symposium was especially important as it also hosted the 4th European meeting and the 2nd Mediterranean network meeting, which brought together farmers and consumers to discuss issues specific to their regions and to build a strategic plan for the future.
The Mediterranean region is particularly vulnerable at the moment and countries need to cope with political and economic instability as well as the influx of refugees. Greece was, therefore, a well-chosen location, as the Greek situation is very unstable and the crisis brought people together in solidarity to create solutions to their problems and to build community. Some products of such a project were sold at the Symposium. This is where the bags and pouches made by refugees from their life jackets at the Lesvos Solidarity Project.
Participants of the Symposium were also invited to visit a few local projects and initiatives ranging from refugee community inclusion, to urban farming, an anarchist community center (below) and the visit of activists fighting to preserve a pristine environment from being destroyed by a gold mining project. The direct contact with local activists helped with understanding the situation in Greece and the neighbouring countries.
Picture 3: Micropolis anarchist community space and shop for local produce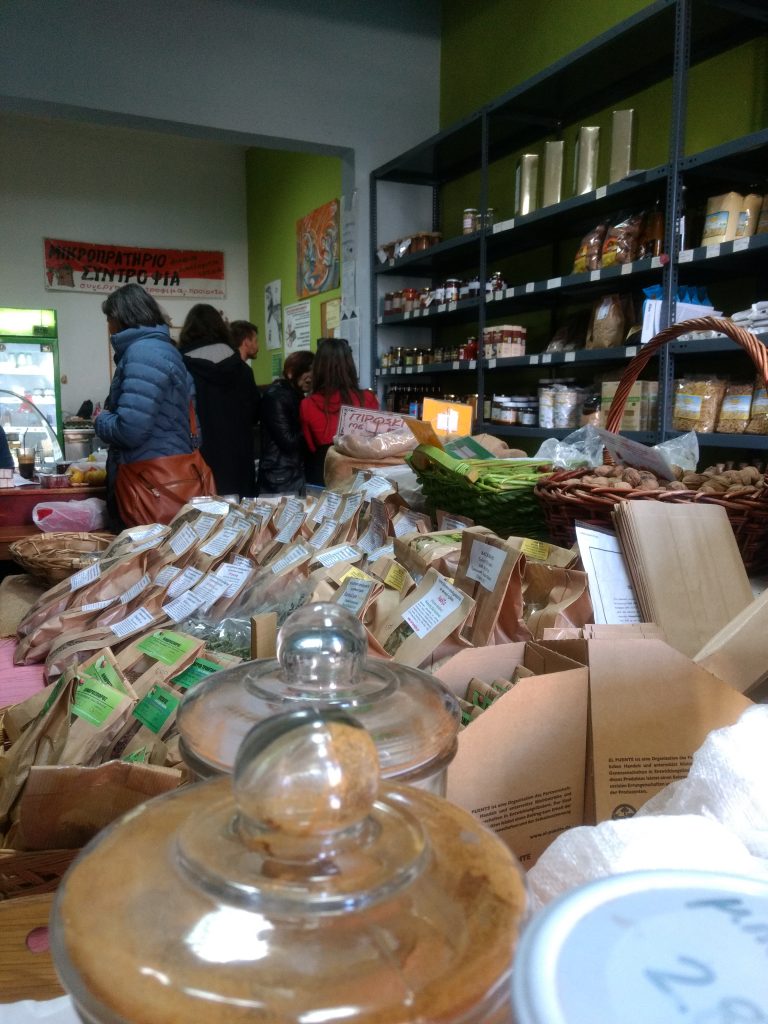 There's power in numbers
From talking to different participants at the Symposium we came to realize that our current world is in a deep crisis as many countries take a step backwards into nationalism and protectionism. As Ariel Molina, who works with indigenous communities in Brazil told us, activists in his country now have to fear for their lives due to the radical politics of the new president and the future of the Amazon rainforest is under tremendous threat. It is clear that only by working together internationally and by strengthening our alliances we can support each other and create a better future for all.
The CSA movement has tremendous potential to use its power to put pressure on governments and institutions. CSA not only brings together food producers from around the world but represents consumers, more than two million members of CSA's from around the globe. Citizens who choose to buy directly from farmers, sharing the risk and the benefits with them, choosing healthy food for their families, produced in harmony with nature. CSA members are active participants in the food system, helping to shape a fairer food future through their choices.
From ego-system to eco-system thinking
It is striking how diverse the different CSAs are around the world, each one of them adapted to the needs of the local communities. In that way, CSA's form themselves an eco-system of solutions deeply embedded into their local context. Away from homogenization towards diversification of solutions, celebrating and acknowledging the uniqueness of each culture, region, country.
This year also marked an expansion of the CSA community into Community Supported Fisheries. For the first time, fishermen were invited to join and to share their perspectives and experiences of using the Community Supported model for fisheries. CSF is growing in North America and shows that there is much potential for it. It helps fishermen to preserve their marine environment while making a living. Using that model could help strengthen the fisher communities as they see the marine resources being depleted by industrial fishing methods. A sister network for CSF under the urgenci banner is planned.
A new International Committee
The last day of the Symposium was dedicated to urgenci's general assembly where all members came together to vote for a new International Committee that will help to make decisions for the next three years. The diversity within the newly voted committee reflects urgenci's ambition to become more inclusive and to work better across continents. It includes Judith Hitchman (Ireland), and Shi Yan (China) as co-presidents, Isa Alvarez (Spain) as vice-president, and Denis Carel (France), Ariel Molina (Brazil), Qiana Mickie (US), Veikko Heinz (Germany), Simon Todzro (Togo), Shimpei Murakami (Japan), Zsofia Perenyi (Hungary) and in addition a position for a representative from Community Supported Fisheries was created which will be filled in the near future. Elizabeth Henderson (US) continues to be the honorary president.
Picture 5: New Committee Ariel Molina, Shi Yan, Judith Hitchman, Isa Alvarez, Denis Carel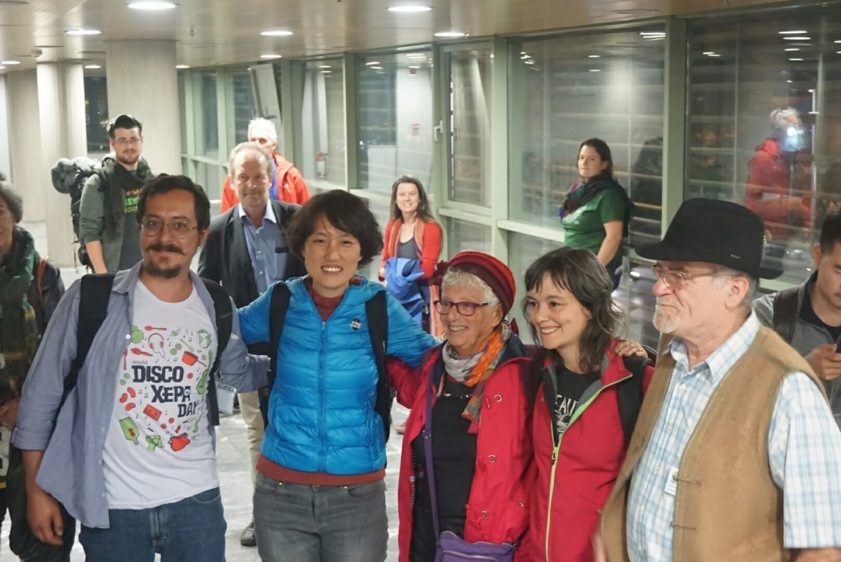 Farming and art go well together!
The three days of the symposium were intense but very invigorating. The overall atmosphere was one of collaboration and co-creation of a fairer more sustainable future. It is wonderful to see how so many people can come together with a common vision and are able to work together to bring it into life. Besides the hard work we were able to enjoy Greek music and dancing, wonderful locally grown food, do some guerilla gardening, make a seed mandala and create beautiful postcards destined to be send out to the FAO, reminding them about the importance to support CSA and related movements.
Picture 6 : Seed mandala with seeds from around the world (photo (c) urgenci)
We hope that the positive echoes of "Beyond Borders" will remain for a long time in the hearts of the participants and help us all to continue the important work that each one of us is doing in our local communities.