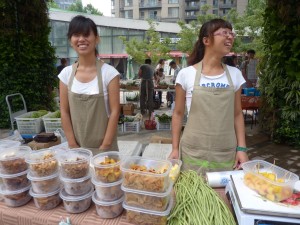 It is rare indeed for us in Europe to have the opportunity to visit small-scale farms in China, and meet with both top-level Chinese researchers who influence that vast country's agricultural policy, as well as with the Chinese Community Supported Agriculture and farmers markets networks. Yet this is just what Andrea Calori, Jocelyn Parot and Judith Hitchman from Urgenci International Network did a few days ago.
Chinese land is under local collective ownership, with all rural inhabitants entitled to farm one mu (0.066666 hectares) to provide food for their own family. But more often than not, with rural desertification this land is now rented out to other local farmers. Small-scale peasant agriculture is still the dominant model in China, with only 5% of all farms that could be considered as industrial agriculture by Western standards.
The key preoccupation in China today is twofold: how to produce safe food, moving away from pesticides and chemical inputs of all kinds, and how to feed the world's most populous country (today's population is estimated at 1.36 billion).
The obvious answer is to develop adequate short supply chains, which is something that the Chinese are currently examining attentively. There is a similar movement to that in both Eastern and Western Europe, of young qualified neo-rural farmers who have given up good salaries in city jobs to farm. Frequently, but not always they are farming in their home villages. And also like many of their European counterparts, they are using an agroecological approach. This in turn has led to a network of new farmers markets in various cities, where people now have access to excellent fresh, healthy local produce.
There is also a well-established CSA network in China.
Part of the conundrum facing these new models of production and consumption is that there is as yet no legislation in place: markets tend to be pop-up and can move neighbourhood if and when they are shut down, as has happened. And legislation for delivery vans is not adequate: a licence to deliver fresh produce into Beijing, and have access to the ring road system is only possible for a fleet of at least 7 vehicles, so not adapted to small-scale farmers bringing their produce into town. But yet it is legally authorised to sell fresh produce direct to citizens, so loopholes do exist!
China is a country in transition, including in its approach to safer, healthy local food. The coming years will be critical in ensuring that national policies support peasant farmers and consumers in scaling up popular access, rather than going down the road of yet more of the multinational hypermarkets that are springing up all over China.
Urgenci is an international network of local and solidarity based partnerships between producers and consumers. These include CSA' – Community Supported Agriculture initiatives –  and other variants encouraging civic participatory agri-food. Urgenci is also a member of RIPESS, the global solidarity economy network.
Recent: 
The original CSA? exclusive interview with Ryoko Shimizo of SEIKATSU
More on agroecology 
More on local food 
More on food sovereignty