Public Eye is the counter event to the WEF in Davos taking place 22/26 January 2014.  The Public Eye Award calls on people all over the world to choose the worst case of offences against the environment and human rights.  Voting opened today, and you can vote here. We encourage you to cast your vote!  
The following have been nominated for the dreaded anti-prize: Eskom, FIFA, Gap, Gazprom, Glencore Xstrata, HSBC, Marine Harvest and Syngenta/Bayer/BASF.  They have all, in different ways, substantially violated human rights with their business activities or committed environmental destruction and have therefore failed to discharge their corporate responsibility.
ARC2020 supports the nomination of  Syngenta, Bayer and BASF, the "bee-killers".  This is a powerful opportunity to expose their 'outstanding' work and draw attention to issues of bee-health, bee-harming pesticides and current destructive industrial agriculture. Their nomination describes them as " huge multi-national companies that produce and sell highly toxic pesticides. These pesticides are co-responsible for the mass mortality of bees and other pollinators which are important for the environment, agriculture and global food production." An example of Sygenta's work can be found in this article, highlighting how Syngenta, BASF and Bayer are suing the European Commission for having imposed a ban on their products to protect bees and agriculture in Europe.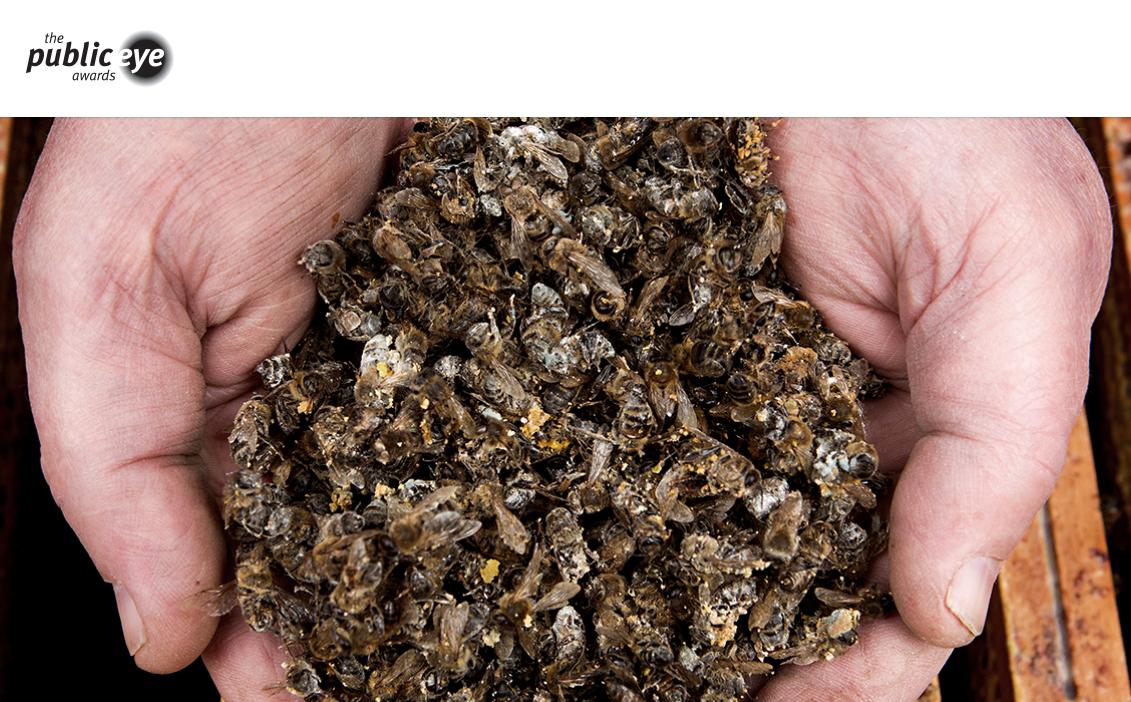 The Problem? Syngenta, Bayer & BASF ("the bee-killers") are giant multinational companies that produce and sell highly toxic pesticides, which are mass-killing bees and other pollinators essential for the environment, agriculture and global food production.
The business with bee-killing pesticides generates a profit of thousands of million euros for the companies and is aimed at securing their control over the industrial system of food production. Some of these pesticides have been banned in Europe since 2013. However, the companies have largely denied that their pesticide business has negative impacts on bees and ecosystems. Instead, they turn to misleading advertisement, greenwashing, aggressive lobbying and pressuring of political institutions. 
What consequences? Over the past years, beekeepers all over the world have been reporting a decline in bees with yearly bee colony losses of 20-50%. But bees and other pollinating insects play an essential role in ecosystems and the world could not likely survive a total bee collapse: Most plants and a third of our food depends on pollination by bees.
The economic value of bee-pollination is 265 billion Euros per year. With the decline of pollinators, food will become more expensive and less diverse. In a world without bees – who would pollinate our essential crop and wild plants? The bee collapse is a challenge to mankind on the scale of global warming, ocean acidification or nuclear devastation.
Causes : Bee death is to a large extent linked to destructive agricultural practices. Newly developed pesticides by Syngenta, Bayer and BASF are more and more powerful. These pesticides can cause acute and chronic poisoning with deadly consequences for individual bees and entire colonies. In addition to pesticides, bees suffer from climate change, pathogens and a loss of biodiversity, availability of food and habitats caused by the increasingly monotonous industrial agricultural landscapes. Regardless of independent scientific evidence, beekeepers' claims and civil society's demands, the companies still promote these bee-killing pesticides. Syngenta, Bayer and BASF are simply trying to protect their profits.
However, this could well come at a cost to bees, the environment and human food security and sovereignty. The only solution is a shift away from destructive industrial agriculture to ecological farming. (Source)
Kumi Naidoo, International Executive Director of Greenpeace and jury member of the Public Eye Awards, will personally announce the winners of the People's Award and the Jury Award at a press conference on 23 January 2014 during the WEF in Davos.
ARC2020 taking action for the bees outside Angela Merkel's office here.
Official Public Eye press release here.
Cast your vote here.