18,000 colourful, noisy people took to the streets of Berlin on 21 January 2017 to say – "We Are Fed Up!". Together they demonstrated against corporate control of agri-food and for healthy food, for farming orientated to rural and ecological needs, and fair trade. Farmers from all across Germany and even further afield joined the demonstration.
Their 130 tractors of many shapes and sizes led from the front…
Snaking through the streets all the way to the Brandenburg Gate…
The tractors were followed loud and proud by the young farmers block carrying the "Wir haben Agrarindustrie satt!" ("We are fed up with agro industry!") banner this year. For 2017's gathering, there was a special focus on this group's situation. With the milk and farm income crisis, as well as the concurrent rapid conversion of family farms into large monocultures, especially in the east of Germany, young farmers are more vulnerable than ever before.
The "Wir haben es satt" movement brings many stakeholders in the agri-food system together, onto the streets each January. Farmers, conventional and organic, as well as food craftsmen, nature, environmental and animal welfare workers, development cooperation activists, committed young people and critical citizens all form part of this initiative.
Initiated by Meine Landwirtschaft, organisations such as Bund (Friends of the Earth Germany), Campact e.V. and AbL (German small farmers association) work alongside each other to send a clear message to the mainstream farming and food system: "We Are Fed Up!" (i.e. "Wir haben es satt!") demands an end to industrial agriculture and supports family farms and more ecological farming.
2017 is an election year in Germany, so there were quite targeted demands made: will the state support socially and ecologically beneficial family farms – i.e. agroecology –  or will it support the massification and monoculturisation of farms?
Many big organisations brought their messages and branding while individuals came too with elaborate constructions and interesting art…
People were fed up with glyphosate…
and overuse of antibiotics in agri-food.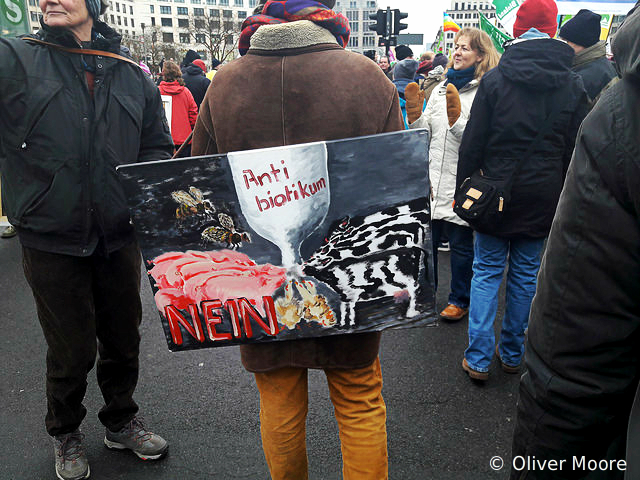 And the fate of our bees.
(Remember these bee women last year?)
People made connections with the Women's March on Washington – which really turned into a Global Women's March – some played with the language of the brand new US President.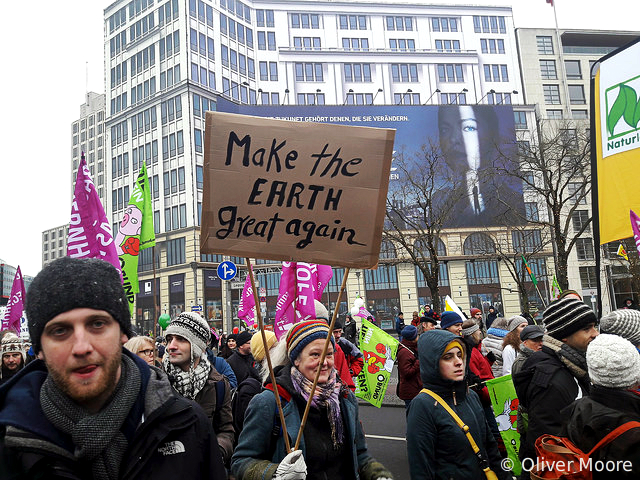 While the 15th Garden Syria (part of the Syrian Food Sovereignty movement) made their important points in clear, stark terms.
See all ARC2020 articles on the "Wir haben es satt!" movement.