As we approach December, thick mittens and winter coats have been pulled from storage throughout most of Europe and many of us have bemoaned the disappearance of all the soft, colourful fruits from our markets. Eating seasonally is effortless when tomatoes, zuchinis, strawberries and peaches abundant, inexpensive and in their prime. As the days get shorter and much, much colder, it takes a bit more creativity but not much more effort to pull together delicious meals from the fresh ingredients growing nearby right now. 
Today, we talk to two people who live in Berlin and work with food: Christian Heymann who runs SpeiseGut, an organic farm and Community Supported Agriculture (CSA) – which delivers right to ARC's office -and Luisa Weiss, who writes the food blog 'The Wednesday Chef' and wrote the LA times best-selling memoir 'My Berlin Kitchen'. If you are hungry for more, you can also give her interview with Jamie Oliver from last week a listen. Christian and Luisa share some reasons to get excited about winter produce and some recipes to keep you busy and well fed this weekend, making sure you won't get bored of the vegetable some consider a German national symbol of sorts: the potato.
ARC:  Christian, is growing organic vegetables in an area where you are surrounded by Agro-industry a political act to you?
Christian: While it is certainly a fundamentally political act, it isn't necessarily so in terms of our everyday life. But as we do our practical work it is still a political process, whether it be city politics, like how can I get a field of land in the first place, or issues like GMOs.
ARC: You specialize in older, rarer varieties. What are the challenges in growing/selling unusual vegetables?
Christian: The cultivation of old varieties is not more challenging than others. Quite the opposite – they can usually adapt to the ground and get along much easier than today's hybrid varieties. What about selling? Easy.  Grab the consumer on the field and let him try – they will be surprised
ARC : What are the biggest challenges in growing winter produce?
Christian: Winter vegetables are mostly big eaters. Cabbage and pumpkin like a lot of fertilizer and water. You need to find the balance here of how much is just right and what the plant needs to keep it's true taste.
ARC: Do you think there are any challenges in sourcing seasonal, organic vegetables in Germany? Are there any improvements you would you like to see? How does it compare to other countries you have lived in?
Luisa: Germany is pretty good about eating seasonally. But I wish that there were more varieties available on the market – different kinds of kale instead of just curly green, for example, or Asian cultivars like Japanese eggplants which are sweet and creamy. I used to live in New York and the variety at the greenmarket there was always pretty great. But things are getting better – I just found Italian globe eggplants at the market the other day…
ARC – What produce do you most look forward to eating in the winter? Do you have any tricks to avoid getting bored of winter vegetables?
Luisa – I love long-cooked greens and sweet, earthy cabbages – and I love the citrus fruits that really shine in the winter, blood oranges, tiny clementines, juicy grapefruit.
In winter, I keep cooking interesting for myself by looking to other cultures for inspiration. I make warming curries from India and long-cooked Chinese stews and braises – both of these countries have fabulously delicious and creative ideas for ingredients that we may find a little boring by the time February rolls around. But with a few exotic spices and flavorings, even staples like pork belly and potatoes get a whole new life. (note from ARC – check out Luisa's post with a recipe for Indian buttered greens, here and butternut squash curry.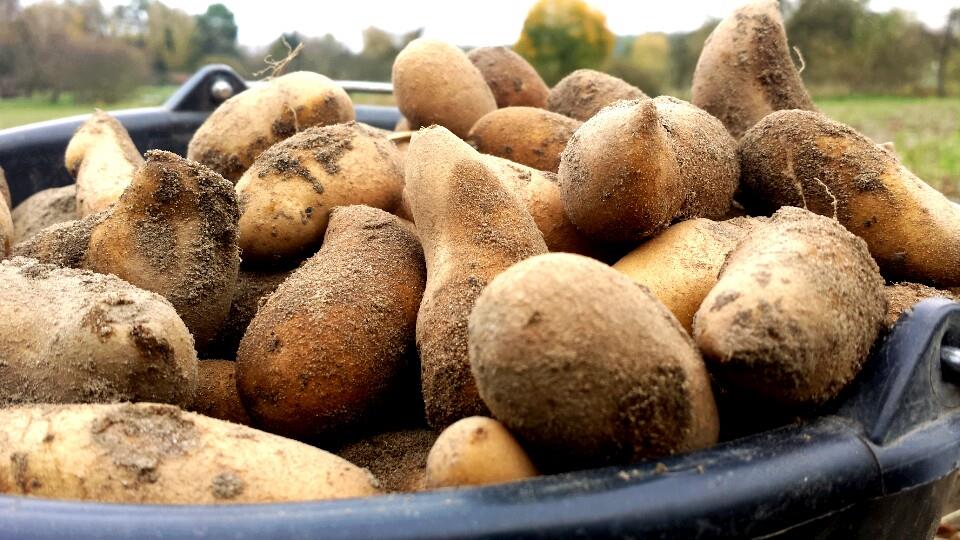 Christian- (smiles) Well, I am just a farmer.  But red cabbage is simply the best vegetable there is. If you are confident and experiment, no cooking will get boring! I could give different tips as a hobby cook, but the best one is not to be afraid of experimenting.
ARC – Do you have any tips for reducing the amount of food we waste at home?
Luisa – Going shopping for smaller quantities more often rather than doing one huge grocery run once a week helps a lot, I find. It keeps me fresh, too – I'm more likely to cook the thing I bought that day right away rather than let it languish in an over-stuffed fridge for 5 days before realizing that it's gone moldy. I also regularly do "clean-the-fridge-out" soups or stews – throwing a bunch of the last bits of vegetables and herbs into a base of chopped tomatoes, herbs and onions makes for a very delicious, nutritious and easy meal that doesn't waste a thing. I'm also a big fan of the freezer – if I have blackening bananas, too much soup, a bit of roast chicken leftover – it all goes in the freezer for future use. Banana bread, an emergency dinner or a small handful of food warmed up for my son's dinner is just a few steps around the corner.
ARC – Does eating local, seasonal and/or organic food matter to you?  Why?
Luisa – Yes, because – quite simply – it tastes better, at least in the case of local and seasonal food. I also think it's a pretty meaningful way of supporting local farmers instead of big agriculture. Organic is slightly less important to me, though some things, like I do try my very best to only buy organic milk for my son or organic meat for all of us, but I do think we need to reduce our reliance on chemicals and pesticides in our food chain. Sustainability is more important to me than organic, though.
Before you get tired of roasting them with rosemary, or mashing them with buttermilk, here are a few potato recipes from Luisa's site to help you really enjoy this winter staple :
–Potato Soup with Fried Almonds 
–Potato Salad with Yogurt and Horseradish
–Brown Butter Mashed Potatoes with Fried Sage
–Cabbage and Potato Gratin with Mustard Breadcrumbs
–Romesco Potatoes
–Gremolata Potatoes
–Butternut Squash and Potato Pie with Tomato, Mint and Sheep's Milk Cheese