Moving our mini mob today (June 29th) on one of the hottest days recorded in Ireland in almost 40 years, was perhaps not our smartest idea to date. But this is farming, farming in harmony. We needed to move our mini mob today. The ground they were on was beginning to feel the heat. If it was eaten any shorter, we're really begin to get that crunch of dry grass on hard ground under our feet. Moving them today means the ground has some cover in the form of trampled grass.
There are few patches where we don't have tree lined, thick hedgerows ensuring our cows have plenty of shade from the blistering sun. What we don't have is a water drinker in every paddock but, the farm is a work in progress. So the most our herd have to do for now is walk back a little track to the drinker….
If you had asked me four years ago to move cows on a day like today, on any day for that matter I'm sure I'd have come up with some excuse to say a polite no. I grew up on a farm in East Mayo. All the cows on our farm had a name. Even when the herd reached 40+ animals, my Grandmother and Mother knew everyone of them. I've always had a fondness for cows but my role on the farm never really progressed beyond that of 'gap-filler' when we were moving the herd. That was then.
And back then, I'd have never seen myself as a farmer. Like many a country girl, all I wanted to be was a city girl. So I soon left east Mayo, moved to Galway and from there spent the next 10 years of my life travelling and working. This is how it was until 2011, when I moved home from Australia to return to University. As a mature student, it was politics, economics and the environment that interested me so I started into my Bachelor's in Politics and Geography. However, I soon dropped politics in my 2 year and focused more on human and environmental geography.
2013 was the year I think the transition to where I am today really began. I worked on CAP and Food Harvest/Food Wise 2025 policy submissions for An Taisce to the Department of Agriculture. (These were Ireland's agri-food policy plans, and an Taisce are an environmental NGO). At the same time my folks (parents) were growing organically, managing free range pigs in east Mayo and my partner had started to talk about maybe farming the land again. All this framed my choice to go on and study for a Master in Climate Change, Agriculture and Food Security in Galway.
So how then, as I often get asked, did someone who has a masters in climate change end up farming ruminants?
Well, I'd love to tell you there was some grand plan whereby we were going to transform and regenerate the land. In a lot of ways, we're more like conservationists. By the time 2015 came, the land had been left fallow for four years and it was really beginning to show. It was my partner Mick who kept saying the land just didn't look as bright and alive as he remembered.
So he bought in 14 mixed crossed heifers and ran them across the 17 acres.
I won't lie, I initially struggled with the idea of farming cows, particularly in the context of climate change. So I divided into the research, not to find justification for farming cows but to see if there was a way to farm cows in harmony with nature. Lucky for us, there is.
The land we farm was never farmed intensively. The ground wasn't re-seeded, overstocked, fields weren't widened nor hedges removed. Many years ago, the 17 acres around the cottage fed 13 people. It has an old orchard, an old cottage, granary and mature trees dominate all but a few boundaries. This landscape relies on grazing animals. It is referred to as High Nature Value (HNV) Farmland.
With the intensification of agricultural land on 3 sides and the encroachment of non native sitka spruce on the other, we farm ruminants to protect this little landlocked biodiverse, species rich grassland island. Our herd is 100% grass-fed. Grass, grass herb, wildflower and tree leaf fed. That's it.
Often conversations on climate change and agriculture get caught up in the meat vs vegan diet. This, in my opinion, is too simplistic. In these heated debates the science can often get misused and confused. I could spend the next 10 articles write arguing for both sides of the debate. But for now, all I can do is give you my opinion, based on my knowledge and experience.
Modern, industrial agriculture is failing animal, plant, people and place. If may well feed us all, but it doesn't nourish us. So eating meat or vegan products that are part and parcel of that food system only sustains it. Everything you do has an impact, in the contexts of diets – it's about the seasonality, geography. It is about how it was produced and by who. Animal based proteins (meat, milk, cheese and eggs) have a positive role to play within our environment. It is the classic line, eating a lot less but better quality. Quality here is defined by how the animals are farmed, not solely by how it was processed.
So we farm a small herd of ruminants, in harmony with nature on our High nature value farmland, as you can see from the photos here. To be able to continue to do so, we need the farm to be economically viable. We won't over overstock the land, for us its about quality not quantity. This means we need to charge a little more for our product, whether calf, meat or milk.
The industrial model of agriculture does not allow for such a farm. For this reason we need to tell our story, direct to people, to citizens, so that those who want to eat food that has been farmed in harmony with nature can choose us and the thousands others like us that work to produce fair food. This is one of the reasons why, along with my friend Nathalie, we created Foodture, an online storytelling help hub, showcasing the farmers who farm in harmony with nature and placing them on a map so citizens can find them.
Our farm is a work in progress. We have to start our conversion to officially recognise we farm organically. I have plans to milk our shorthorns next year for direct sale and we still plan to run some 'suckler' cows with their calves. For now I'll leave you with an images of our wildflower meadow.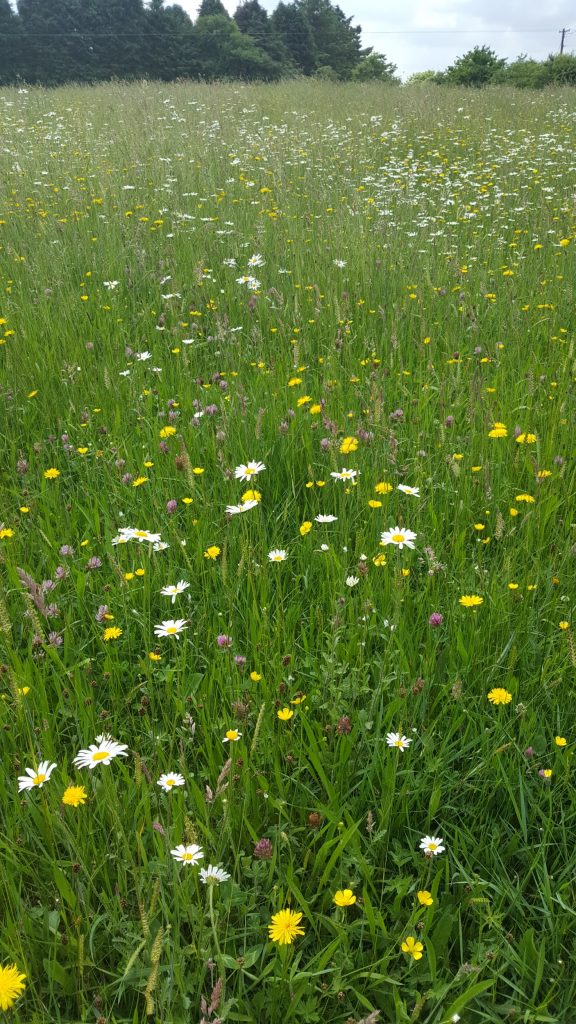 Sinéad and her partner Mick returned to farming in 2016 and now manage a mixed herd of cows on 27 acres of High Nature Value Farmland in the West of Ireland. They are passionate about conserving the species rich grass, mature trees and biodiversity that is found on their farm. Their objective is produce fair food, farmed in harmony with nature for a fair price.
Sinéad is a Trinity College Dublin Natural Science Graduate with a Masters from NUI Galway in Climate Change, Agriculture and Food Security. Her research looked at the potential of sustainable diets to reduce national GHG emissions.
She has professional experience in the environmental and development NGO sector. She is also co-founder of Foodture, an Irish social enterprise whose mission is to nurture a culture of food citizenship, inspiring citizens to connect directly with fair food farmers to transform our food system for the better.