This week ARC2020 and partner organisations release a report, and hold two events, on the topics of Just Transition and Diversification in Ireland. The agricultural sector in Ireland has been tasked with reducing its greenhouse gas emissions by 21- 30% by 2030, while the range is 37-58% for land use, land use change and forestry. With pressure on agriculture for its impact on biodiversity, water and air quality, along with rising feed, fertilizer and other input costs, and a sequence of recent crises – brexit, covid, and now the tragic war in Ukraine – there are many pressures and expectations on the farming sector.
So what change pertinent, possible or practical – and how do we even decide? One way to make better decisions is by listening and learning from a diverse set of engaged people. In this report, we do not present a finished product, with, as it were, the answer. Instead "the idea is to bring together perspectives and develop thinking on these two important topics, both of which will help to shape Ireland's place in the world over the coming decades".
Click here to book Just Transition event 10.30-12.15 Irish time Friday 22nd April
Click here to book the Diversification event 14.00-16.00 Irish time Friday 22nd April
Rural Ireland on the move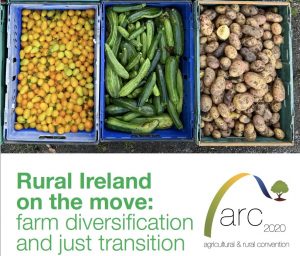 This report, from ARC2020 ,UNCC's Centre for co-operative Studies, Cultivate and the Cloughjordan ecovillage (Sustainable Projects Ireland) was created to lay groundwork for events on just transition and rural diversification in Cloughjordan Ecovillage, Tipperary, Ireland this coming Friday 22nd.
The process involved researching and writing the initial content, then reaching out to contributors in the areas of just transition and diversification in a rural and farming context.
To include a broad range of perspectives on the relevant topics, a request to contribute to this report was sent to approximately 50 people including farmers, academic researchers, agricultural organisations and think-tanks. A call was also made through our website and social media channels.
A select number of contributions were then synthesised into this paper. Contributors are been invited to attend the 'Just a Just Transition' and 'Diversify Diversification' events in April 2022 to discuss these topics further and progress the conversation around them (links below)
Contributions on Just Transition and Diversification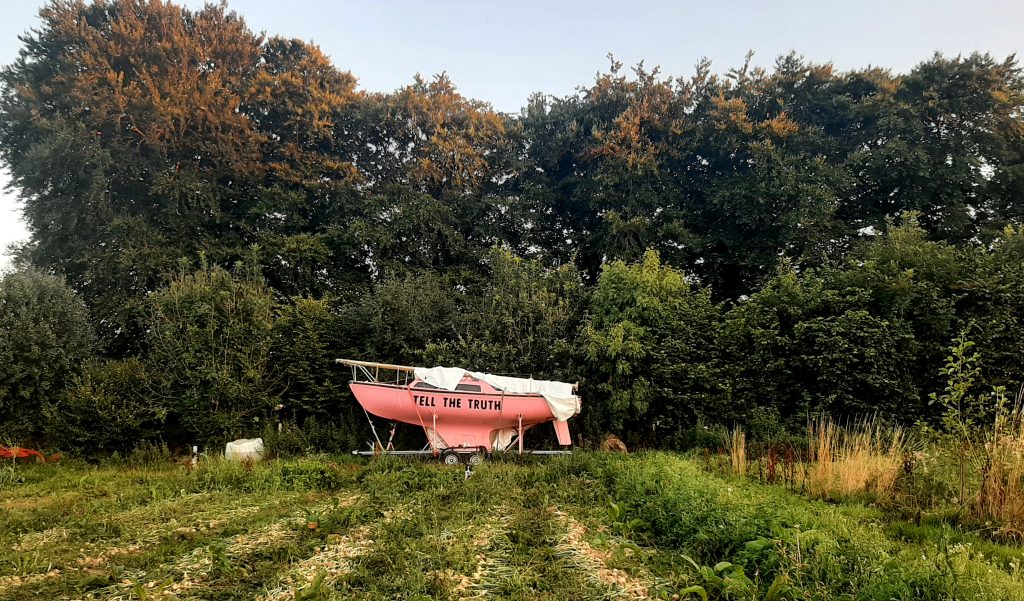 Both bigger picture and quite specific contributions came in on just transition – on the components of a just transition, on degrowth, on well-being, and also on energy efficiency and income, on grass-based systems, and on policy.
For diversification, we take a somewhat sober view – there are fewer crop growing farmers in Ireland than even in the recent past, yet emergency measures may increase the acreage of animal feed grown this year this year. But who knows how long the war will go on?
We try to be as methodological as possible, from the farm out to rural landscape level. So while three levels were used to frame the contributions – farming systems, on-farm and off-farm – even here its hard to encapsulate the full range of diverse options many found for helping to face into our challenges. Organics, the tiny fruit sector, landscape-based approaches, paludiculture, trees are examples of specific topics – and their related obstacles – which feature. But so too do plans, policies, concepts and ideas – on innovation and on land-use planning.
For just transition we focus on the scale of the transition task at hand in the first instance, before summarising the fraught current context. We attempt to delve into some methods to make the process of transition more inclusive, and tailored to the differing circumstances of the rural areas.
Considerations on employment vulnerability, policy frameworks including CAP, farmer's value capture share, also feature alongside the individual submissions.
To Conclude
As report contributor David Styles's said recently, there are a number of 'ingredients' that will help move Ireland toward climate neutrality, but "stakeholders need to determine the exact recipe". He added that we urgently need a vision or visions for the future of the land use sector, as there will likely not be one single agreed upon idea of how to reach our carbon neutrality targets.
And then, there is more to transition than making climate targets too. So much is converging, so many considerations. Do have a read of the report, get to know it, share it around, pop along to the events, and let's get on with it.
We would like to thank the Environmental Pillar and its member organisations Sustainable Projects Ireland and Cultivate, as well as UCC's Centre for Co-operative Studies, for supporting this report and its development. Thanks to author Michelle Carey, editor Lenny Antonelli, research and writing supporter Matteo Metta and designer DR Studio. Many of the photos come from Eoin Campbell – thanks Eoin!
More
Changes "required" to Ireland's CAP Strategic Plan – European Commission
CAP, Fairness and the Merits of a Unique Beneficiary Code – Matteo Metta on Ireland's Draft Plan
New Report, Events to Examine Just Transition & Farm Diversification in Rural Ireland
Slashing Space for Nature? Ireland Backsliding on CAP basics
Ireland's Our Rural Future – a rural digitisation gold standard?