This is the first in our letters from a budding agroecological farm. New farmer Chiara Garini, fresh from learning about gastronomy and agroecology at the academic level, is trying to put some of her ideas into practice on a farm in Italy. Here she introduces her background, her studies, and the land she's working on. Already, she has faced challenges and had to make decisions. We'll receive regular updates from this farm in Italy in the months ahead.
Today, 15 months after the first inoculation, we finally tasted seven beautiful forest-farmed shiitakes. Some might think the waiting time for such a small harvest is unacceptable, and I admit sometimes in the last year and a half I also felt discouraged. This is not a glorious story of brilliant success, nor a bucolic fairytale. It is the narration of a dynamic process made of research, design, effort and often contradictory feelings. In short, its my story of moving from studies and the city to the land and to agroecological farming – in all its messy manifestations.
Research and learning probably lie at the foundation of this life project. I was born 28 years ago, of which 25 spent at a school desk. After a Bachelor degree in Gastronomic Sciences I needed to focus on the roots of food and I chose a Masters of Science in Agroecology. Studying this discipline made me raise the head from the books and spurred me onto taking on a major challenge for a city kid – to become a farmer.
The passage from words to practices started one day at the end of 2015. I was walking along the riverside of the small city where I had moved after graduation to work in a care farm, with my partner Stefano, with whom I have been sharing my life since the times of the Bachelor. That day, while looking at the forest growing smoothly along the river, he said: "this is what I want to do!".
I helped him translating this will and told him about forest gardening. I remembered a video I watched during a course in Wageningen University a couple of years before. It was Rebecca Hosking's – A Farm for the Future, which aired in 2009 on BBC. That inspiring documentary features Martin Crawford, a pioneer of forest gardening in Europe, who became a great reference for our work.
Forest gardening is a branch of agroforestry, the theoretical framework in which we can include all the farming activities we started. Agroforestry means deliberately integrating woody elements and agricultural crops.
The Farm
About a year after the romantic episode along the riverside I left my job in the care farm and I moved to the Province of Trento, in the valley of Cavedine. We were fortunate to have access to Stefano's family's land, which for many years was rented out and far from the interest of any other relative. The available land is divided into 3 locations.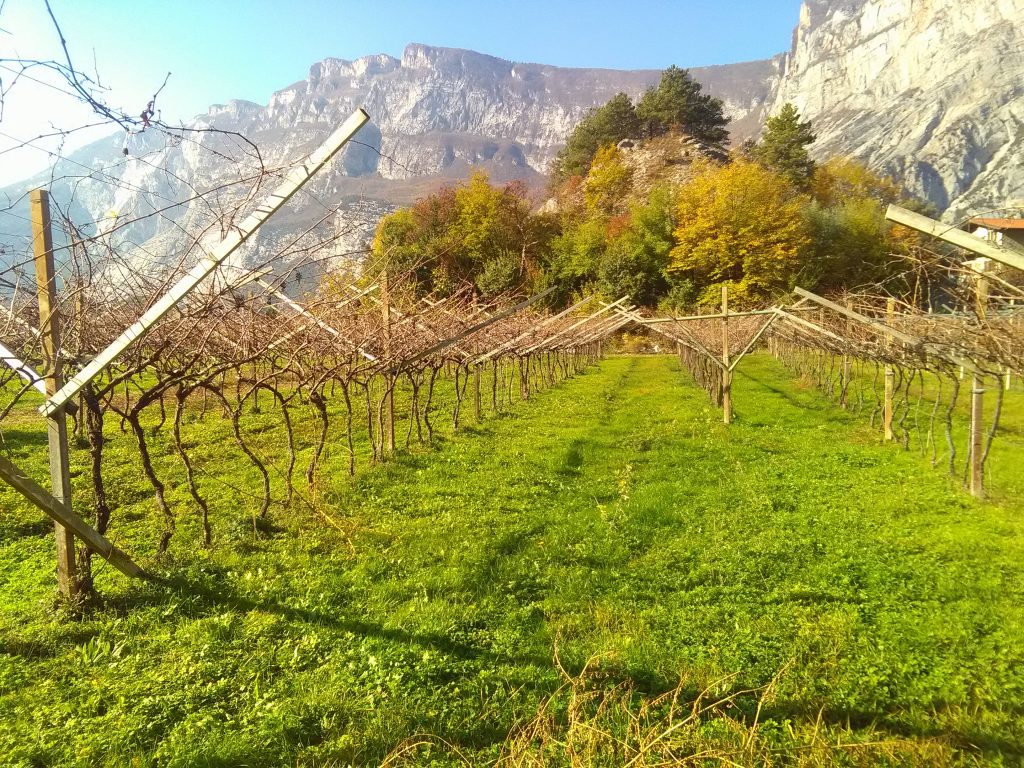 About 0,6 ha of flat fertile land are at 250 m.a.s.l. in the valleyfloor of Sarca Valley, which extends south up to Garda Lake. This field is inserted in a landscape of vineyard or apple monoculture which predominates all the agricultural land in the valley. When we first came, this field was a vineyard monoculture, apart from a 1500 square meters hillock covered with spontaneous trees and shrubs. The climate in this area is nicely mild thanks to the influence of the largest Italian fresh water basin.
Other fields are located at about 600 m.a.s.l., in Cavedine valley, which runs parallel to the Sarca Valley at a higher altitude. Here there are 5 fields for a total of about 1,1 ha which are narrow and long strips of arable land immersed in either apple or vineyard, or rarely potatoes monocultures.
Finally, quite a large surface (about 4,5 ha) is forest land. About 0,3 ha of it was until some decades ago terraced agricultural land used for growing christmas trees and now became a spruce forest.
Given this land the key question was – how can I put into practice agroecological principles and design a farm?
On the farm – our story so far
So far, the vineyard monoculture has been taken out to free space for creating a forest garden. The good soil and mild climate are suitable for a huge diversity of plants and fruit trees to grow.
Then, we started cultivating mushrooms on woodlogs in the spruce forest, along the lines of forest farming, another branch of agroforestry, about which Ken Mudge from Cornell University is a good reference.
For this activity the American mycologist Paul Stamets and the Northeast Forest Mushroom Growers Network website were precious sources of information as well.
Finally, for the fields at 600 m.a.s.l. the initial plan was to put into practice silvoarable agroforestry, but finally my interest in fungi prevailed. Some recollections from the bachelor degree and contacts with local mycological associations led us to start cultivating trees mycorrized with fungi. The suitable pedoclimatic (a microclimate within soil that integrates the combined effects of its temperature, water content and aeration) conditions allows the cultivation of hazelnuts (Corylus avellana) and other trees species mycorrized with truffles (Tuber spp.)
This short overview conceals a great effort for analysing, designing, facing bureaucratic constraints as well as writing business plans. Contradictory feelings sit side by side all along this process. What we are trying is to practice low-input agriculture, meaning without purchase of any fertilizer nor pesticide.
We are trying to rely on fertility and biological equilibria generated within the boundaries of the field-scale agroecosystem. Moreover, we limited the use of machinery and decided not to invest in a tractor, with the aim of designing farm activities that are manageable by hand. Not to say that we also want to take care directly of all the marketing.
Is this kind of business viable? And can it be economically feasible?
When I see local farmers passing by me on their tractors, on the one hand I feel ashamed; I am using lots of time and effort just to prepare a 3 square meters bed for planting herbs while I could be much more efficient. On the other hand, I also feel proud. When I see these farmers closed in their overalls, protecting themselves from the same products they are spraying on their land, I think I am doing the right thing. Someone needs to have the courage of trying to do agriculture in a different way.
Time-scale has been a crucial factor. Most of the activities we are starting have a long term perspective, something far from our "stressed city-people" life experiences. Long-term planning is wise though – and it is inevitable if you are thinking in tree lifetime spans! However, pressing economic realities cannot wait 50 years to harvest a pine nut, not 10 years for the mycorrized trees to grow and sadly not even 2 years for the shiitake operation to start to be productive.
For this reason, after long dilemmas we managed to decide what profitable short-term enterprise to invest in – not an easy task in agriculture. So we are now planting aromatic herbs, some annuals, but mainly perennials, which we aim to sell at local restaurants and organic shops. This activity can be integrated in a growing forest garden, is less labour-intensive than horticulture and is suitable for a small surface as the high prices compensate for the little amounts required.
Still, the economic feasibility question stays unanswered for now. But this is not our only concern. One citation stuck to my memory from university: "the ideal agroecologist is one who does science, farms, and is committed to making sure social justice guides his or her action for change" (cited by Gliessman in 2013). Agroecology means multidisciplinarity. To me this implies pursuing multiple objectives. This is the huge challenge I chose to face when I decided to be a farmer. Let's see how this unfolds.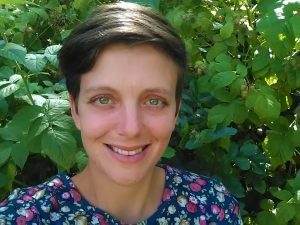 Chiara Garini recently started her own farm enterprise with her partner in the Province of Trento (Italy). She has previously working in care farming on the Conca d' Oro farm, where she managed production of organic fruit and vegetables preserves.
She has Double Masters Degree in Organic Agriculture – Agroecology. Wageningen University and Research (the Netherlands) and ISARA-Lyon (France).
Chiara received a Bachelor's Degree in Gastronomic Sciences Università degli Studi di Parma (Italy).