We are pleased to share with you ARC2020's findings from the field in France: "Nos Campagnes en Résilience: Collective Reflections within Socio-Ecological Transition, 2020-2022" .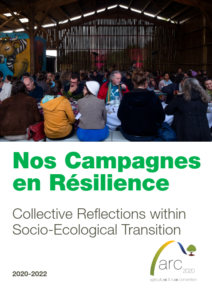 With the "Nos Campagnes en Résilience" project, we wanted to understand the relationships between new projects and initiatives within socio-ecological transition. How do they share experiences? How have agroecological farmers and rural inhabitants organised and mobilised to prepare for new challenges? How do they broach, collectively, concepts of well-being, solidarity, and changes of practices?
There is no one "correct" model; every territory is specific. However, we are convinced that every experiment can contribute to another.
The intention of the project was to give farmers a voice, and space to discuss their experiments, at local and European levels. We work to spotlight these farmers and their lived experience, to reflect with them on common questions, and foster dialogue with European policymakers on these matters.
Our analysis spotlights eight ingredients of socio-ecological transition that we have observed in the field:
A Collective Adventure
Cultivating the Human Spirit, Cultivating Nature
Earnings, Yes – But What About Wellbeing?
The Local as Testing Ground
Opening Up Farming
Getting Political
Big Visions
The Struggle is Peaceful, Collective & Intergenerational!
It's a long road to building a new way of imagining life in the countryside. Here we report on the journey so far for the people involved in this project, with an extract from the first chapter of the report: A Collective Adventure.
"Alone we go faster, together we go further" – African proverb
None of us can do it alone. Socio-ecological transition requires collective reflection, collective work, collective building and collective wellbeing. In this project we have encountered various structures and setups. In all cases, the collective is a strength: a source of ideas and creativity that allows space for the individual.
Forms of collective
"That's the principle of cooperation: You need this, I need that, but we pool our means of investment. But it's also accepting that people do things differently to you."

Mathieu Hamon, dairy farmer
In recent decades, individualism has pitted us against one another, in competition. Collective structures offer a promising antidote.
"There's three associates, meaning three bosses on the farm […]. I find it makes you want to go to work, it's a source of motivation"

Fanny Serralongue, mixed farmer
The strength of the collective spearheads new practices. Individuals flourish; shared work is valued. In the agricultural sector, we see this strength in cooperative farms (GAEC – Groupement Agricole d'Exploitation en Commun). In the social and solidarity economy, it takes the form of producer cooperatives (SCOP – Société Coopérative Ouvrière de Production). In rural territories, third spaces are another form of collective.
"You're part of a group that takes you and your needs into account, that wants to know where you're at."

Vincent Peynot, vegetable grower
"From the moment you become an associate, you're sure to be more involved. Right away it's easier."

Stéphane Airault, vegetable grower
The organised collective
"We must have the capacity to make time to think out the structure collectively without losing the political thinking. […] We have to learn to work together."

Xavier Hamon, cook
Collective organisations need structure, new skills and a lot of flexibility. Organisational systems are negotiated and shared by the initiators. Skills are pooled to be put at the service of the project, with an emphasis on quality of life.
"We have to go back to cooperatives; otherwise it puts everyone under pressure"

Pierre Gachet, vegetable grower
The collective bolsters actions and shares responsabilities. Each member is fully engaged. Key to the success of a collective are its organisational structure, ability to question ways of working, and guarantee of a process that is regularly checked and reaffirmed.
"We all try to be more versatile to have more time off"

Fanny Serralongue, mixed farmer
Prerequisites
"Everyone shares responsibilities, everyone feels engaged"

Aurélie Mézière, mayor of Plessé
For the collective systems we encountered, one prerequisite is autonomy in work. Autonomy allows each member to take their share in the project underway. It also allows the skills of each member to be recognised. This autonomy is linked to mutual trust. In most cases, it comes with sharing of responsibilities.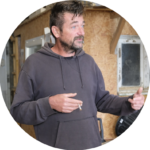 "Everyone is autonomous in almost all the tasks" – Stéphane Airault, vegetable grower
A common project
"We should see the collective good" – Pierre Gachet, vegetable grower
A collective organisation shares a common project, one that is regularly re-assessed. Each member plays a part, in keeping with their preferences and skills. It starts with the will to work together and put forward different ideas. Central to this is the shared work, which is presented as an asset, a common good.
"Instead of more money, we've chosen to bring in more farmers."

Stéphane Airault, vegetable grower
More associates instead of more earnings, for greater solidarity, to ensure a place for everyone in these territories.
"With any kind of cooperative structure, like the Beaufort coopérative or producer shops, you can come together around a common project."

Gilles Avocat, retired sheep farmer
"We're proud of what we manage to do together"

Inès De Rancourt, goat farmer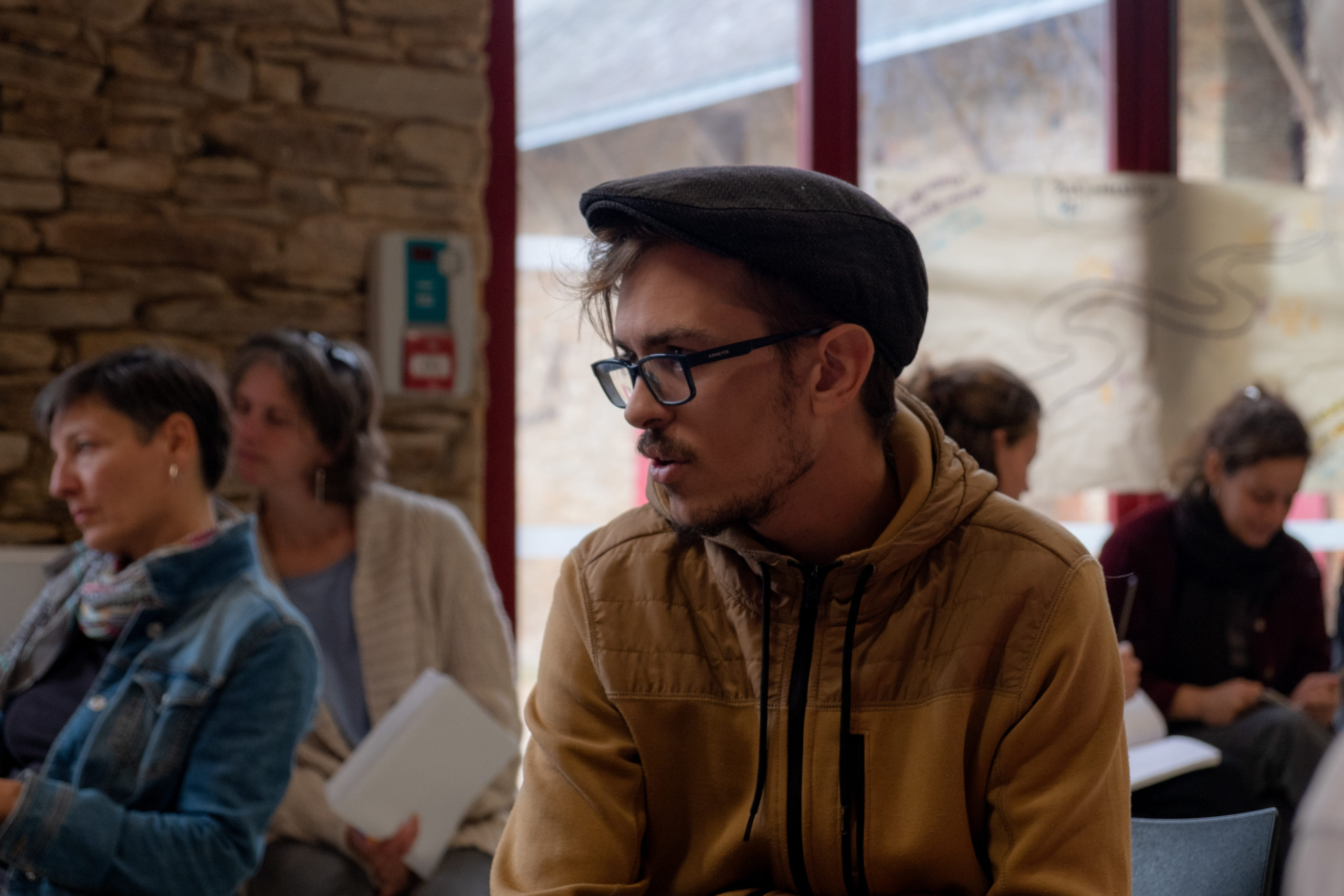 The participative collective
Acting as a collective means participating, in different ways, in building the rural territories of tomorrow. It means pooling tools and work, as in the CUMA machinery cooperatives (Coopératives d'Utilisation de Matériel Agricole). It means forming processing cooperatives, or creating new spaces to work together. Every form of collective is enriching, and gives strength and energy to its individual members. Which is very much needed if we are to adapt and change our paradigms!
"Finish with participative democracy but… participate together in democracy"
Participant in the Rural Resilience gathering
The participants in this project are members of the many networks in France. Bringing people together to exchange and to learn, each network is specialised and complementary.
"Our network was able to mobilise to help us get started. We're here thanks to the network, so we stay involved."

Marion Henry, pig and dairy farmer
On the ground is the network of CUMA machinery cooperatives, and the CIVAM network of local groups working towards agro-ecological transition (Centres d'initiatives pour valoriser l'agriculture et le milieu rural). Political networks and networks of cooperation include the AMAPs (Association pour le maintien d'une agriculture paysanne – akin to Community Supported Agriculture). All have a role to play in this transition by initiating ideas, pooling resources, stoking debate, valuing actors and initiatives. Networks are an essential driver for all of the rural actors we met.
We are very grateful to all those who have contributed to this project, near and far: volunteers, farmers, rural actors. Without you, it would not have been possible. Thanks to you, people are at the heart of this project.
In 2023-2024, the Nos Campagnes en Résilience project embarks on a new phase of joining the policy dots while continuing to nurture what we have built together. Now renamed Rural Resilience, the scope has widened from France to the broader Europe. To learn more, visit the project page, follow us on Instagram, LinkedIn and Facebook, or contact our project coordinator Marie-Lise Breure-Montagne.
More on the project
Rural Realities | Succession – Passing It (All) On To The Next Generation
Cultivating The Future Together – ARC's Rural Resilience Gathering in France
France | Meet The Farmer-Bakers Proving Their Skills – part 2
Cross-Pollinating Resilience From Portugal: Nos Campagnes en Resilience in Plessé