Vincent, Julie and their three employees run a small market garden in North-West France. Producing 45 vegetables, the team at La Ferme de Pitoué has learnt over the years the limits of diversification. In their garden, over coffee in the sunshine and a chorus of birdsong, Vincent tells us how they manage to stay true to their values on the farm. Part 1 of a conversation with Valérie Geslin.
"It's super important to make the connection. We grow here and we sell here. If we were just loading pallets onto a truck to send off to I-don't-know-where, I'd stop right now."
When we first got here, it was all meadow. It was a blank page for our plans. Our legal status [as a GAEC or farm cooperative] allows us to do a lot of things: from growing vegetables to hosting classes, tourists, cultural events, catering… It encouraged us to open the field of possibilities. You can do things but at the same time stay true to yourself and the life you want.
The farm was also a way to build a house without going into debt, without putting pressure on ourselves to scale up production. We wanted to get a handle on things economically. I know my prices – a buyer who knows nothing about my production costs isn't going to name my price. We also wanted to get a handle on costs and to think of a system where we did as much as possible by ourselves, to free ourselves from the bank as quickly as possible. That's how we manage to have five of us working here.
We're not at all attached to private property. We think land should be a commons. But, in the Rural Code, property rights come first. In our case, we put in a well, wiring, plumbing, and a new building. All that goes to the landlord if the lease is terminated. We couldn't take that risk, so we made the choice to buy.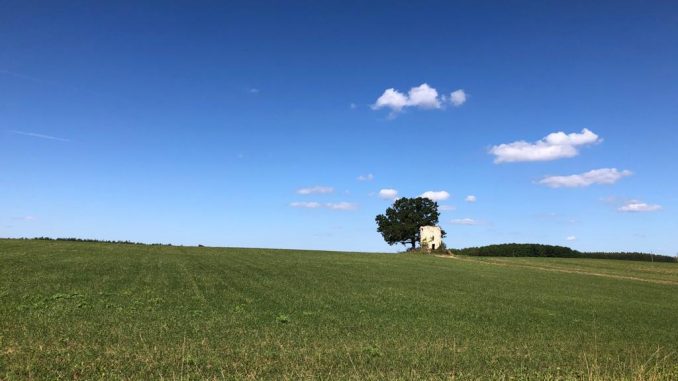 Saying no to CAP
We were automatically sent out the forms to apply for CAP payments with an aerial photo of the terrain. It was all marked by types of crops, measured, controlled. It didn't fit with the way we wanted to live. We wanted to control what we do, be responsible for our choices. Small diversified organic market gardens like ours don't exist in the CAP because it represents between €1,500 and €1,800 per year, whereas for livestock farmers, it's more like the equivalent of an income.
It's a small price to pay for our freedom. We want to show that we can live from our work, from our production. You call it support for farmers, but it's just a way to steer agriculture in the direction you want it to go. If a farmer refuses to comply with a standard or with new conditions, he's threatened with losing his CAP supports. From the moment it's used as a pressure tactic, there's no question of support; support can't be conditioned.
There's one livestock farm here that refuses CAP supports. They're very admirable. With livestock it's tricky because CAP supports make your income. Their story is really good: showing that technically there is a way to reduce costs and live off your work without needing CAP supports.
In the recent CAP reform, there was a proposal to reward the number of workers on the farm. I liked that because there are societal issues: bringing the countryside to life, schools, creating jobs so that people can live without an 80 km commute. It didn't come through.
The mechanism is still the same: a pressure tactic. We had the example of compulsory chipping for our small herd of sheep. Ethically, I have a huge problem with chipping animals. There's absolutely no need for it in our system. It's standardisation at the service of industry. We were told: "Even if you don't receive CAP supports, you have to comply." In fact, they were telling us that they had no way to exert pressure on us. That strengthened my resolve to refuse supports and maintain my freedom, to take responsibility for my choices.
As diverse as possible
The system is not logical because you need a huge amount of soil improvers. We consume a lot of them and we don't produce them. You can produce them via green manure, but organic animal matter is something else altogether. If we were doing it all again we would team up with livestock farmers, it would be much more logical.
In horticulture, the whole season rides on five months. You can't put anything off, you work with the weather. We use very few products, to protect the environment, we set aside zones for insects and butterflies. We put in hedgerows as windbreaks, and to attract species of birds, hedgehogs, toads.
You can insist on dealing with parasites, but in that case, you're going to have to intervene forever. Every year we get aphids. It can be very stressful. One year we decided to let them rip because when you think about it, it's simple: you always hear about ladybirds for aphids. But a ladybird isn't going to come and nest here if there's only three aphids. She wants to feed her larvae. We have three weeks where it's a disaster, there's puceron everywhere and the ladybirds are laying their eggs. After a long time, the larvae get bigger and eat the pucerons. The greenhouse clears and the vegetables start growing again.
You have to accept you can't control everything, and let it go. Our approach is to make the conditions favourable: we have a pond, hedgerows, fallow land, to give the farm every chance to be as diverse as possible and to reach a state of equilibrium. It's working better and better; we need to intervene less and less.
It was very hard to let go because you're taught to set things up to control the chain from start to finish. That's the farmer's cool head: don't worry, ever. You have no choice, you can't always comply. You're working with living creatures, you have to make do, to make up for losses, you'll never have it all under control. You have to adapt.
(Not) doing it all
In the beginning we wanted to do it all: berries, an orchard with heirloom varieties from the West [of France] and vegetables, work with a donkey… But that didn't last long because you're doing everything but you're doing nothing right. It's very unsatisfying to spend so much time and energy on results that don't work out. It can't just be a hobby; you have to take care of it.
We put so much time into being efficient in horticulture, in making it work technically. Now we're producing five time more vegetables that we did before in the same time and with the same number of people, because we're taking care of things, and have technical skills. It took 6, 7, 8 years. Now there are habits: it's less time, less effort, and a better experience.
Previously our organic veg were small and ugly. We always wanted to offer quality produce, in fine healthy sizes, and we're very happy we got there. I try to appreciate that it's nice to succeed in what you do.
When we started farming, the idea was to work with heirloom varieties, without mulching, and to produce our own seedlings. We lasted one year but we had to stop because economically it didn't work. We had three jobs. Producing seeds is a job, producing seedlings is another and producing vegetables is a third. We realised that cultivating from a seedling all the way to the final product was complex and technical for 45 vegetables. Every vegetable has its specificities: that makes 45 different situations to manage. Add to that producing seedlings, or producing seeds, and it was absolutely not manageable.
So we buy our seedlings in bulk. It's not ideal because the seedlings are spindly and the quality isn't at all what we're looking for. That's why we're buying more and more from a colleague who's very skilled in that area. His seedlings are of much better quality. We have a project to produce seedlings in the CUMA [machinery cooperative] with 13 vegetable growers. We're giving ourselves four years to make it happen. We want to set up a collective nursery on 120m2 of neutral terrain, and hire a worker – you need to take care of it, you need technical skills. It's a massive responsibility.
When land is at stake
When it comes to crop rotation, it's obvious: don't take up the same nutrients, the same minerals, by always having the same plants on the same soil. We have 42 to 45 different vegetables over the year, so rotating crops when some need 300m2 and others need 5000m2, you have to make them fit.
Julie spends nearly two months planning in the winter. Mapping out the crops is a real conundrum. We grow on 4.5 hectares. It's too limited for rotation. We should let some parcels go to grass, but we can't find land. We have a parcel of 7.5 hectares and a few small bits of land because we needed to prove we had at least 10 hectares to get our farm project approved by the Chamber of Agriculture.
We do land swaps with the goat farmer next door. That allows us to do crop rotations, especially for potatoes, which take up a lot of space.
We're obviously coming up against monopolisation of land linked to the CAP. It's awful, it's an unearned income. The more land you have, the more CAP payouts you get. A hectare of cereals is €380 in CAP supports. When the owners rent you a hectare, even if they don't need it, they lose €380 a year. Rent for farmland here in Loire Atlantique is fixed at €80 – €100 per hectare. To benefit from the land, you'd have to add €380 so your rent would be €480 per hectare – that would be totally absurd.
There was land for sale next to our farm. We decided not to pre-empt, thinking they're our neighbours, we'll talk about it and come to an arrangement. One month after the sale, we had no news. I called them back and was told they wouldn't rent me any of it. For the sake of land, you go so far as to lie to people, to not keep your word. I found it awful. It's no holds barred, nothing else matters when land is at stake. If it wasn't for CAP supports, there would be much more land available.
This conversation has been edited for clarity. Translated by Louise Kelleher.
In part 2, Vincent opens up about the challenges of labour in their market garden – for him as an unlikely 'boss', and for the workers who must be incredibly motivated to overcome the tough working conditions. He also explains how the farm is part of the community, selling their produce locally, and opening the doors of the farm.
Vincent and his colleagues chose not to be photographed for this article.
Nos Campagnes En Résilience is ARC2020's project to help build rural resilience in France. Visit the project page here and follow us on Instagram, LinkedIn and Facebook. If you'd like to get involved, contact our project coordinator Valérie Geslin.
More on this project
More on diversification
Rural Ireland on the Move – new report on Just Transition and Diversification launched.
Farm Diversification – Agroforestry and Agritourism in Ireland