When Romanians talk over a coffee or a fence, they tend to remember and count the years by the political scandals. Other things seem trivial by comparison; they are forgiven and forgotten in time and amongst friends; but scandals are so outrageously blatant that they remain like a stubborn imprint in people's mind.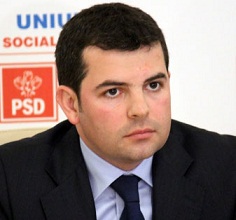 2013 thus ended and hinted at what lies ahead with an appropriate 'bang' amongst Romania's new-again government. Timing is of essence; and so it occurred as the appointed took their oath, paused and presented their declarations of assets. The main actor was none other than Mr Daniel Constantin, Romania's new Minister for Agriculture and president of the country's Conservative Party. For the financial year of  2011, he  declared a debt of no less than 295.000 euro towards Mr Dan Voiculescu, the party's honorific president and founder. The latter owns an important media trust and is a controversial businessman and multimillionaire.
On his personal blog, Mr Constantin reflects on this professional relationship with Dan Voiculescu. It started in 2006 when the former was appointed executive director of a consultancy firm specialised in accessing European funds. "I did not plan to intensify my political activities or to return to public administration. I considered that the gesture of Mr. Voiculescu was a proof of trust; a recognition of the fact that I accomplished important performances in my current activity."
The story has a twist. Dan Voiculescu heavily invests in real estate and agriculture; buying former state-owned domains and agricultural land on which his investment group is also developing industrial farms.
To Romania's public it is obvious that Mr Constantin's debts are likely to be written-off or forgotten by the proportional increase of Mr Voiculescu's agricultural and real estate portfolio. Of course one could argue that this is a win-win situation for both gentlemen, but definitely not for those who should matter. This incredibly fertile country holds almost 5 million peasants that have been feeding its people consistently beyond what statistics thought possible. This was achieved by small-scale and diverse farming that honours rich soils and a rich biodiversity. While those who factually, statistically, socially, culturally, economically truly matter, Romania's Ministry for Agriculture keeps supporting a business oriented, large-scale productivity model to the benefit of clients, cronies and multinational companies. Facing the fact that Romania's minister for agriculture owes a lot of money to a notorious Romanian businessman who lives from developing land may well explain the country's New Year hang-over.
Professionally speaking, Mr. Constantin has an obligation towards Romania's farmers. Subsidy distributions are in a continuous freeze. Farmers are waiting to receive their payments, while far too many have entered into a viscous circle of loans to buffer hope.  Whose debt will be settled sooner? The answer to that question is animating the country's black humour and coffee tables. For over-the-fence-talks it's far too cold.