After the "Wir haben es satt!" ("We Are Fed Up!") demonstration is before the action! The Soup&Talk event at Heinrich Böll Foundation is on every year directly after the big demo (see picture above). People come together to share ideas: Farmers, organisers and activists from Germany, Europe and overseas tell each other about their campaigns, successes, their resistance and people-planet focused innovations in food and farming. ARC2020's Luise Körner was the organiser of the event, while Benny Haerlin the host. Below, Luise explains who came and what they spoke about.
This year saw the following presentations:
Fräulein Brehms Tierleben (Frollein Brehm's Life of Animals): The Earth Worm
With Frollein Brehm's Life of Animals the audience experiences nature in a cultural context via science theatre. Just as Alfred Brehm did in the 19th century – he wrote ten volumes on animal's biology – top scientific news and research results are presented live on stage. In the 21st century there are numerous possibilities for presenting scientific results from the stage. In Frollein Brehm's Life of Animals striking insights and scientific findings are finally being made accessible to a wide audience via sounds, photographic material, maps, replicas of sculls and more.
Jessica Holling and Sebastian Klann, Agrarpolitisches Bündnis Bremen: No factory farmed meat for public catering
An alliance of NGOS and civil society groups are calling for a procurement of food for public catering (canteens, hospitals, schools and cafeterias) to entirely use meat products produced under animal welfare  standards by 2020, including appropriate adjustment of the procurement rules and lease contracts. 
Silke Meyer, Mellifera: Farmers looking for Bees?
On a world-wide level apiculture is caught in an existential crisis the true proportions of which are covered up by drugs and the feeding of sugar. The causes are manifold. Without measures of the beekeeper most bee colonies would be destined to die. In Germany wild bees do not survive any more. Many other pollinating insects are threatened or already extinct. Keeping bees has become a challenge, in many respects pushing the beekeeper to his limits. The conventional measures of the beekeeper are often a strain on the bees. Mellifera e.V. is interested in an appropriate way of keeping bees, not only in an organic approach to combating illnesses.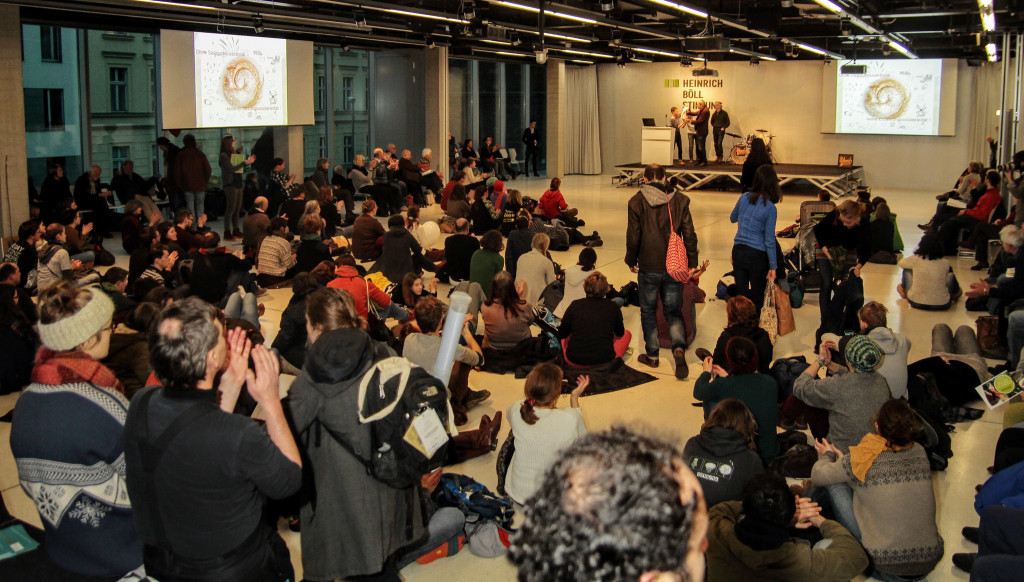 Christine Pohl, Berlin Food Council: A food council for Berlin and Brandenburg
The Berlin Food Council for a sustainable food and agriculture policy in the region is a broad alliance of citizens. The goal is to actively promote the future viable change of the nutrition system in the region. Together they develop common goals and strategies and their implementation in political activities and actions. It is our self-image to give a voice to civil society positions and demands for a viable dietary system and to give them political impetus.
Anke Kähler and Oliver Willing,  The Bakers and The Seeds Fund: Together for handcrafted food and ecological farming
In order to preserve the sovereignty of the bakery handcraft German bakers founded an independent association. The association is an independent professional organization of artisan bakers. The free and responsible exercise of the centuries-old handcraft has an invaluable cultural and social significance. The main focus of their work is on the creation of living resources – 'means of life' – and the holistic quality of the bread and pastries we produce.
Seeds are cultural property. The seeds fund of the Foundation on Future Farming wants contributions, for this to remain the reality. It is a donation fund for the promotion of non-profit, biological and biodynamic breeding research. The seeds fund is committed to fertility, diversity and seed research without patents and genetic engineering.
Paula Gioia, Nyéleni: The International Movement for Food Sovereignty
Nyéléni Europe is the widest international movement aiming to realize food sovereignty. It aims to build common strategies in order to re-organise the way we structure our society around food and agriculture today. Food sovereignty is a policy framework advocated by a farmers', peasants', pastoralists', fisherfolk, Indigenous Peoples', women's, rural youth and environmental organisations. It was launched in 1996 by the international peasants' movement La Via Campesina during the FAO World Food Summit in Rome. Since then food sovereignty has played an increasingly important role in the debate on agriculture and alternatives to neoliberal policies.
Kathrin Kuna, The Food Assembly Germany: Meet your Farmer
The Food Assembly brings together people to buy fresh food directly from local farmers and food makers. With technology and support, everyone gets a better deal: communities get to know each other, farmers get a fairer price for their work, and consumers get locally sourced, unique produce. Selling through The Food Assembly, farmers and food makers get over 80% for every product sold, compared to the 15%-25% that most supermarkets offer them.
Cathrin Brandes, Die KrautBraut (The lady with the Sauerkraut): DIY Fermentation
Fermentation Celebration! The KrautBraut makes sauerkraut: from the cabbage to the sauerkraut. She gives fermentation know-how workshops.
Director Robert Schabus: Bauer Unser (Our Farmer) – The Film
Robert Schabus' documentary "Bauer Unser" is a suprise cinematic hit in its native Austria. There is something wrong with our agriculture. The film shows how economic policy and society increasingly capitulate before the industry. There are no rosy pictures and yet there are moments of hope. For he makes a visit to the peasant around the corner, to enjoy deliberately indigenous food and commits to "Our Farmer".
Julia Rupp, Demeter Farmer: Agriculture needs young farmers
Why agriculture needs young people to start farming and best practice examples.

Elia Carceller, Slow Food Youth Academy: Training the Food-Leaders of the Future
The Slow Food Youth Network is a global movement of young people who are committed to keeping a culture of traditional eating and drinking alive, while exploring social political and environmental meaning in food.
Theater Group "Rotbäckchen und Rolf": The Voices of the #WeAreFedUp Movement
Sandra Burger, Farmer: How young people get access to farm land
Eberto Díaz, La Via Campensina: Farmers resisting in Columbia
La Via Campesina is the international movement which brings together millions of peasants, small and medium-size farmers, landless people, women farmers, indigenous people, migrants and agricultural workers from around the world. It defends small-scale sustainable agriculture as a way to promote social justice and dignity. It strongly opposes corporate driven agriculture and transnational companies that are destroying people and nature.
Lars Veraat, Ecoruralis: Food Sovereignty
Eco Ruralis was founded by small scale farmers from several regions in Romania. It is a grassroots association made up of small scale farmers who practice organic and traditional farming based on environmentally-conscious principles. Eco Ruralis stands for farmers' rights to practice non-industrialized sustainable agriculture.
Laura Klein, Foundation on Future Farming: The 2000m² Global Field
If we were to divide all arable land by the number of people on the planet, we would each get 2000m². In Berlin the project is growing the global situation of arable land scaled down to 2000m² at the International Gardening Exhibition.
Lina Shamy, The 15th Garden: Food Sovereignty in Syria
Through the 15th Garden, farmers and activists are exchanging knowledge of agro-ecological methods through independent media and practical manuals. Practical workshops have taken place in neighboring countries that brought together participants from all over Syria, but also from the international farmers' movement. The 15th Garden aims to build a movement for food sovereignty in Syria.
Hermann Maier, Uria: A new method to raise cows
Uria is an association for the promotion of a new kind of animal husbandry in Balingen-Ostdorf, Germany. Uria e.V. is a not-for-profit animal welfare association, to promote livestock farming, which is uncompromisingly oriented towards the needs of the animals. The Uria e.V. concentrates on the step-by-step abolition of  slaughter house transportation.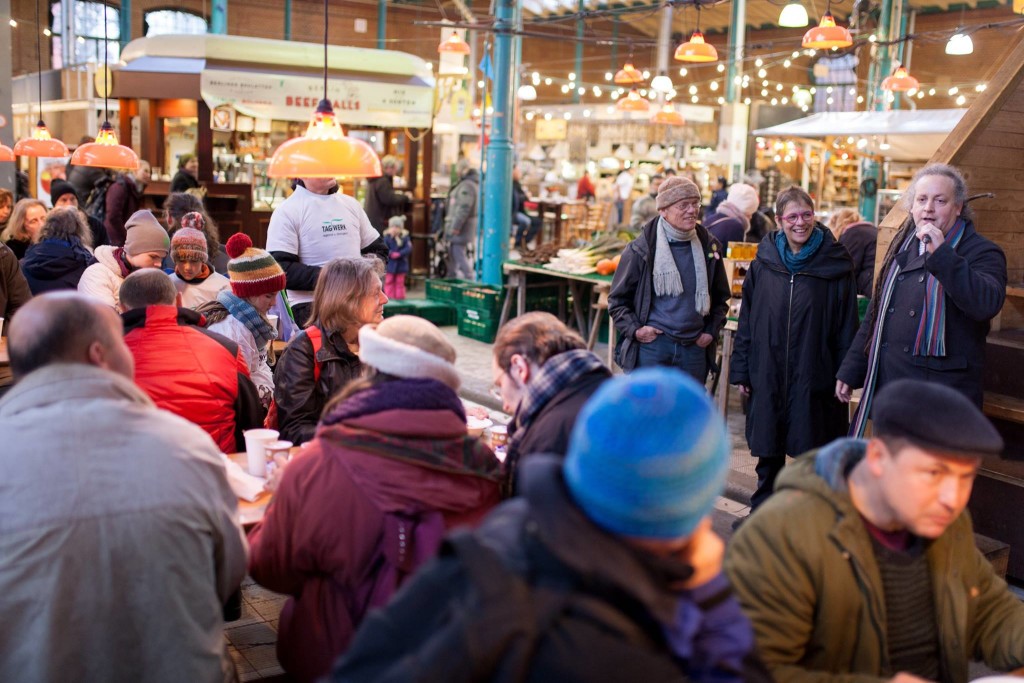 Oliver Moore, GROW – Citizen observatories for soil
Imagine turning big data good? Imagine generating and harnessing our own big data for agroecological purposes? GROW is a citizen's observatory, whereby hundreds and then thousands of growers Europe-wide will coordinate soil experiments, share their findings and learn from each other. The project launches its first campaign soon in 2017, and you can get involved here. 
Ute Scheub, Author:  Die Humusrevolution (A Mold Revolution)
How to heal the soil, save the climate and change the way we eat: Here the rapid increase of carbon dioxide, there the rapid shrinkage of humus. What initially look like two separate problems are actually closely connected ones: we have too much carbon in the atmosphere and too little in the soil. So the motto is "Back to the roots!"
Shefali Sharma, IATP: Selling Off the Farm – Why CETA will hurt European Farmers!
TTIP through the Backdoor: Agribusiness is now counting on CETA's regulatory cooperation agenda. Many EU standards  – such as the EU meat labeling scheme  – are under threat through CETA. Post-NAFTA, the North American meat industry is highly integrated and powerful enough to force the U.S. to repeal country of origin labeling (COOL). European producers could be priced out of market due to market failure and unfair competition.
Matthias Stührwoldt, Farmer and Author: Stories of Rural Farming
More: ALL ARc2020 articles on Wir Haben Es Satt (2010 to the present)