"Ymunwch â'r trafodaeth / Join the conversation" was the pre-event call made by the steering group of the first Wales Real Food and Farming Conference, held on 11th and 12th November 2019 at Aberystwyth University. Jane Ricketts Hein of Cynidr Consulting in mid Wales, who provided administrative support to the conference, considers some of the conversations that took place, along with others that need to happen soon. Photograph by Jeremy Moore.
The need for new agricultural, environmental and food policies has become particularly acute since the UK referendum to leave the European Union. This is in addition to the need for better ways of working in order to address on-going economic, climate change, social and environmental problems.
However, on a more positive note, many individuals and organisations are working hard to do just this and, most relevantly to this report, the Oxford Real Farming Conference (ORFC) is going from strength to strength: over 1,000 people attended the 10th event in 2019, with a similar number attending in 2020.
The ORFC was partly devised as "the antidote to the official Oxford Farming Conference", which tends to encourage farmers to focus on technological and global market answers, and which offers approximately 560 places. The constituent nations of the UK have devolution settlements to varying degrees, and in Wales devolved areas of responsibility include agriculture and the environment, as well as health and education.
Thus, at the 2019 ORFC conference, a group of delegates from Wales decided that it was about time the country had its own space to explore issues across sustainable food and farming. The inaugural Wales Real Food and Farming Conference in November attracted over 200 people on each of the two days. On Twitter (in English and Welsh), potential participants were invited to "join the conversation" – and many conversations were, indeed, conducted.
Conversations and contexts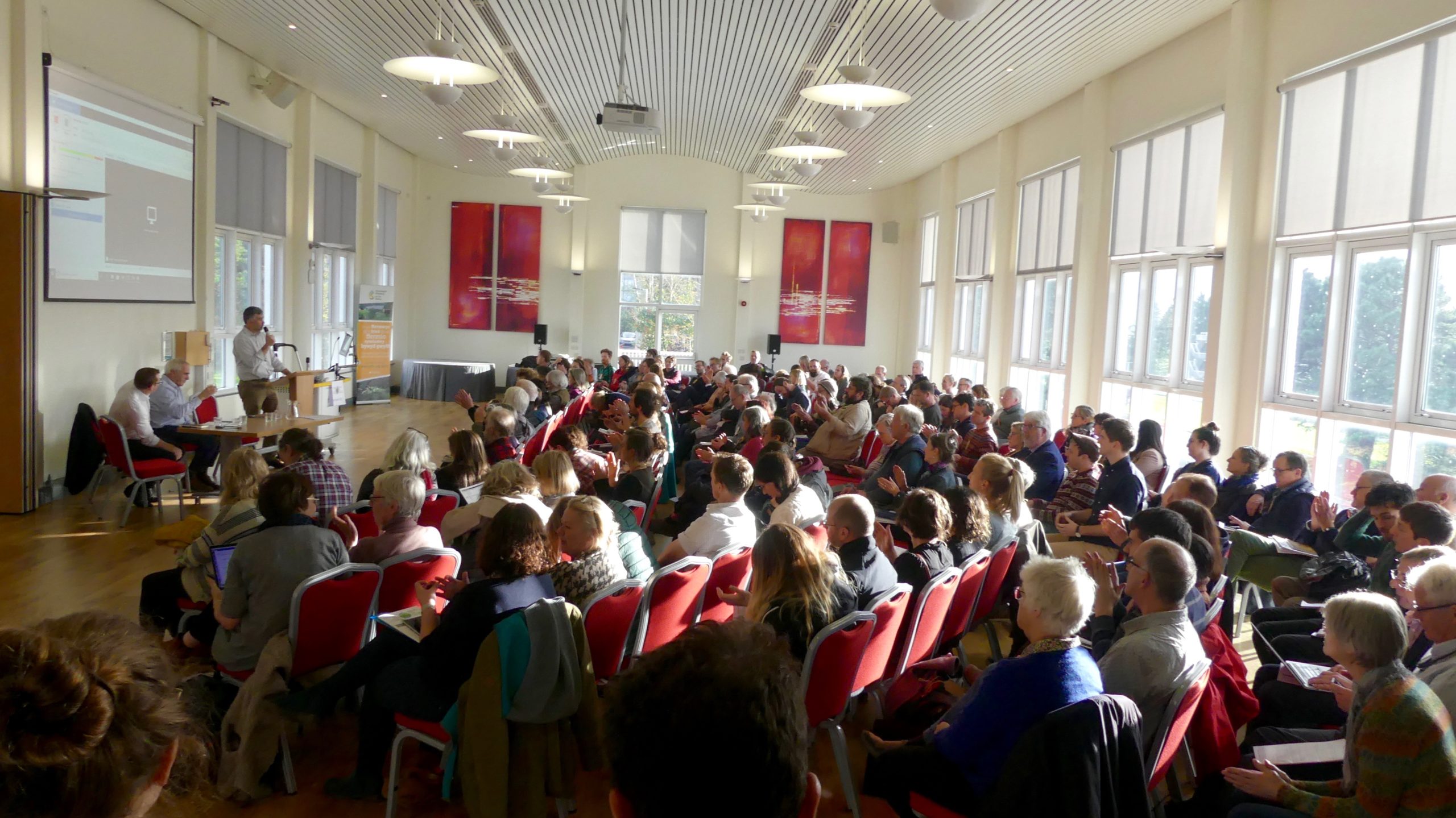 Initially, the most striking thing about the Conference was the sheer demand for such an event. Although the organizers were very passionate about the Conference and very aware of the continuing success of the ORFC, they were very encouraged by the steady bookings for both delegate tickets and stand spaces.
Tickets were sold out a month beforehand, and all the available spaces booked (with waiting lists operating for both), so it was with a mixture of relief at knowing that the demand existed and frustration at having to disappoint unsuccessful delegates that organizers faced the Conference itself.
One of the aims of the event had been to encourage conversations between different, traditionally separate sectors. It was pleasing, therefore, that the Conference was able to attract members from much of the farming and food system, with contributions from (largely independent, small-scale and sustainably-minded) farmers, growers, policy-makers, and a variety of others with more specialized interests in training, new entrants, fishing (marine and freshwater), horticulture, water management, nutrition, and better access to healthy food.
Urban food systems were also discussed, but perhaps more importantly, given the ambition to break down barriers, were contributions from those who, at first glance, have little to do with agriculture or food production.
The context within which farming and food production takes place is vast and complex, and delegates were reminded of this in broader sessions on good mental health and wider rural communities. In the former, consideration was given to how farming and horticulture can be a positive force in improving wider mental health and effecting positive social change.
In a discussion about rural communities, representatives from Welsh language campaign group, Cymdeithas yr Iaith, and the Women's Institute, which has popular support throughout the United Kingdom, linked with those from farming organizations to contemplate the future for rural areas, which form the largest area of Wales. This session, along with another dealing with some of the cultural and historical aspects of farming, was conducted in the Welsh language with simultaneous translation, and the opportunity for feedback in either language helped to maintain the distinctiveness of this event. Of course, context is not just local or national to Wales, and lessons from Nourish Scotland and Schwäbisch Hall Farmers Association, Hohenlohe, Germany, were eagerly noted.
Into action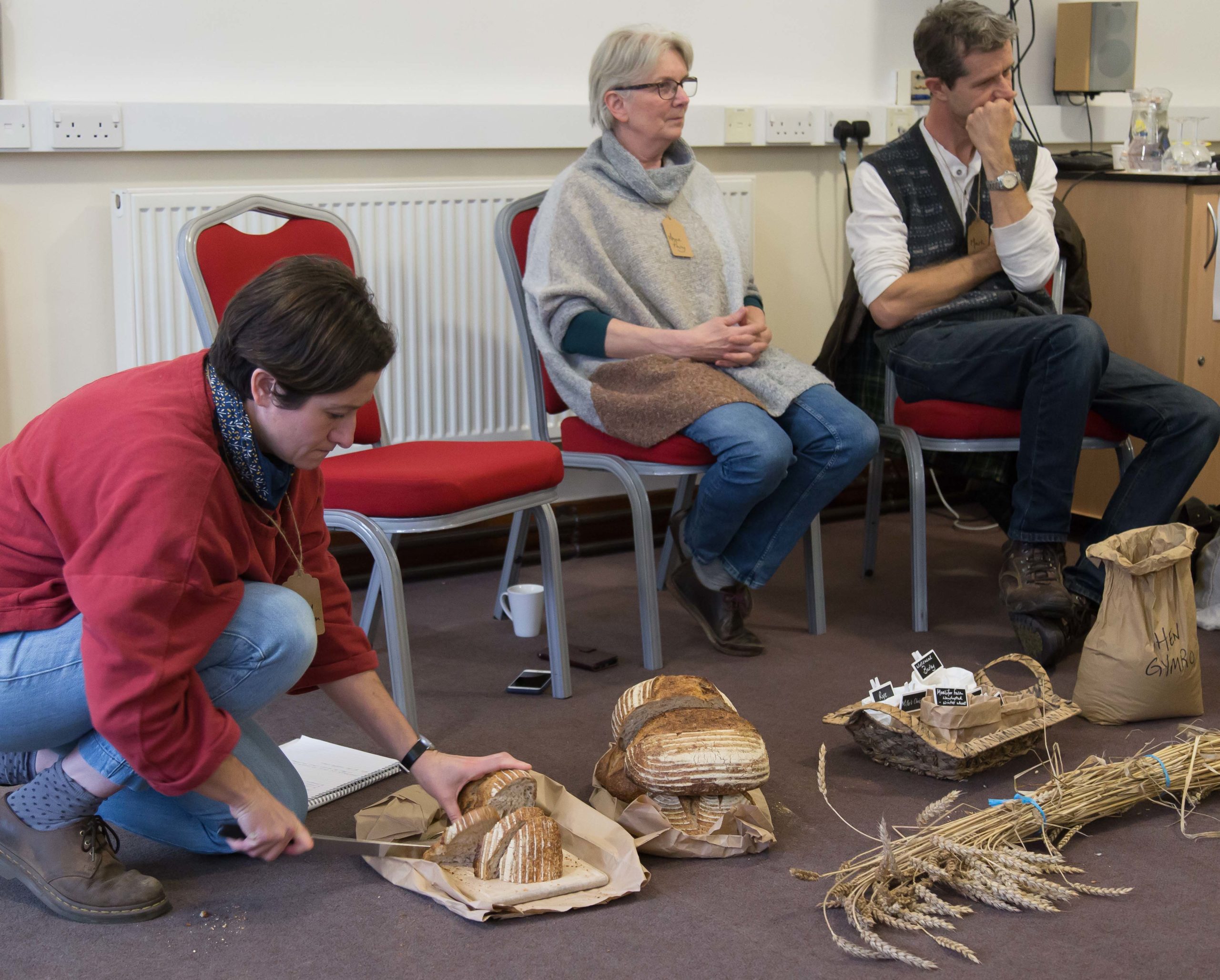 Of course, getting these dialogues started is only the beginning. Conversations have to include more about climate change, wildlife and nature, diet, nutrition and food access, as well as including those concerned with farm animal and human welfare. They should also find ways of encouraging mainstream farmers, growers, processors, retailers and consumers to consider these issues to a much greater degree and more effectively.
Opportunities exist with some of the Welsh Government's ground-breaking legislation (especially the Wellbeing of Future Generations Act and Environment Act), the large numbers of grassroots organizations operating within Wales, and the distinctive Welsh identity that many feel very strongly about. However, some specific threats also exist, in addition to those facing most of us in a European context. These include the pressure of having a farming industry largely based in a wet, cool, upland environment, which has largely become specialised in a single (red meat) sector, high levels of poverty and ill-health, and (dare I add) Brexit-related uncertainties. A particular issue is the shifting power relationship between the devolved and UK governments.
Many of the powers currently transferred to the nations will be returned to the UK government as part of the strategy to leave the EU, meaning that policy areas previously decided in Cardiff, Belfast or Edinburgh under the overarching guidance coming from Brussels, will be administered by the government in London. This leaves a political and governmental situation that is far from clear and has, at times, been strained.
In the meantime, the Wales Food and Farming Conference organizers are left with the, somewhat happy, challenge of finding a way of holding an event that attracts more – and more different types of – people, but retains its accessibility and sustainable ethos.