"In this decade the contest over death and life will be THE critical battle. You stand for life." Vandana Shiva (Navdanya Institute, at WHES2020)
Oliver Moore in Berlin
For the tenth year, tens of thousands have descended on central Berlin to demand changes in farming and food systems. This year, the 27,000 who turned up were focused on climate, a just transition for farmers, vetoing the EU Mercosur trade deal, and opposing many aspects of industrialised, corporate agriculture, from gene drives and pesticides to animal welfare and fairness for the global south.
Wir Haben Es Satt! (We are fed up!) brings together dozens of German organisations from a wide spectrum – nature, climate, consumer, animal welfare and farming interests – are coincides with the established 'Green Week' events: Green Week is the annual mainstream agri-food event held in Berlin at the same time.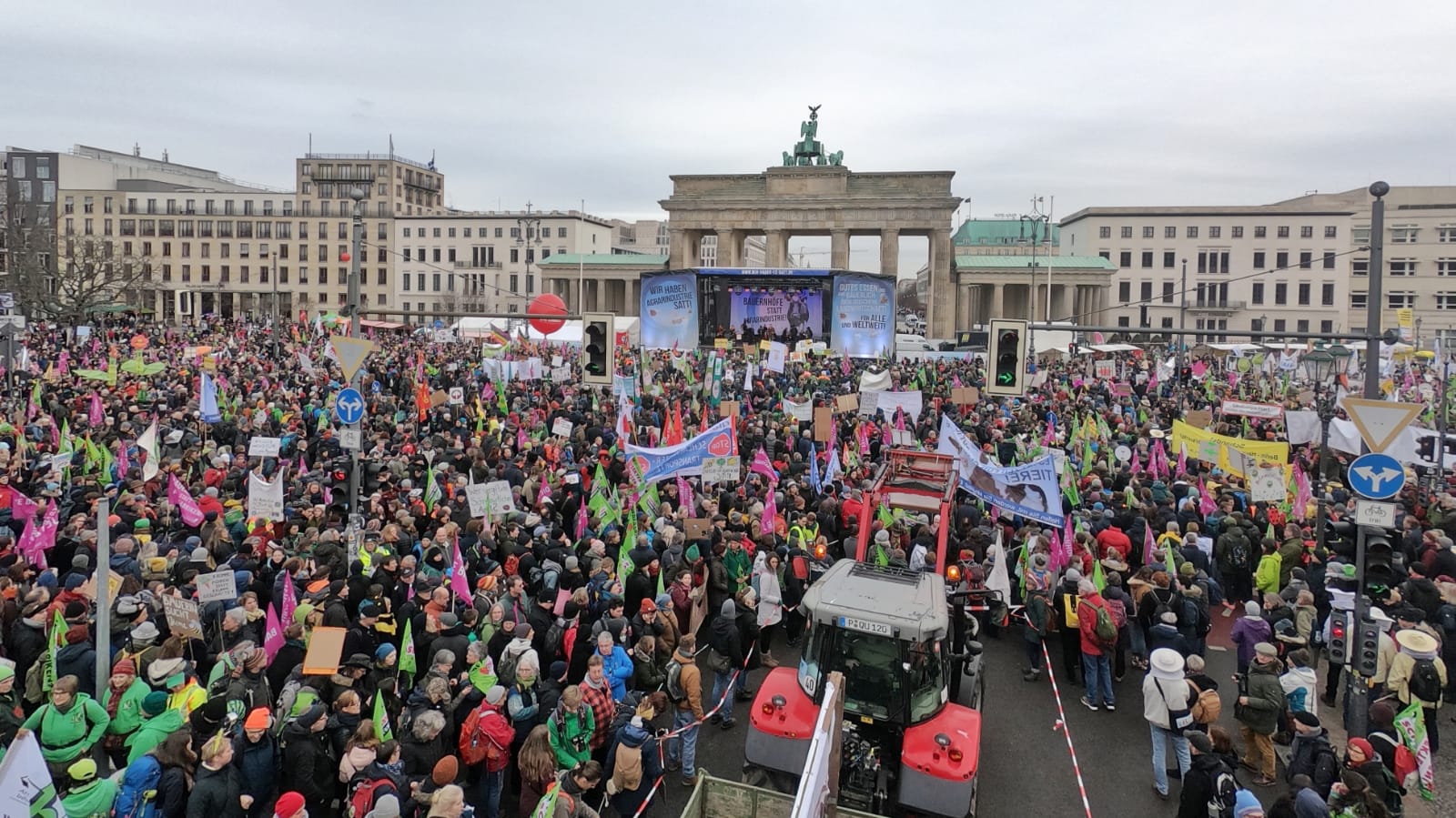 Speakers and marchers were also focused on agricultural spending – with the new CAP Strategic Plans approach, as well as the much vaunted EU Green Deal and Farm to Fork Strategy, participants sent a message to Ag minister Julia Klopper.
Wir Haben Es Satt had specific demands, in the week where Ag ministers from around the world were meeting in Berlin. The emphasis was on:
Financing the agricultural turnaround – don't leave farms alone in the restructuring of agriculture: We demand targeted subsidies and fair prices, support for better animal husbandry and more climate and environmental protection.
Clear veto against the EU-Mercosur agreement: Trade should be fair and consistent with rainforest protection, while global farmer's rights to survive and thrive should be respected
The further industralisation of agri-food – including gene edition, patented seeds, and the increased use of pesticides and fertilizers – should be reversed.
Andrzej Nowakowski talking about WHES2020 at a Strasbourg warm up event.
As usual there were many dozens of tractors big and small, with a noticeable number being driven by young women.
There were an estimated 170 tractors this year.
Indeed, youth and vibrancy were noticeable elements of the gathering this year: the Fridays for Future climate strikers made their presence felt strongly.
Already, climate striking teenagers are seeing the potential for connection between farmer sand environmentalists: "The farmers are the real hope in the fight for the climate change!" said this climate striker (in German – "Die Landwirtinnen und Landwirte sind die eigentlichen Hoffnungsträger innen im Kampf für die Klimawende!")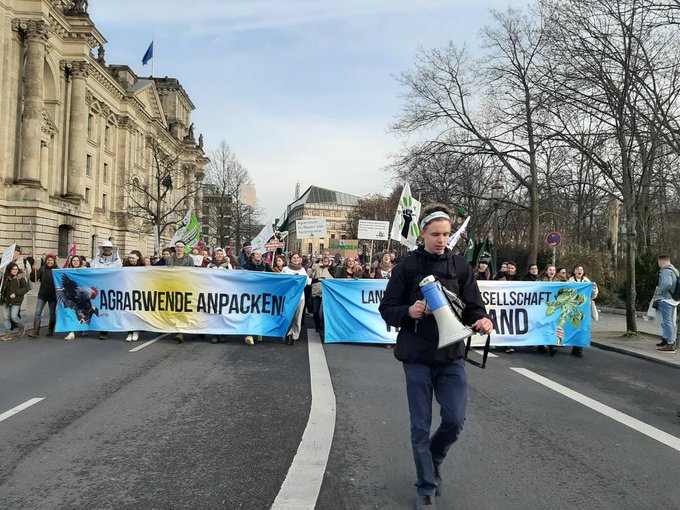 Another related and interesting development was the participation of one of the leaders of the protesting farmers of Germany at the Soup and Talk, which followed the demo.
To a packed audience, Tilo von Donner of the Landschafft Verbindung movement explained their position to what was a quite receptive and supportive audience; areas like below cost selling and fighting retail power emerged as areas of potential synergies of the movements going forward.
And just how powerful a movement would a combination of farmers and environmentalists be, one that found areas of commonality and united on the basis of what they had in common?