Pavlos Georgiadis is a young, thoughtful and passionate Greek farmer and entrepreneur who inspires others to join him in fighting for a better European agriculture.  If you've heard him speak before, you know how moving and engaging the way he shares his ideas is.  Needless to say, we were very happy when he aggreed to join us on stage for tomorrow's demonstration
. 
Below, he shares a few words on why he'll be coming, why he is fed up.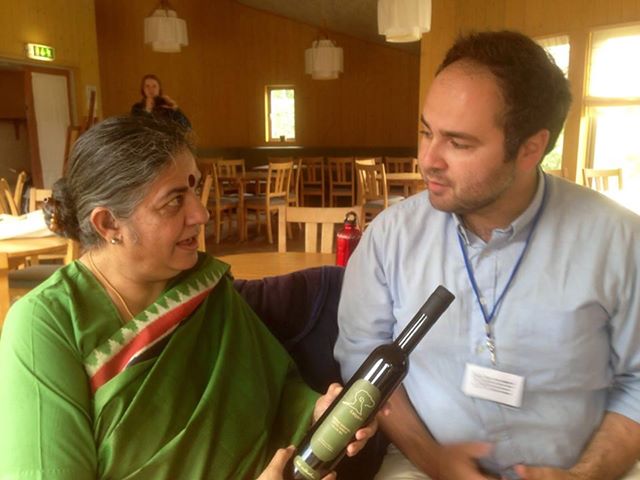 Why am I joining you all to protest in Berlin?
I am one of the 60% of Greek youth that have been unemployed for the last 3 years. I am one of the 6% of Europe's farmers that are under 35 years old. I am educated, socially networked, politically active and I care, but in the last years, my life in Greece has become a constant struggle for justice.
I know what democracy means, but many times I feel I don't experience it. I want to contribute to a better society, however, I feel that my politicians are not representing my voice and do not work towards giving me a chance as a citizen that wishes to live in freedom. They speak of a "success story" while I see no meritocracy and no equity.
I am one of those that strive to regain control of their future in a country controlled by corporations, banks and Brussels bureaucrats. In a Europe driven by a narrow, profit-driven mindset. I will join you in Berlin because I am fed up with this Europe.
The Europe I want is one of solidarity, productivity, sustainability, equity, mutualism and values. The Europe I want discusses seriously about the future of our food and the future of our farming. The Europe I want cares about the land and the people that work with it. The Europe I want does not allow a bunch of corporations to make huge amounts of money on consumers' ignorance and apathy. The Europe I want cares about consumers' nutrition and becomes a beacon of sustainability. The Europe I want should be passing this light to the world.
Our politicians speak about all this. But they do very poorly in making this happen in a way that works for all. This weekend, it is our time to say "We're fed up". This weekend, it is the time to take our future back!
Pavlos tweets at @geopavlos
You can follow the demonstration on twitter through the tag #WeAreFedUp