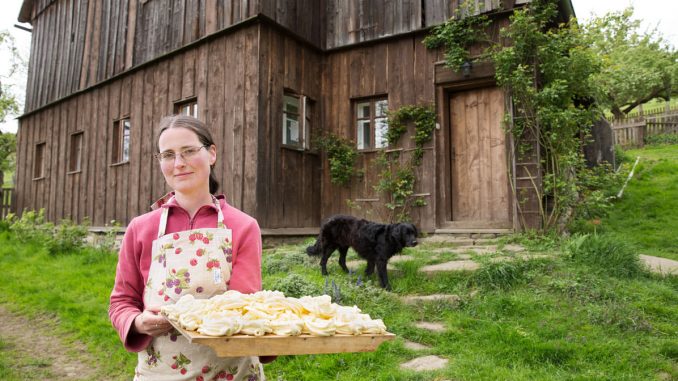 In the midst of the coronavirus pandemic, our creaking food systems have triggered a crisis within a crisis. Covid-19 has sounded the alarm on the planet's unsustainable agricultural systems. With a new normal all to play for, small-scale family farms are well placed to lead the way in addressing the causes and symptoms of the Covid-19 crisis. Unlike big agribusiness, family farms have a vested interest in preserving the environment for future generations. They are vital links in the resilient local supply chains we need to build. But in the Czech Republic small farmers face challenges, and a six-week closure of farmers markets has hit hard. Louise Kelleher reports.
Over-The-Fence Sales
Easter markets are the first big earner of the year for the Šanc family, who run an organic goat farm in North Bohemia. This year they tried to make up the losses with on-farm sales, passing cheeses over the fence to customers. They're also using technology to adapt to Covid-19 restrictions. "After 16 years we finally got the doorbell working – so people don't have to come in," Ondřej Šanc told organic farming blog lovime.bio in an interview. "And we got on Facebook." Meanwhile they've continued to supply CSAs in Prague. Friends have also rallied to get them over the hump, placing bulk orders that they then distribute among themselves in a kind of "spontaneous CSA".
But closed farmers markets aren't the only challenge the farm faces. The Czech borders, which shut in the wake of the coronavirus outbreak, show no signs of opening any time soon. The Šanc family had arranged for two volunteers to come from the European Solidarity Corps – and were looking forward to the help. Now they'll have to manage alone. They're also disappointed to miss out on the company for the eight months. "Goat farming is hard work and a lonely life," explains Ondřej Šanc. "So at the moment that's the biggest hardship for us – that we're on our own."
While their humans grapple with the crisis, these goats appear unperturbed. Video via the Šanc family facebook

Farmers Markets a Casualty of Covid
Farmers markets were a casualty of emergency measures enacted by the Czech Ministry of Health on March 10. Organisers protested the closures in an open letter to the Minister of Health. Open-air markets pose less of a hazard in spreading disease than indoor retailers such as supermarkets, argued the farmers markets association (their claim was backed up by the Czech haematology institute). Air conditioning can even worsen the spread of Covid-19, they pointed out. Noting that farmers markets had remained open in neighbouring Germany and Austria, the group proposed a corona-proof layout for markets in the Czech Republic.
To get around the ban on public gatherings, many markets put customers directly in contact with sellers, and provided a pickup spot for phone orders instead. Social media savvy farmers were able to reach out to customers and organise home deliveries.
Banning farmers markets while allowing indoor grocers to remain open is discrimination against family farms, said Jiří Sedláček, president of the farmers markets association. In a press release on April 1 he predicted "catastrophic" consequences if farmers markets remained closed much longer. "If the situation doesn't change soon, we estimate that it could bankrupt up to 40% of small Czech farms," he warned.
The Ministry of Health apparently heeded their warnings. Farmers markets reopened on April 20 as part of the first phase of easing Covid-19 restrictions in the Czech Republic. Organisers are responsible for making sure customers stick to social distancing recommendations, and for providing hand sanitising stations at each stall. In practice this means that sellers who are already reeling from a loss of earnings are now paying out of pocket for health and safety measures such as hand sanitiser, gloves and masks, as some sellers complained to news server Euro Zprávy.
As farmers market reopened in the Czech town of České Budějovice, shoppers and especially seniors appeared to be respecting the social distancing guidelines, noted Twitter user sallysk19, in response to a tweet from Živě.cz a Computer who suggested new software could be used to monitor social distancing.
Family Farms struggling pre-Coronavirus
The industrial food system, which relies on global supply chains, is looking shaky in the light of the Covid-19 crisis. Family farms that feed their communities are a crucial link in short supply chains. Small family farms also offer an antidote to industrial agriculture, which many blame for the wave of epidemics we've seen in recent decades.
Farmers in Central Europe are fighting for recognition of the important role of family farms. Last November farmers' organizations from the Czech Republic, Slovakia, Poland, Hungary and Austria congregated in Southern Bohemia for a conference on family farms. The delegates agreed that family farms have a vested interest in safeguarding water, soil and biodiversity for future generations. Small-scale family farms are a key part of the social fabric of rural society that makes for resilient rural communities. Delegates from the five countries came away with the following conclusions:
Family farms have at heart an interest in preserving the environment, water, soil and biodiversity in the best possible state for future generations.
Family farms also make many non-financial contributions to society. They play an irreplaceable role in rural areas.
The system must be open for young farmers under 40. Generational continuity in running farms is key.
Direct payments under CAP must be better targeted to the most vulnerable applicants, i.e. small farms.
Family farms are increasingly bogged down by paperwork. Paperwork related to supports and inspections must be simplified.
One of the organisers, the Czech Farmers' Association (ASZ), passed on these conclusions to the Czech Minister of Agriculture, Miroslav Toman. Under the new CAP they urged the Minister to consider systematic supports for family farms, which represent the largest group of farmers in the Czech Republic.
Many small-scale family farms depend on farmers markets like this one in Liberec, which has reopened after a six-week closure imposed by the Czech government's coronavirus measures. Image: Pavel Karda via Twitter
Food Self-Sufficiency
Fast forward to spring 2020 and the need is clear to build strong communities that can weather crises such as Covid-19. The Ministry of Agriculture has recently announced its goal is food self-sufficiency for the nation. Since the country is most reliant on imports of fruits, vegetables, potatoes, hops, pork and poultry, Czech producers in these sectors will be eligible for special financial supports in an upcoming round of the Rural Development Program this summer. The Minister has also appealed to supermarket shoppers to favour Czech produce over imports.
Although he states that the objective of these payouts is to shore up domestic production, Minister Toman is also claiming environmental brownie points. "Investments into fruit, vegetable and potato farming, but also animal farming, are important not just to increase self-sufficiency, but also to improve the state of the land," said the Minister of Agriculture in a press release announcing the supports on April 16.
"Orchards and vegetable fields break up the landscape and help to combat erosion and to increase biodiversity. Animal farming produces the much-needed organic matter that our soil lacks and that is important for water retention," explained the Minister. However it remains to be seen how much of these payouts will go to small-scale farmers as intended. In the Czech Republic subsidies have a way of ending up in the pockets of "agro-barons" and factory farms with scant regard for the environment.
President of the Czech Farmers' Association, Jaroslav Šebek, argues that family farms have the odds stacked against them. The Czech Republic never really recovered from the Communist agricultural model, he explains. As a result supply chains are skewed by a handful of processors that hold sway over the sector. That's why the country has so few family farms compared to the rest of Europe, and huge agribusinesses are the norm. This is the main obstacle to supporting short supply chains and the production of good local food, Šebek told news server Ekonomický deník.
Shift to shorter Supply Chains?
The Covid-19 crisis seems to be sparking a shift to shorter supply chains in many countries. After decades of unerring faith in globalised trade, food self-sufficiency and food sovereignty are having a moment. We're learning the hard way: we need local supply chains to help us weather the storms of pandemics and climate breakdown. And small-scale farms are the key links in those supply chains. Not only that, but by taking better care of the soil, water and biodiversity for future generations, family farms have the potential to help undo the environmental damage of unsustainable food systems that's causing nature to fight back.
Small-scale farms play an essential role as producers of our food and custodians of the environment. But our food systems are making it harder for them to do their job. If we can heed the lessons of Covid-19, and begin to support small farmers adequately, family farms could be at the vanguard of new/old ways of producing our food.
More on the Czech Republic
Czech Republic | "No Forests, No Water, No Future" – Part I: Bugs in the Ecosystem
Czech Republic | "No Forests, No Water, No Future" – Part II: Moving On from Monocultures
Trouble With The Neighbours: Living Next Door to an Agri-Giant
Bad Czechs and Balances: Commission Audit Confirms Czech PM in Conflict of Interest
Covid-19, Farming and Direct Selling
Coping with Covid – Struggles and Resilience of Small-Scale Cheesemakers in Italy
Coping with Covid19 – the Open Food Network and the New Digital Order(s)