This long read by Frank Armstrong gives a background into what he calls the livestock industrial complex. Part history, part contemporary agri-food overview, part health and environmental case and part personal note, this article speaks of power and how it operates in different spheres. These include politics, media and nutritional advice, all through the prism of livestock farming in Ireland.
By Frank Armstrong
It may come as a surprise that a Republican President, and former Allied commander-in-chief, Dwight D. Eisenhower coined the term 'the Military-Industrial Complex' before leaving office in 1961. Throughout the Cold War, and beyond, the US arms industry has exerted profound influence on political decision-making. This has yielded vast federal investment in manufacturing operations, and brought sinister deals with tyrannical foreign governments, including, recently, Saudi Arabia.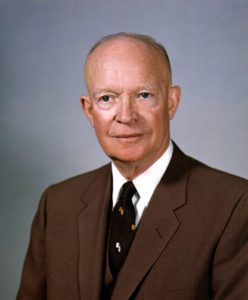 U.S. society has been weighed down by this relationship with the industry, as Michael Moore poignantly showed in his documentary 'Bowling for Columbine' (2002). Moore pointed to how the presence of the arms industry in small towns incubates states of fear that can have terrible consequences, including mass shootings.
The Military Industrial Complex has been defined as: 'an informal and changing coalition of groups with vested psychological, moral, and material interests in the continuous development and maintenance of high levels of weaponry, in preservation of colonial markets and in military-strategic conceptions of internal affairs.'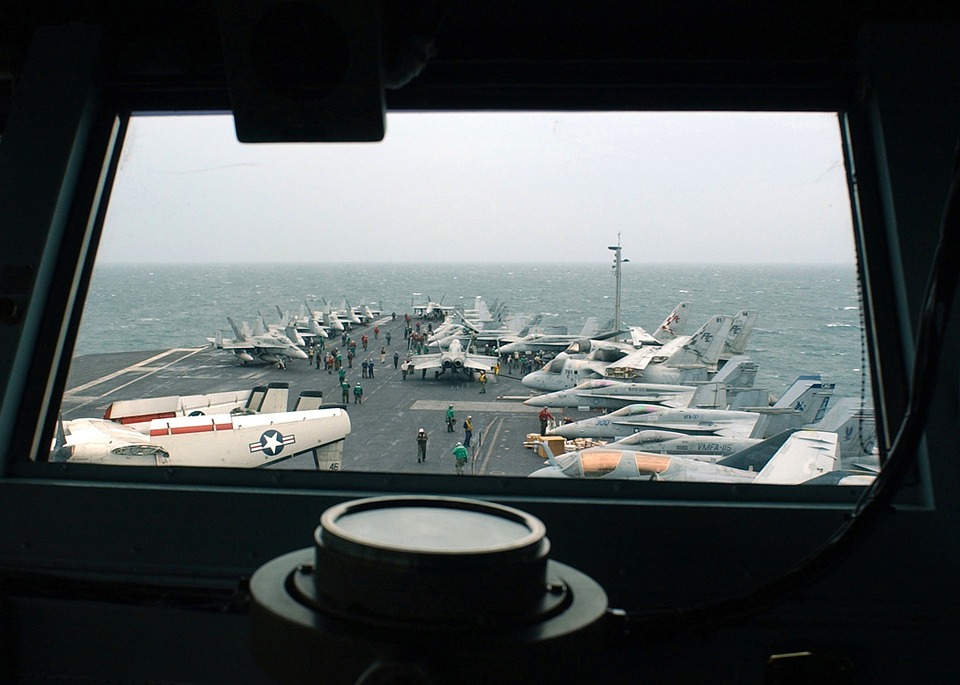 Replace "weaponry" and "military" with "livestock", and "agricultural", and it could describe the "informal coalition" of interests operating to preserve the livestock-farming sector in Ireland. This country is similarly dominated by the concerns of an industry that would hardly survive in a free market. This has long been evident in media reporting on Climate Change, and even when it comes to nutritional guidance from professional bodies.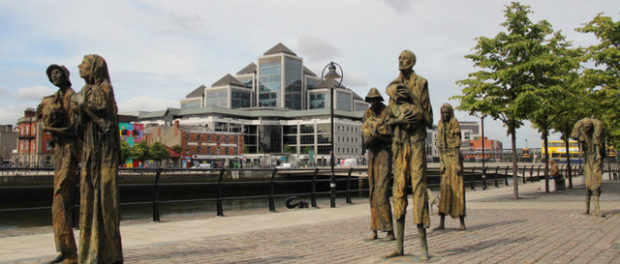 Since the Great Famine (1845-52), Irish agriculture has been dominated by cattle-rearing for beef, and dairy; although Irish farmers have been no laggards in adopting CAFOs (Concentrated Animal Feeding Operations), mainly for pigs and chicken. Michael Pollan described one such CAFO in the United States as 'a place I won't soon forget: a deep circle of porcine hell.' He adds: 'Specialisation makes it easy to forget about … the hog that lived and died so I can enjoy my bacon.' Adding: 'however scrupulously the slaughterhouse is concealed in the graceful distance of miles, there is complicity'.
Ireland operates facilities on a similar scale as those in the United States. One such was found to be in violation of what are very limited animal welfare provisions. In February 2015 the Irish Times reported on a case in which pig farmer Rory O'Brien was given a jail sentence of 18 months. Judge Sean O Donnabháin said: 'This is cruelty on an industrial scale by one of the biggest pig farmers in the country. On a continuous basis he knowingly and without regard acted in this way'. Inside the rat-infested piggery, animals were left to starve leading them to eat one another. O'Brien's farm held over 2000 pigs. That implicates a lot of breakfast rolls.
A curious psychology appears to operate whereby, since the Great Famine, Irish farmers have equated growing crops with poverty. The first Minister for Agriculture Patrick Hogan (1922-32) was a substantial cattle farmer, and an export-led strategy left a deep impression on state policy thereafter.
During the 1930s, and especially the Emergency years of the Second World War, government policy necessarily shifted towards a more diversified agriculture, designed to feed the populace. However, since the 1950s, livestock agriculture has become increasingly dominant, and a host of semi-state organisations including Teagasc and An Bord Bia, intertwine with multinationals such as Larry Goodman's ABP Food Group and the Kerry Group, to create an "informal coalition" with tentacles reaching deep into media and politics.
Successive governments have supported these companies, including, most obviously, the extension of state benefits by Charles Haughey's administration to Goodman International in 1990, after Saddam Hussein's Iraq invaded Kuwait, which caused losses to the company estimated at £70 million. The Middle East remains the preferred "colonial market" for the Complex, including the disturbing live animal trade.
It is at least symbolic that while Minister for Agriculture (2011-2016), Simon Coveney's brother and political supporter Patrick was CEO of Greencore, while another brother Rory was Strategic Advisor to the Director General, and Head of Strategic Partnerships, in the national broadcaster RTE. The alignment of business, media and politics lies at the heart of maintaining the informal coalition, and Coveney's new role as Minister for Foreign Affairs, leading Brexit negotiations, should be scrutinised closely for his efforts on behalf of the sector.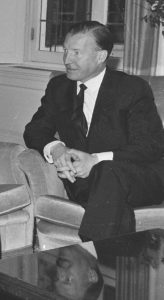 European subsidisation from 1973, through the CAP, essentially keeps cattle farming afloat in Ireland. Accounting for over half of Ireland's c.85,000 farms (.pdf) the vast majority of dry cattle ("beef") farmers actually lose money on their enterprises, relying on Direct Payments (subsidies) for income. Government intervention in the market has long caused distortions. In 1966 then Minister for Agriculture Charles Haughey claimed: 'agitation directed only to getting higher prices may develop a kind of dole mentality which would eventually make agriculture subservient to the state.' This "dole mentality" is now ensconced in a subsidy-dependent sector.
Prior to the introduction of the CAP into Ireland in 1973 the economist James Meenan had claimed: "the small farmer cannot profitably raise beef on his limited acreage". He contended that it is: "…increasingly recognised that price supports are of most benefit to the large farmers who as a rule, are least in need of them, and that such supports do nothing to provide a lasting solution to the problems of small farmers".
Far fewer in number, dairy farmers (c.15,000 out of c. 85,000), also avail of EU grants, but tend to be profitable, while operating on the best lands in the country. Cleavages have opened up between the two – with the advent of the Irish Cattle and Sheep Farmers' Association (ICSA) in 1993 – although it is convenient for the more profitable farmers to maintain an illusion of unity through the far larger, and industry-supported, Irish Farmers' Association (IFA), at least for the moment. If nothing else, this allows the Livestock-Industrial Complex to associate itself with embattled small farmers.
The Livestock-Industrial Complex operates via a number of pillars in both the public and private sector, which have brought successive governments to heel and maintained a spooky allegiance to the "farming way of life" in mainstream media, especially through the state broadcaster. The Agricultural-Industrial Complex faces its greatest challenge in a generation, however, as the state is committed to reducing its carbon emissions at a time when the sector wishes to expand with the ending of EU milk quotas.
Over a number of years I covered the media reporting on this issue for Village Magazine. An instructive example came from an RTE Drivetime report from Wednesday, 2nd of October in 2013 about the connection between livestock and climate change. It began with presenter Mary Wilson stating: 'A UN report ('Tackling Climate Change Through Livestock') on the contribution of livestock to greenhouse gas emissions has been rubbished as misleading and outdated by JBS, the world's largest producer of beef.'
In the first instance it would surely be customary to begin with a commentary on the findings of the UN report, rather than the response of an industry representative. There followed a four-minute interview in which Countrywide's Damien O'Reilly questioned Gerry O'Callaghan the chief Executive of JBS, a Brazilian company heavily implicated in the destruction of rainforests. O'Callaghan was allowed to question the veracity of the report and impugn the credibility of its 'out of touch, 'academic' authors.
O'Callaghan claimed de-forestation was 'being managed really well', and 'only a fraction of it is associated with the meat industry'; claims environmentalists vigorously contest. He went on to claim that the research used in the report was 'out of date', and that the industry was making 'great strides' in reducing its footprint.
Back in studio Mary Wilson proceeded to interview Oisín Coghlan of Friends of the Earth. The credibility of the report was immediately raised: 'Does he have a point. Does it devalue the impact of the report?', she asked.
As is still usually the case, the environmentalist was placed on the defensive. But the psychological and moral influence of the Livestock-Industrial Complex seemed evident in his response. While defending the report, Coghlan said in effect that it was a good news story for agriculture: 'Better pastures and better grasses – we are seeing that in Ireland too.' Placed on the defensive, Coghlan failed to use the opportunity to advocate a significant production towards environmentally friendlier and healthy alternatives.
Our 'paper of record' the Irish Times has also been slow to highlight the responsibility of farming for emissions, and still tends to slide away from doing so. Certainly its food coverage emphasises meat and dairy cooking; while sympathy for small farmers seems to extend to an unwillingness to meaningfully confront the industry. The Irish Times also contends with the interests of significant advertisers such as National Dairy Council and An Bord Bia.
Responding to the then FG-Labour government's Climate Change Bill Harry McGee wrote in the Irish Times on February 26, 2013: "The Government argument is that an 80 per cent reduction by 2050 means annual emissions of 11 million tonnes of carbon equivalent, for everything. But agriculture alone accounts for 19 million tonnes at present. That means if everything else was reduced to zero, Ireland would still need to substantially reduce the amount of food produced, or dramatically cull national herds."
He followed: "That is not a feasible solution, practically or politically, it is argued." The use of the passive voice tells us what we need to know: unspoken influences prevent deviations from a dominant line. The media bears a level of responsibility for the Irish state facing hundreds of millions in EU fines.
We also find the interests of the Livestock-Industrial Complex entering nutritional discourse, especially through the National Dairy Council. Maintaining consumption in the home market is clearly still a priority, perhaps for symbolic reasons as much as anything else.
The funding of research and development, including through charities, plays an important role in maintaining government nutritional advice that is not necessarily best practice, but ensures dairy in particular is consumed at high levels.
The Osteoporosis Society of Ireland was founded in 1996 by Professor Moira O'Brien as "a patient support organisation for those suffering with Osteoporosis and their families." Two of its leading sponsors listed on its website are Avonmore and Yoplait, and it has collaborated in the past with the National Dairy Council. As regards dietary calcium their website states:
"The richest sources of calcium in the diet are yogurt milk and cheese. Three servings a day will help meet calcium needs of an adult or child, five servings are recommended during adolescence and pregnancy. Smaller amounts of calcium may be obtained from other food sources, such as green vegetables, bread and sardines. It should be noted however that the bioavailablility of calcium from non-dairy sources is lower. Calcium intake can be boosted by including dairy foods in a variety of ways such as in smoothies, hot chocolates, pizzas, cheese sauces, lasagne etc. For some, milks fortified with extra calcium and vitamin D can be useful."
This is at odds with the Harvard School of Public Health (HSPH) which say: "studies suggest that high calcium intake doesn't actually appear to lower a person's risk for osteoporosis." The authors refer to the Harvard studies of male health professionals and female nurses in which individuals who drank one glass of milk (or less) per week were at no greater risk of breaking a hip or forearm than were those who drank two or more glasses per week.
The HSPH states bluntly: 'Calcium is important. But milk isn't the only, or even best, source.' They recommend: 'Look beyond the dairy aisle. Limit milk and dairy foods to no more than one to two servings per day. More won't necessarily do your bones any good—and less is fine, as long as you get enough calcium from other sources. Calcium-rich non-dairy foods include leafy green vegetables and broccoli, both of which are also great sources of vitamin K, another key nutrient for bone health. Beans and tofu can also supply calcium.' One may fairly speculate as to whether sponsors influence the Osteoporosis Society's recommendations.
The informal coalition of the Livestock-Industrial Complex operates at the highest levels of Irish society, and its role is rarely interrogated in mainstream media. A moral dimension flows from the Industry's capacity to associate itself with historically downtrodden small farmers, now locked into the "dole mentality" Charles Haughey anticipated. Environmentalists should be prising small farmers away from this model and arguing for progressive re-rurification that will increase opportunities for employment in labour-intensive tillage and horticulture.
On a personal note, I would add that the "complicity", which Michael Pollan alludes to, operates where the vast majority of the population eat, and enjoy, livestock-derived foods produced in Ireland. Nobody likes being told what they should eat, but until a greater proportion of the population shifts away from foods that have traditionally been considered an aspect of the pleasures of life – the butter melting on your toast in the morning; the Sunday roast; the turkey at Christmas; it seems unlikely that the Livestock Industrial-Complex will meet significant opposition.
Offering alternative dietary perspectives – a plant-based gastronomy – is therefore an important role for environmentalists. My own experience of shifting from a traditional gastronomic diet in my mid-thirties to a plant-based regime might perhaps be instructive. Contrary to carefully cultivated propaganda this was not an exercise in asceticism. I found my taste buds shifted considerably to a point where I began to derive enjoyment from different, usually healthier, foods. More importantly, I found my eyes opening to injustices that I previously took for granted.
Frank Armstrong's ARC2020 contributor's page
This article originally appeared on Frank Armstrong's blog