We're back on Ciasnocha Family Farm, where Mateusz is counting his blessings after a fruitful season of experimenting and investing on the farm. Luckily he found time to travel beyond the farm gate too, to seek and share knowledge, taking part in the UN Food Systems Summit, and COP26, where he championed regenerative agriculture and climate smart farming. Mateusz takes us through a memorable year on and off the farm.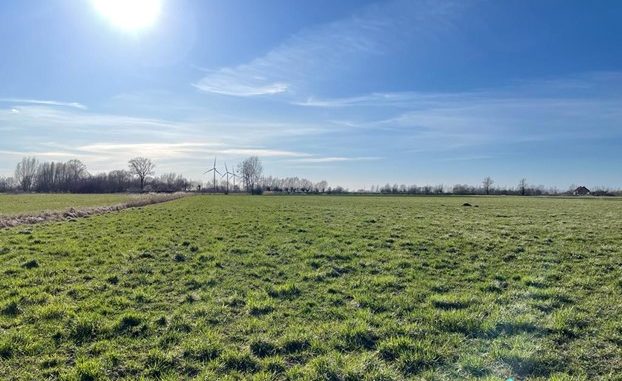 With the second year of the pandemic behind us, we are aware that being farmers and hence being able to work in nature is a blessing we have that many are craving for nowadays. This is an important perspective as we reflect on 2021, which – most likely – we would not arrive with equal strength if not the pandemic we are still going through.
My brother, Paweł Ciasnocha, is creating videos on his YouTube channel to document our work on the farm.
Spring is always a beautiful time of the year for us full of hope. Seeing life flourish, birds singing and sun warming our faces is something that cannot be told – it has to be experienced.
We are in particular focused on delivering even more ecosystem services following our commitment to continue the regeneration of the ecosystem we steward.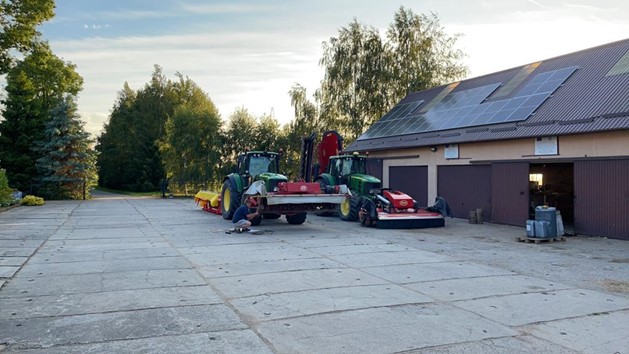 Making hay
As in previous years, after doing trawling work in early spring, we waited for the first cut of hay to start on June 15th (watch the video of our grass cutting featuring our John Deere 6930 Premium with Vicon EXTRA 7100T Vario & EXTRA 635FT movers).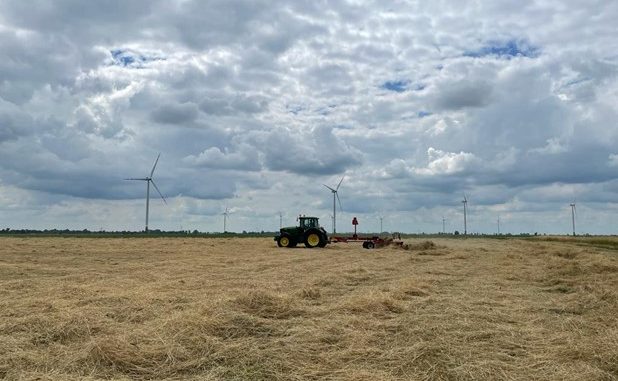 After the grass has turned into hay thanks to the process of drying, we have to act quickly in order to ensure as much of our hay as possible – and ideally all of the hay – is harvested with the optimal quality (watch a video here). This is where the processes of windrowing, baling, logistics and storage come in.
The key investment from last year, which has had a catalytic impact on the efficiency of our farming operation, was a purchase of four-rotor windrower with a maximum working width of 14 meters. This machine allows us to work at smaller widths with the first cut of hay, which is more plentiful then the second cut, where we work at the full working width of the machine. In this way we ensure our balers are operating at a maximum capacity no matter what the yield of hay per hectare.
While having marginal impact on our overall greenhouse gas emission level, this activity is an example of how any farm can optimize its efficiency, which in turns translates into lower emissions and less negative environmental externalities.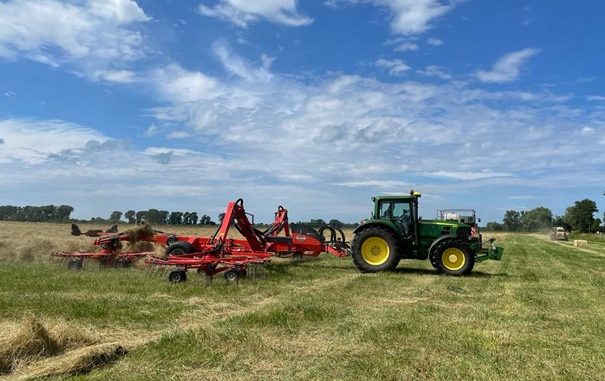 In the previous season, 2020, we were testing a belt windrower, which we thought could provide significant value addition to our product, as the hay would be cleaner than if windrowed with the rotor windrowers. While this hypothesis held true – the hay windrowed with a belt windrower is cleaner – we found that the belt windrower does not work well with hay, in particular with the first cut of hay (watch a video of our experiences with the Kuhn Merge Maxx 950).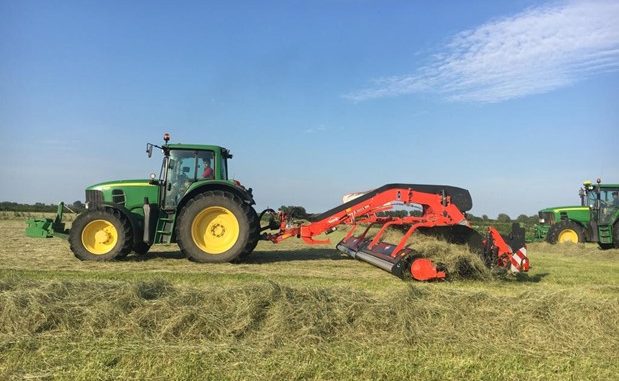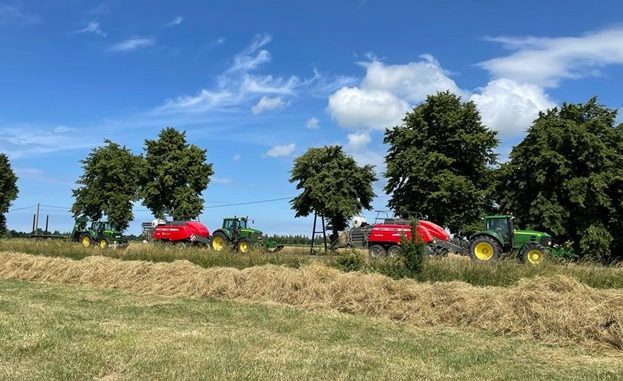 You can see our logistics operation working with hay here (with commentary in Polish) and a video of our machine working with straw is available here.
A video of our wrapping operation is available here.
Making money
While we are super proud of our farming operation and could talk for hours about each step in our process, we cannot forget that at the core farmers – including us – are businesspeople, whose businesses need to make money. It all comes down to selling our hay!
In order to maximise our hay yield, we are very interested in the best water management practices, as water availability is the main factor impacting our yield. This is why we are investing heavily in this area, including subsoiling.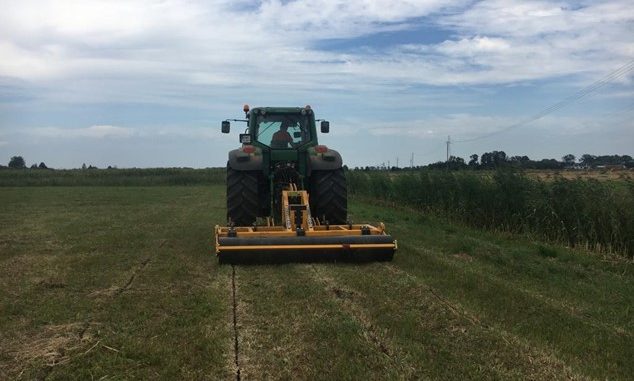 Another innovation we are testing at the farm is impact of various grass cutting heights on the production levels of hay – stay tuned for insights on our experiences in 2022!
Beyond the farm gate UN Food Systems Summit and COP26
While we love our farm and we love working on the farm, 2021 provided us with multiple opportunities to leave the farm to reunite with friends.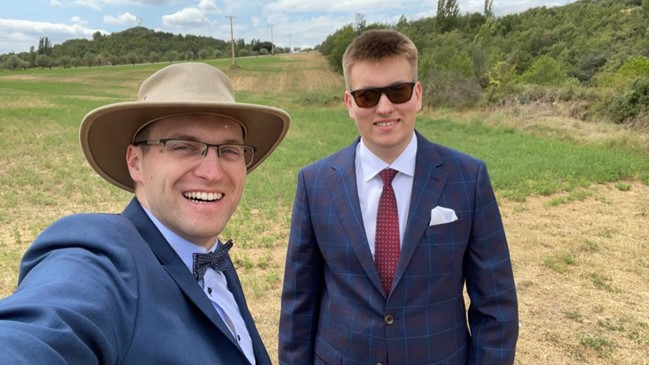 With the United Nations Food Systems Summit, 2021 was a pivotal year for agriculture and food. I was privileged to be very actively involved with this process, namely as a member of the UN Food Systems Summit Champions Network, and also a member of the Producers Group.
Not to mention being a connection point between the UN Food Systems Summit and COP26, in my role as Race To Zero Youth Fellow in Regenerative Food & Agriculture for COP26. From February to November 2021, I supported the High Level Champions for Climate Action, Nigel Topping and Gonzalo Munoz, in operationalizing their mandate of ensuring the farmer-centric approach in the COP process – before, during and after COP26 in Glasgow, UK.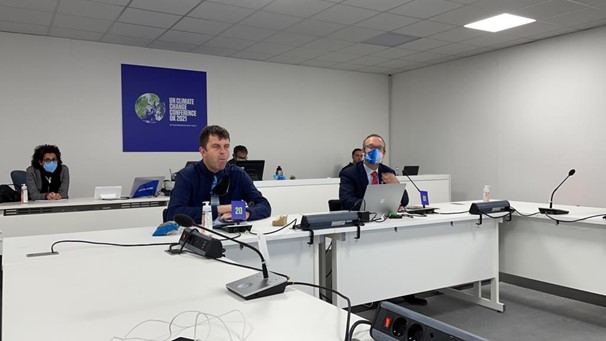 While the highlights of my work at the COP26 are numerous – such as contribution to establishment of the Regen10, or delivery of the farmers' statement – I am particularly happy to be able to act on an appeal I sent to World Leaders – Please Visit a Farmer – by visiting a farm myself while at COP26, as well as informing my fellow farmers of the work I was doing on our behalf in the COP26 process.
Economy of Francesco
One of the key learnings of 2021 is the necessity to think AND act in a systemic and holistic way – a manner that builds bridges rather than breaks them down, or questions existing ones. This is why I have been, and remain, very active in the World Food Forum activities, which accompany the processes started and accelerated by the UN Food Systems Summit with a particular focus on youth engagement.
The Economy of Francesco's partnership with the World Food Forum, which resulted in the delivery of masterclasses open to everyone in 2021, is worth particular mention here.
As the co-founder and co-CEO of the Farm of Francesco – the answer of young people from all over the world to Pope Francis' call that started the Economy of Francesco – I cannot not use this opportunity to talk about the Farm of Francesco's mission, which is to position, encourage and support farmers with providing the answer to Pope Francis' call to answer the cry of the Earth and cry of the Poor.
We – the Farm of Francesco – do this specifically through working on bringing farmers to the Laudato Si Action Platform, an integral ecology seven-year synodal process started by the Pope. If you are a farmer and you would like to join the Laudato Si Action Platform, please do reach out to me!
While driving forward processes towards the net-zero economy by 2050, or integral human development, have been very important parts of my work, it is reunions with friends that were the highlight of last year.
I travelled to Assisi in Italy for what was for many of us the first-ever face-to-face meeting with our Economy of Francesco Friends.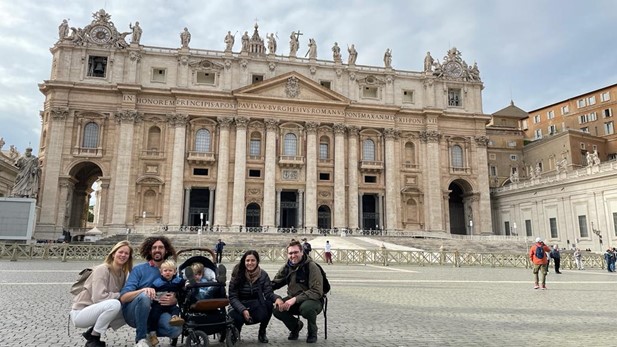 Sharing knowledge and solidarity
Together with another co-founder of the Farm of Francesco, we visited more friends from Gut Haidehof – the Savory Institute's Hub in Germany.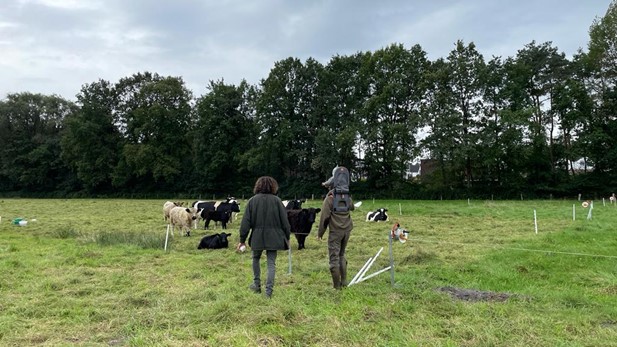 I had numerous other opportunities to serve others and share my knowledge on regenerative agriculture, such as through this interview for ESCP Business School, or this interview for DLG – the German Agricultural Society. I was also invited to serve in the IFAMA (International Food and Agribusiness Management Association) Young Board for a term of four years, as well as invited to join the Global Farmer Network.
Building on my first-hand farming experience, in 2021, I was also responsible for the implementation of EIT Food's Regenerative Agriculture Revolution project in Poland.
Since 24th February 2022 we have been shocked by the Russian war in Ukraine. Instead of trying to analyze or comment on the war here, we would like to use this space to encourage you to follow the situation first-hand through a farmer's eyes, by following Kees Huizinga, a Dutch farmer in Ukraine and also a member of the Global Farmer Network.
If you have the means, please do support the humanitarian efforts conducted by the Polish Humanitarian Action by donating to the fundraising of the Polish largest and most respected humanitarian organization here.
Climate farming proposal
As we wrap up this letter, I would like to share a proposal from the European Carbon Farmers – the organisation I co-founded with my brother Paweł – for the creation of a Working Group on Climate Neutral and Nature Positive Agriculture.
The document (available in English and Polish) is a good synthesis of all the work done by us in the area of putting farmers at the center of climate change mitigation and adaptation efforts in a profitable way.
It is also a blueprint for our ongoing work to support our farm and others in the transition to regenerative agriculture principles, with a particular focus on the development of monitoring, reporting, verification and payment mechanisms for ecosystem services that are generated by ecosystems stewarded by farmers.
This proposal has been submitted to – among others – the Polish President and Prime Minister.
Our main thesis is that the CAP has to change its structure from action-based to result-based payments centered on soil carbon maintenance and enhancement, in order to align with the EU's climate policy.
As a result of our work in this area, European Carbon Farmers has entered into a partnership with Climate Farmers, where I am now part of the team as Policy & Industry Engagement Lead.
More from Poland
More Letters from the Farm