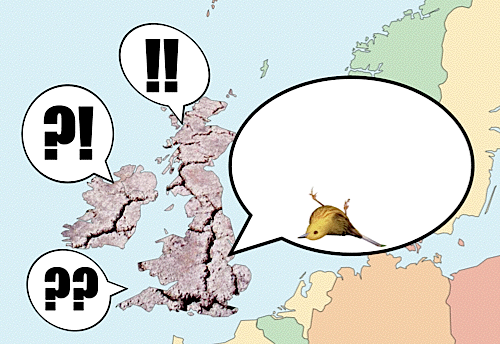 Bird and habitat NGOs across Britain and Ireland are dismayed at the extent to which the greening elements of the CAP have been watered down. The head of land use policy for Royal Society for the Protection of Birds (RSPB) Scotland, Vicki Swales declared: "The greening payment in Pillar I is one of the biggest disappointments; Scottish agriculture will not be cleaner and greener as a result."
Greening will be worth about GBP 130 million a year to Scottish farmers. The cabinet secretary of the Scottish parliament had previously stated that this funding was meant to: "…ensure every farmer acts in a greener way than before," although RSPB Scotland saw little of that in Pillar I measures.
The English implementation of just five Environmental Focus Areas (EFA) measures also comes as a bitter disappointment to RSPB senior agricultural policy officer Jenna Hegarty. She told ARC2020 that she was "very disappointed," adding that it was not just a wasted reform but a "step backwards."
The bar has been set so low that even if the Commission were to put EFA requirements up from 5% to 7% in a mid-term review, the overall impact would be meaningless, she argues. "For us there was a red line around allowing nitrogen-fixing crops to count towards EFAS, for instance." As a food source, let alone a potential breeding habitat, heavily-managed crops do not offer the same opportunities as wild flower meadows, nor is there any support for biodiversity.
DEFRA's decision not to restrict inputs for nitrogen-fixing crops, allowing pesticides and fertilisers (sic) just make a nonsense of a non-starter EFA. The application of a 0.7 weighting coefficient to these crops will make the situation worse.
In Ireland, greening is worth EUR 2.2 billion between 2015 and 2020. In a written parliamentary answer to TD Seamus Kirk, the republic's farm minister Simon Coveney wrote: "For the majority of farmers the 5% EFA requirement will be met with existing arrangements and no further action will be required." This drew an angry response from BirdWatch Ireland (BWI). Senior conservation officer, Dr Alex Copland, retorted: "Ireland's position, as stated by Minister Coveney, to effectively ignore greening requirements is shocking and short-sighted."
Dr Copland warned that: "…claims about the sustainability of Ireland's agri-food sector must now be questioned, as will the legitimacy of the €2.2 billion of taxpayer's money that is effectively being misappropriated away from its intended objective of supporting farming systems that maintain and enhance our environment and landscape."
There is widespread concern over the lack of political support to fulfill commitments to protect an increasingly beleaguered European environment. There is also a scientific review of the CAP reforms that supports these concerns. On June 6, Science magazine published an overview by 23 leading academics: EU agricultural reform fails on biodiversity (Science 6 June 2014: 1090-1092. [DOI:10.1126/science.1253425]) Dr Copland warns that the: "…stark figures contained in this scientific publication are alarming and highlight just how badly the reformed CAP will fail the public interest of protecting the natural environment from harmful farming practices."
With a wider remit, the EU policy head of Birdlife Europe, Ariel Brunner, explained: "We now have scientific evidence stating that the 'new' rules are almost as bad as the old ones and are dramatically inadequate to save nature." With change imminent at the European Commission, Brunner warned that there would be no change in the Birdlife Europe position: "… we'll keep campaigning for a review of the new CAP and, at national level, for governments to use the flexibility they're given to stop the destruction of farmland ecosystems."
See Also: 
Requiem for a Green Dream: Oliver Moore takes a look back at the supposed greening of the CAP, through the rubric of Ecological Focus Areas.
RECENT POSTS BY PETER CROSSKEY: