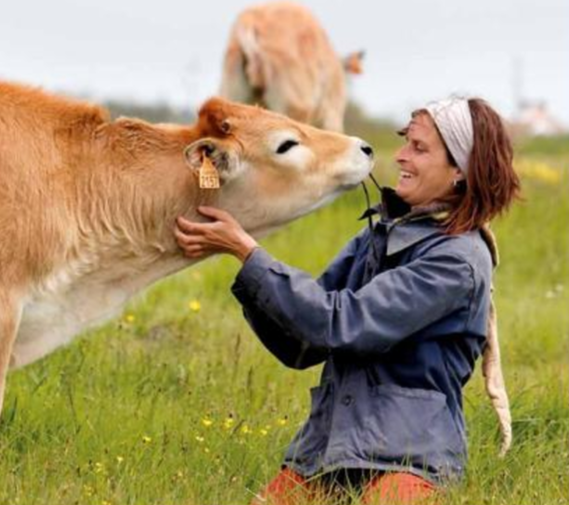 There are farmers interested in the environment, and environmentalists interested in farming…and now, there are environmentalists who have started to farm in a way that speaks to their values. Meet France's Peasants of Nature.
The Farming Context in France
In the Western French region "les Pays de la Loire", an idea emerged about a decade ago in the minds of some environmentalists. Faced with the dreadful, global, current loss of biodiversity, especially in agricultural landscapes – which accounts for 70% of the regional land – these passionate naturalists strived to preserve ecosystems through agricultural and environmental assessments and counselling.
A French law passed in 1976 related to the preservation of natural areas had led to the creation of protected areas and the successful preservation of a few specific species such as the storks. Nevertheless, did it go far enough regarding agricultural areas? "All the biodiversity indicators show alarming signals, but the ones regarding agricultural areas are the worst…" says Perrine Dulac, one of the handful of people who initiated the project and who currently manages it.
If the state of biodiversity was worrying, so was the farming demography. While relatively young by EU standards, the average age of French farmers is nevertheless 50 plus. In the coming years, half of the farmers who will retire will not be replaced and their land will thus be 'lost' to land concentration. 200 farms disappear every week.
Farming also faces a vocational crisis due to the impression that it is a profession full of loneliness, unhappiness and frustrations. In this context, renewing the farming population with people with an agroecological appetite, emerged as an appropriate way to build more sustainable food systems. Moreover, the growing demand for local, agroecological food, added an environmental impetus.
Peasants of Nature
Eventually the idea emerged in conservationist circles that the best way to protect natural areas could be to start farming themselves. Rather than struggling daily to have farmers change their practices or to manage natural areas, why not become farmers and, bring like-minded young people in too? This is where what became "Paysans de Nature" – literally, "Peasants of Nature" emerged from.
The main goal is to create new areas that support biodiversity, through the setting-up of new farmers. The initiative also helps current farmers who want to become active protectors of biodiversity on their land. It raises awareness about the link between biodiversity and agriculture, how the latter can either protect or erode the former: farm visits are organised regularly and contacts between farmers and consumers are facilitated in the local Community Supported Agriculture initiative(CSA). It also involves the local citizens, who watch for land that is about to become available, for example.
Peasants of nature were firstly initiated to set up farms to protect nature. They do not need to be certified under the European organic label; however, they must follow at least its practices ,with many adding extra ecological practices on top. Some are certified through the "Nature & Progrès" participatory guarantee system, some follow the biodynamic principles. Being a peasant of nature implies voluntarily leaving areas be 'non-productive'. For example, letting brambles grow, to allow an ecosystem to develop. This spirit originates from a strong culture of nature preservation among naturalists and a different vision of the human-nature relationships. They consider biodiversity for its intrinsic value, and that it does not have to be useful to humans to exist, an unusual approach in mainsteam farming up to now. Visions differed between these naturalists and the already-established farmers, or people without a naturalist background. The latter's main objective is to produce food, and they add some measures to enhance biodiversity on their land. Hence two charters were written, to include this diversity of profiles so that each farmer-to-be could find the spirit that suits him/her best : they sign up to become either "Paysans de Nature" or "Peasants engaged for biodiversity".
Which Biodiversity?
Which flora and fauna gets protected through the project? In the main, it is aimed primarily at wild species and their habitats, though it varies from area to area. In the marshy zone where the new farms first set up, black-tailed godwits (Limosa limosa) and Northern lapwings (Vanellus vanellus) are some of the star birds. In the woodier landscapes, 'le bocage', European stonechats (Saxicola torquatus) and the typical shrikes (Lanius sp.) blossom.
Unfortunately, the impacts on biodiversity are not scientifically monitored. The effects on birds and how they come to live and nest on the lands are the simplest to observe. Interestingly, domestic biodiversity added up to the project. The new farmers mostly chose to work with local breeds and varieties of animals and plants, some on the brink of extinction: 'Maraîchine' cows, ancient wheat varieties, etc. That way, they benefit from the coevolution of the physical environment and its flora and fauna, as well as they promote the value of the area and its 'terroir'.
The beginnings
The first naturalist to set up his farm in 2005 was Frédéric Signoret, president of the local Bird Protection League (LPO). He was later joined by Ludivine Cosson (see opening picture). They raise about 50 Maraîchine cows that graze 10 months a year and are only fed with grass and hay, along with some local breeds of horses and poultry. At least 70 new farmers have set up and engaged in the project, 15 of them in the Breton Marsh. Most are located in the West, and some other scattered in France, for example in the Jura mountains. A book compiling 27 of these experiences and presenting their farming systems was released last autumn. The land preserved only by the peasants referenced in the book accounts for 2000 hectares.
According to Perrine Dulac, there also are many other farmers following the same approach throughout the country, mainly "peasants engaged for biodiversity" that they do not necessarily know about. About three years ago, the expression "Paysans de Nature" was created, and the brand was registered in January 2017 in order to prevent any distortion of the phrase by other structures for greenwashing purposes.
The project was born among conservationists who belonged to the local LPO, and it is currently run by the LPO Vendée and the LPO Pays de la Loire. The project benefits from a dense and dynamic network of associations and citizens: in the Breton Marsh, the local CSA has hundreds of members; associations and cooperatives involved in peasant agriculture such as Terre de Liens and the Coopérative d'installation en agriculture paysanne share their competences and information to help new farmers set up. The main objective is obviously to set up new peasants of nature throughout the country, and to have the approach spread. The challenge is now to sort out all the tools that were built over the last decade and come up with a consistent and helpful guide for people that are willing to engage in the movement – and they are plenty!
Find more pictures of farms, and a link to the Paysans de Nature book here., in your favourite bookstore and also here.
Rural Dialogues the series so far
Rural Dialogues | Landcare Germany – Bringing Farmers, Conservationists & Policymakers Together
Rural Dialogues | Agroecology and a Living Countryside in the Netherlands
Rural Dialogues | Best Immigration Practice can help Alleviate Rural Depopulation
Rural Dialogues | What are the 3 A's of Feeding Ourselves in Ireland?
Rural Dialogues | Radical Old Ideas Gaining Ground in New Rural America
Rural Dialogues | Transition Presents an Unprecedented Opportunity for Rural Revival