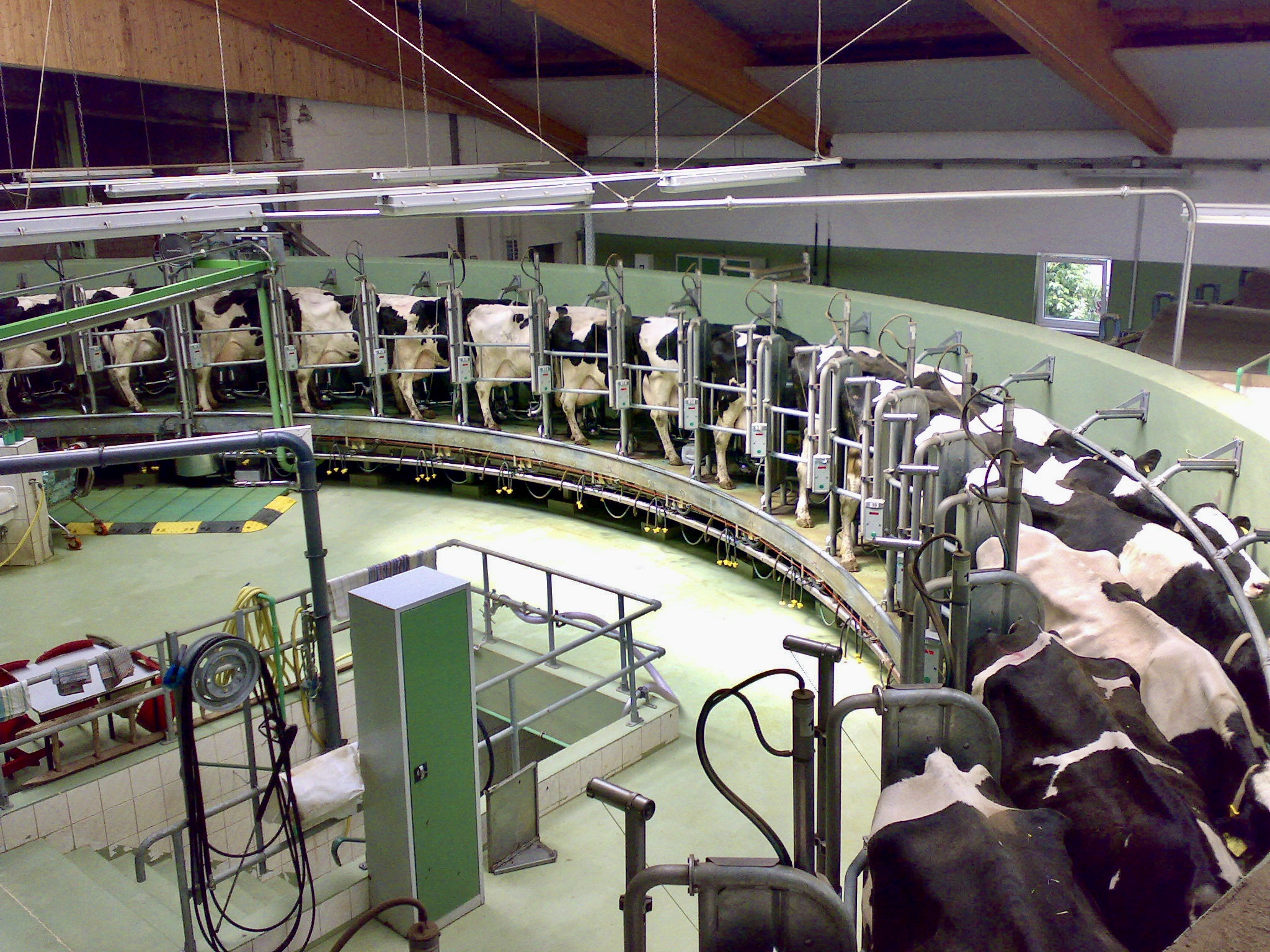 by Ben Lilliston and Shefali Sharma 
The factory farm system used by global agribusiness firms is a major source of the greenhouse gas methane. Ben Lilliston and Shefali Sharma of the Institute for Agriculture and Trade Policy (IATP) highlight that the push for appropriate regulation of  methane emissions from factory farms in the U.S. should coincide with EU efforts to regulate these emissions. In the U.S., the call for regulatory action is grounded in the Clean Air Act. In the EU, revisions of climate laws, CAP negotiations and implementation of the Farm to Fork Strategy are a critical opportunity to regulate and transition away from factory farms. 
The largest hog and dairy operations in the U.S. are run more like factories than farms. They concentrate thousands of animals indoors and produce massive amounts of manure, which is often turned into liquid and sprayed on farm fields. This factory farm system is a major source of the potent greenhouse gas (GHG) methane. Yesterday, U.S. rural and environmental groups called for the U.S. Environmental Protection Agency (EPA) to set standards to regulate methane emissions from factory farms.
The factory farm system is global, driven by meat and dairy giants like JBS, Smithfield, Vion and Nestle, and is growing in countries around the world, from Brazil to Mexico to Spain. The industry has also largely evaded climate scrutiny. Currently, only New Zealand (as a national-level government) has set targets for methane emission reductions from its dairy sector. At the state level, California has methane emission targets specifically for large-scale dairies.
The European Union is in the process of revising its climate laws including its Effort Sharing Regulation (ESR) and its Land Use, Land Use Change and Forestry (LULUCF) regulation. The current ESR requires emissions reductions from sectors such as transport but provides a great deal of flexibility for agriculture emissions. The European Commission (EC) will present proposals in June on how to address agriculture emissions through one or both of these regulations with a real danger that the door will open for agricultural emissions to be offset through dubious carbon removal projects. There is also a real risk that if agriculture is included in a new Agriculture, Forestry, and Other Land Use (AFOLU) legislation, which combines both agriculture emissions and removals, industrial agriculture will be able to access another major loophole to continue polluting. At the same time, there are worrying indications that the EU is gearing up to incentivize factory farm biogas production by categorizing manure as "renewable" and supporting a market for it, as outlined in its recently revised Methane Strategy and referenced in its Farm to Fork Strategy. These incentives could be operationalized through revisions of the EU's Renewable Energy Directive. The EC expects to propose revisions sometime before July.
Two recent reports by IATP and partners have documented the under-recognized, but significant, climate impact of the factory farm system used by global agribusiness firms. We found that the top 20 meat and dairy companies combined emitted more GHGs than countries such as the U.K., Germany and France. Our examination of dairy industry emissions found that 13 of the world's largest dairy corporations combined to emit more GHGs in 2017 than major polluters BHP or ConocoPhillips.
The call for regulatory action in the U.S. is grounded in the Clean Air Act. Under the act, the EPA is empowered to set rules to respond to the climate crisis. In 2009, EPA determined that six greenhouse gases — including methane — endanger the public health and public welfare of current and future generations by causing and contributing to climate change. In 2015, the EPA set rules to regulate GHG emissions from fossil fuel-fired power plants. A first-day Biden administration executive order has affirmed the administration's intention to reinstitute standards for oil and gas methane emissions.
The legal petition from rural and environmental groups requests the EPA begin to set standards for methane emissions from hog and dairy factory farms of more than 1,000 hogs and 500 dairy cows without access to pasture, and that use lagoons to store massive amounts of liquified manure that is later sprayed on fields. The petition calls for standards to reduce emissions on new or expanding farm operations that fit this category and to require states to set specific standards for existing factory farms.
In the most recent inventory of U.S. GHG emissions, EPA notes that the "manure management systems with the most substantial methane emissions are those associated with confined animal management operations[,] where manure is handled in liquid-based systems." Although total U.S. methane emissions have decreased by 18% since 1990, total U.S. methane emissions from agricultural activities have increased by 16.3% during this same period. During that period, methane emissions from manure management at industrial dairy and hog operations increased by 80.4%. Factory farm animal production now accounts for 33% of agricultural methane emissions, 13% of total U.S. methane emissions and 1.3% of total U.S. greenhouse gas emissions.
These numbers are on the rise because of the rapid growth toward a factory farm system of production in the U.S. over the last several decades driven by powerful agribusiness firms like Smithfield. More than 70% of U.S. hog production now takes place on industrial operations with 5,000 or more hogs, according to the Agriculture Census. Over 60% of U.S. dairy production takes place on industrialized operations with more than 500 cows, with several operations having well over 10,000 cows. The proliferation of this corporate-controlled model has not only pushed out more agroecological, pasture-based systems of raising animals, it has hollowed out rural communities and polluted communities of color from the coastal plain of North Carolina to the San Joaquin Valley of California. This factory farm system is also highly vulnerable to extreme weather events associated with climate change, with manure lagoon spills damaging waterways and nearby fields in North Carolina linked to recent hurricanes and in Iowa linked to Midwest flooding.
"In North Carolina, industrial hog facilities are placed in predominantly African-American, Native American, and Latino communities," said Naeema Muhammad, organizing co-director with the North Carolina Environmental Justice Network, one of the petitioner organizations. "We have to live with 19 million tons of crap in our backyards every year. It stinks up our air, gives our kids asthma, and adds stress to our lives."
The U.S. groups also made clear that methane digestors used to produce factory farm gas, often to be plugged into natural gas pipelines, are not adequate to address the climate crisis and the multitude of other problems associated with the factory farm system. These digestors emit their own set of pollutants, and they do not rid rural communities of the extensive liquid manure that is causing public health and environmental problems. In fact, these digestors actually incentivize more manure production, while driving a system of production that is undermining proven pasture-based farming with reduced, sustainable herd sizes that could restore rural communities and help stabilize the climate.
"We live in a community with sixteen industrial agriculture operations and seven digesters, and experience the effects of large-scale industrial agriculture every day," said Lynn Utesch, a farmer and organizer with Kewaunee Cares of Kewaunee, Wisconsin. "The industry is greenwashing factory farm gas and saying that it's good for the environment, but as farmers, we know that the manure stays in our communities, in the ground, in our drinking water and in our air. We know where the real solution lies — pasture-based farming."
In the EU, animals on very large farms increased by almost 10 million between 2005 and 2013 to reach 94 million, largely driven by rising meat and dairy exports and steady consumption. According to the EC, 53% of Europe's methane emissions come from agriculture. Yet, the new methane strategy to reach the EC's 2030 climate targets and zero-pollution ambition, rather than regulating factory farms, incentivizes them through "targeted support to accelerate the development of the market for biogas from sustainable sources such as manure…" Notably missing from the EC strategy is setting explicit methane emission standards for large-scale animal agriculture production.
The EU revisions of its climate legislations, CAP negotiations and implementation of its Farm to Fork Strategy are a critical opportunity to regulate and transition away from factory farms. The ESR should have legally binding emissions reductions targets for agriculture that should not be subsumed under an AFOLU legislation that could provide a major loophole for such emissions. The push for appropriate regulation of factory farms in the U.S. should coincide with efforts to regulate these emissions in the EU.
It should also catalyze a global conversation at the United Nations climate negotiations within the agriculture program to address emissions stemming from the global meat and dairy industry giants through concrete national-level climate targets in surplus meat and dairy producing countries that otherwise subsidize the industry. Appropriate regulation of the factory farm system is one critical pillar to respond to the climate crisis. Concerted public investments in agroecological, regenerative and pasture-based systems is another. The U.S. and EU will not reach their agriculture-related methane goals to protect the climate without both of these pillars.
This article first appeared on the IATP website. 
More on big meat and dairy:
There's Something About Dairy – CAP, Exports and Global Milk Markets
Milking The Planet: How Big Dairy Is Heating Up The Planet And Hollowing Rural Communities