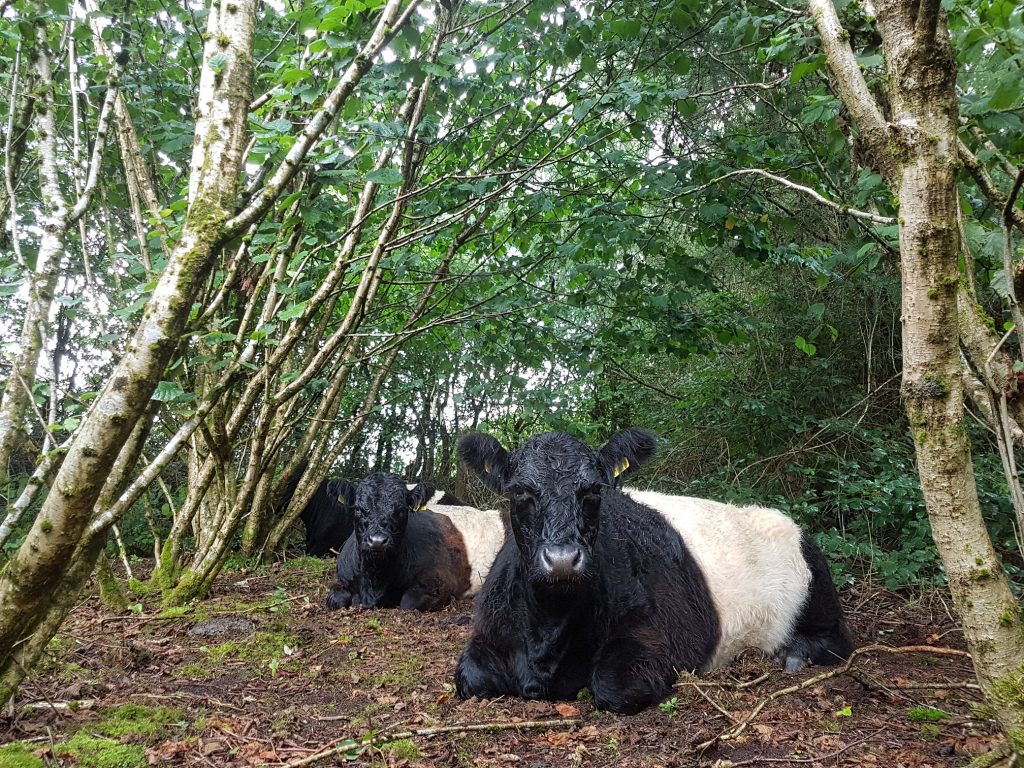 What future strategies exist for livestock farmers in Ireland? Beef farmers are struggling, and fighting over a EU/Irish government handout of E100 million due to clauses attached. A small number have opted for a different, more diversified route. Not without its challenges, nevertheless these diversified farmers have some options for their future. Read about Jane Shakleton's organic farm with Galloway cattle, sheep and an agri-tourism enterprise in the lakelands of Ireland.
Diversification is the key recommendation for the farming sector in Ireland's emerging Climate Action Plan – as seen in the Joint Oireachtas Committee on Climate Change. Some farms are already ready for this, by carrying a number related and complementary enterprises.
One such farm is that of Cavan's Jane Shackleton. The farm is on the shores of Lough Mullagh, on the Cavan Meath boarder.
Shackleton has been farming just three years, but is the third generation of women farming the land here.
"We've 70 hectares here on the lakeshore, with a suckler to beef system. There's also a small flock of sheep, a large mixed forestry area and a tourism business including accommodation. The main herd consists of 35 Angus, but we've now also got four belted Galloways. Angus are hardy anyway but my father had put a lot of land into forestry – that's his main interest. Thinnings have been taken so there is land in there now that's good to be grazed on by the Belties – they outwinter in the forestry. Now that the forestry payments are finished, that land is in organic conversion as well."
She adds: "belted galloways have a good kill out weight, they are the beefiest of the traditional breeds to bring in. They are especially hardy, and can thrive on very little. While not as placid as angus, the flip side is that they are very low labour – they aren't handled very often at all. They come in for the TB test, but otherwise they are out in the forest"
Shackleton's found Galloway's renowned hardiness to hold for her set up too: "they've been brilliant – this is my 3rd year, the weather has been very extreme since I started – with snow and drought – but it didn't bother them. There was no loss of condition. We moved them into the worst grazing area – thinned forestry – and they thrived. While we didn't bring them into there to clear up land, in reality they have tidied up the rough grazing in the old forestry really well"
Shackleton intends to finish the Galloways – "you can get a premium in conventional but it's a higher rate if you just go organic anyway – or we may look to sell them privately" she adds.
The main business is still Angus however: "We bring our 35 angus sucklers to beef around 24 months. We don't feed concentrates, its red clover finishing winter finishing. So we try to keep inputs down, if we do buy in, its organic combicrop from Mark Gillanders in Monaghan."
"We finish our animals at 18-24 months, heifers are about 280-290 kg deadweight. Steers are 320-330kgs. Grading wise they score R or O – R is reasonable for angus – we could keep them longer but would rather sell at that age to the processor.
"I'll be focusing more on genetics and confirmation in the angus from now on. There is a real focus – in the green cert and the farming press- on bigger animals. But it's not always the best way. You don't get 400 kg deadweight with Angus, but that's not the only thing."
Like most farmers with organic sheep, the Cavan farm is too far from Camolin, the only place where organic sheep can be processed in a dedicated unit for a premium. "Navan is just ten minutes away so I don't get an organic premium – but the sheep improve the pasture quality. I've no ragwort, and financially finishing in August September suits us better – it's a good time of year compared to beef for us."
They are also low cost, as sheep with cattle tend to have low vet bills: "I've no need to worm – they don't get or need anything"
Talking Agritourism
Jane Shakleton: Lakeview Farm has been organic since 1996. As well as the above animals – which, these days are an aspect of the visitor experience, especially the distinctive looking belted Galloways in a forest – there are other farmyard animals including pigs, horses and many types of poultry. The broadleaf forest is meandered through via a series of pathways which include a hide by the lake edge for watching wildlife. Then there are the field boundaries of mostly stone walls, accompanied by traditional cleft larch fencing.
Shakelton elaborates: "we have self-catering cottages on AirB&B. mum started restoring the yard, the barns, the old stone buildings years ago, and it's up and running now as tourist accommodation. It's an amazing location on the lake, but it's also close to Dublin airport. Air B&B travellers tend to seek out different places, and usually aren't as keen on traditional B&Bs or hotels. So they like the organic side of things – we provide veg and eggs from the farm, they can walk around the gardens, they can have a farm tour, and more."
She adds:
"I do some work with Bord Bia in Germany, they run competitions, so the people staying here at the moment are actually winners from a competition that's part of the beef campaign there".
Like many organic farms, there are wwoofers – volunteers who come to participate in farming activities and learn as they stay. "Wwoofers have worked out brilliantly here. I did some myself on a csa (community supported agriculture) initiative in Canada. We've had them for 7 years now, usually two at a time all year round. There is a lot going on here for them to get involved in: forestry, gardening, the farm, and so on"
The Cavan farm will also soon have French interns from an agricultural college.
One of the reasons Shackleton is focusing on tourism is because of the difficulties with beef at present.
"The future of beef is a worry, and not just in conventional. That's why we're investing more in tourism. If I could make a living from just farming, that would be amazing, but you need to earn and have some sort of lifestyle – I don't think I could get that solely from organic beef farming. So our future investments will go more into the tourism enterprise."
Despite growing up on an organic farm, Shackelton has "no interest in organic vs conventional – we all have to learn from each other. Conventional people are using clover and other organic production styles, there is more of a flow of information between them these days."
She does feel that the green cert, which she recently completed, needs to include more on organic farming.
"it's a bit of a tick box operation- education shouldn't be like that. There is talk of change but there is little knowledge about organic out there – there are very few lines in the greencert book."
Shackelton – yet another one completing a Masters in Aberdeen because of the lack of suitable qualifications in Ireland – feels that "organic is not a priority for the people teaching the course. Even if they could send people onto the experts in organic, that would help".
Here's hoping that the new organic action plan – chronically underemphasised in the JOCCA report – will help in this regard.
A version of this article appeared in the Irish Examiner farming. Jane is busy on social media: Here is her instagram and here is her twitter Lakeview organic farm is here.
More
Letter from a Farm | Starting the Soil Health Journey in Ireland