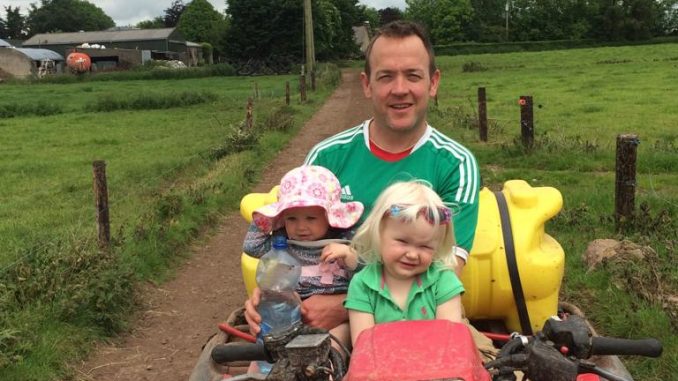 Having seen the unfolding of huge supply chain issues with Covid-19, there is much to be said for resilient self-sufficient farmers who can make their own inputs. Traditionally, this has been practices like seed saving and compost. Tom Stack takes it to another level.
Oliver Moore
"I put in an order for 200 litres of apple cider vinegar from Highbank Farm in Kilkenny. I wanted organic for the ferments I make and to feed to my cows When I told them about what I was doing, Rod and Julie arrived at 8am the next morning with the delivery."
200 litres might sound like a lot of certified organic produce, but it's one of the few bills Tom Stack from Ballyagran has these days. Two years ago he attend Dan Kittridge's lecture at the NOTS soil biology conference, and heard about Korean Natural Farming (KNF).
It's all about the microorganisms for the Limerick native, and, once you start to think micro, the entire process becomes fascinating – whole invisible battalions of microbes, start to work for you and your farm – like a tiny army of helpers.
Sourdough bakers and Koombucha makers already use simple versions of these techniques in increasingly popular breads and drinks available in Ireland; indeed people also use these techniques to reduce smell and increase decomposition speed of domestic compost heaps in confined spaces such as boats and barges.
The man who farms 130 acres on the Limerick side of the Limerick-Cork boarder was so impressed, he went to the US to do a seven day intensive course with Chris Trump.
"KNF is a bio organic farming method which really focuses on what are called indigenous microorganisms (IMOs) – namely bacteria, fungi, nematodes and protozoa. Four stages of preparations of IMOs, as well as a range of other fermented inputs, are involved in this farming method."
In the main, the boost to the land comes from a form of fermented liquid IMO tea which sprayed onto the land. The inputs and solutions are quite affordable, and can all be made by farmers themselves.
Proponents of the method claim that it reduces costs radically, improves soil, while pig and poultry production can be odourless.
"I had 70 cows and had to go to 100 to remain viable, when I was conventional. It just seemed mad to me. I'd a young family, and was spending big on fertilizer and feed already. I wanted to start reducing costs. The soil biology conference in Tullamore – that changed my life really. I started to cut back on the cow numbers."
"I've a shorthorn bull now as well as a Freisen bull. I may bring in Moiled or Droimeann – these native breeds are dual purpose, they bring strength and longevity as well as milk: my bills are tiny now – maybe E6-700 a year for the fermenting products."
"If I can run 60 cows on a few hundred euros of inputs, on 130 acres – why not do it? I'd over E12000 fertilizer bill before I started on this, and a feed bill of E18-20,000. The drought really made me think about nature. You'd be spreading fertilizer during the day and watering at night.
When I took over the farm in 2012 I was a conventional farmer, I was doing everything to the top end, spending E5000 for an AI bill, bigger sheds, scrapers – it's doesn't really make sense to me anymore. What do you need a bigger tractor for? Now it's all smaller and simpler. I'm happy now, making my own inputs, and I can see the difference. That extra money I used to spend on feed and fertilizer- that's mine. My litres are back a bit but they are my litres. I'm getting about 4500 litres per cow now. But the protein and butterfat is better, and that's without buying in any feed or fertilizer."
"The main costs now are apple cider vinegar, cane brown sugar and alcohol for fermenting. My grass is more nutritious and the cows seem happier.
They used to just walk, walk, walk. But now, after they've been milked they seem a lot less stressed – they eat for 20 mins then lie down and chew the cud."
"To me farming seems all about the middlemen these days. Some farmers are only living for their single farm payment – that can't be it. We own our land, we never factor in our own time, there has to be more to farming than that."
KNF – Korean Natural Farming – uses inputs farmers can make themselves. This includes five stages of what are called IMOs, or indigenous microorganisms. These are plant based, essentially diluted microorganisms sprayed onto the land. Other KNF inputs such as Fermented Fruit Juice (FFJ) and Fermented Plant Juice (FPJ) are added as required during the growth cycle of the grass.
The five stages of IMOs start with 'recruitment' – i.e. gathering enough local microorganisms at the start. It may sound a little unusual, but basically you just leave something starchy, such as rice, out for a few days – to allow for the substance to be a little colonised by local microbes.
Thomas Stack: "I half cook rice in a rice cooker, put it in a wooden box, with holes in it, go to forest, scrape soil back, put the box into the ground, cover it in paper towel, cover it in a mesh to protect it from wildlife, then I blanketed it with foliage and come back in 4-5 days. Around here the microorganisms are blue/yellow/green – they differ in different countries. The whole process takes about seven to eight days."
There are four more stages after this, which involve working with the, as it were, inhabited rice. Stage two sees cane sugar used to help the microorganisms grow (much like the process for maintaining an a scobyin making Koombucha drinks) and also 'sleep'; while stage three sees a food and carbon source used to essentially wake them up again and proliferate.
At this point IMO3 can be fermented with LAB (lactobacillus) and biochar and fed to the cattle to improve gut health. Stage four sees the introduction of local elements such as soil. The final stage five, uses the same nutrients as IMO4, while adding a nitrogen rich source.
Another bonus to the KNF approach is its impact on animal housing: animal housing can be cleaned up remarkably well with these techniques, as the Chinese army's pig housing methods attest to. The Chinese army produces much of its own food, so when it brought its own pigs to feed itself during the Beijing Olympics, the odor was so bad it reportedly causing rioting. This smell was dealt with using KNF techniques – basically fermenting the smell out via what can appropriately be described really as bacteria battles.
Thomas Stack adds: "David Wong keeps 800-1,000 pigs. He uses natural farming the last seven years, and a living floor. There are no flies or smell. He is located on the Island of Oahu. His pork is famous there, and gets great prices."
Having seen the unfolding of huge supply chain issues with Covid-19, there is much to be said for resilient self-sufficient farmers who can make their own inputs. Traditionally, this has been practices like seed saving and compost. Tom Stack takes it to another level. Already, climate change called into question mineral fertilizer inputs; the precariousness of long distance shipping in the covid-19 era adds another layer of (somewhat) unexpected fragility. We may see more of these sorts of innovations in the weeks, months and years ahead.
More from farmers on ARC2020
Letter from a Farm – Ruminating on the First Two Years in Italy
Letter from a Farm | Saving Carrottop – the Life of a Cow in Mayo
Letter from the Farm | Spring Update from Greece's Mazi Farm
Letter from a Farm | Starting the Soil Health Journey in Ireland
Letter from a Lamber | Farmer's knowledge and the fight against antibiotic resistance
Farm Diversification – Agroforestry and Agritourism in Ireland
Trouble With The Neighbours: Living Next Door to an Agri-Giant