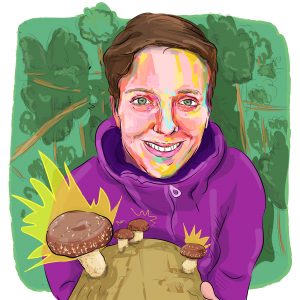 We are back in northern Italy, with mushroom and agroforestry farmer Chiara Garini. Writing after two years on her own farm, she reflects on her experiences and takeaways and what plans lie ahead.
Marking two full years as a farmer, it is a good moment to pause, to reflect on this experience and think about what lies ahead. Our second year left us with much to be proud of and hopeful for – our first commercial shiitake harvest was a success. The forest garden proved more demanding, however, leaving us with some rethinking to do on our best approach. As ever, running a financially viable farm is a challenge to say the least!
Meeting local demands
Mushrooms are a common ingredient in the local cuisine but the availability of locally-harvested porcini or chanterelles or other wild mushrooms is quite limited – I would say both because of the general decrease of biodiversity and because of a loss of interest and knowledge, especially in the younger generations. Meticulous chefs appreciate a local and organic choice instead of the foreign option given by big food distributors.
This worked in our favour as our shiitake agroforestry cultivation finally reached the commercial scale, with larger yields than expected and none of the slug infestation we had feared. We formed direct contact with restaurants and pizzarias in the surrounding area and were impressed by the response. It looks like there is a real desire for locally-grown shiitake, as opposed to imported wild mushrooms. We managed to sell almost all of what we produced, results we weren't expecting in our first year of sale and which gives us reassurace and motivation for the years ahead.
So we'll be expanding our production with three times the number of shiitake wood logs to cultivate in the next growing season alone!
Refining the forest garden practice
Successful farming requires a set of skills and knowledge gained by trying things out, observing how it goes and adjusting your practice or approach accordingly. This is most true in the first few years.
The forest garden is the most challenging part of our farm at the moment. Our aspirations were high and we tried to cultivate almost the whole field, planting some perennial herbaceous plants and many annual herbs and vegetables. It was nice to see the whole area managed for production but we still have much room for improvement.
Our design was very unusual with beds of different varieties close one to the other. In spring we started many of these bed by simply tilling the meadow with our rototiller and then sowing the desired varieties. We knew this was not the best management practice – a green manure or mulching would have been much better – however we really wanted to start planting the herbaceous layer in order to have some crops to harvest. So we undertook the unpleasant task of weeding, thinning out and watering the sown bed, with mediocre results. Nevertheless we did manage to sell a decent amount of herbs and vegetables.
Our main takeaway is that aromatic herbs and edible flowers are much more worthwhile that common vegetables. They require less labour and, as there is very little competition on this front, we can sell them at much higher prices than vegetables. So we're setting our, in particular economic, expectations a little lower for the year ahead. We'll limit cultivation to a few contained areas, leaving the rest of the field for further development of the forest garden in the coming years.
Finding companionship and fresh motivation
Farming and farming agroecologically in particular can be lonely work. It's easy to feel isolated. After a hectic growing season, I finally took some much-ndeed days off to attend the 2nd Agroecology Europe Forum in Crete. ARC2020's Oliver Moore was here too!
Creating face-to-face connections with other people committed to creating the same fundamental changes in the food system gave me new motivation. It was great to feel part of some larger movement. Allthesame it served as a harsh reminder that we are living in times of ecological collapse. Once again, I found myself reflecting on my current personal and professional life choice: I have decided to face this global crisis head on because these changes you see every day on the farm. In farming also lies the potential for a way of working alongside nature and with natural processes, avoiding of the exploitative practices upon which the industrial agricultural model relies.
The challenges of entrepreneurial and financial decision-making
Successful farming also requires business and financial management skills. We were lucky enough to have access to family-owned land and some inheritance which made the initial stages of setting up a farm quite a bit easier.
Still the CAP, more specifically the Rural Development Programme (RDP) measures, were a real stimulus. I would probably not even have thought about starting my own farm if it wasn't for the young farmer RDP measure. There remains, though, the risk of feeling limits to your freedom, or a sense of being trapped, when bound to these measures.
Nonetheless, we applied for another RDP measure this winter to help finance the reconstruction of an old ruin we have in the field of the forest garden. Our hope is to transform this into a building to store, process and sell our products.
However, intense bureaucratic requirements coupled with tight application deadlines made this a real recipe for stress! The process was not easy. On the plus-side, it required that we get more deeply involved with our business plan, from which we got some valuable insights. Above all, we realised that only by processing our products ourselves – drying the mushrooms and herbs – can we have an economically viable business. Fingers-crossed then, that we receive the CAP support to facilitate this development!
So we enter our third year on the farm with many learnings, some encouraging success-stories, some needed reworkings and much anticipation for the months ahead.
More from Chiara's farm
Letter From The Farm | What worked from the 1st growing season?