by Sheldon Frith
Livestock management is quietly undergoing a massive transformation. It began in the 1970s when Allan Savory developed Holistic Management, and from there many farmers have continued to refine the art of grazing.
Holistically Managed livestock are bunched close together, moved around the land frequently, and don't return to the same piece of land for a long time. They mimic the behavior of the natural herds which used to roam the entire Earth.
Holistic Management has spread like wildfire among grass-based livestock producers because it dramatically increases grass growth. Recently, however, an unexpected benefit of this grazing technique has been discovered: it sequesters carbon in the soil at an amazing rate.
I must make it absolutely clear that I am against factory farming. The evidence that factory farms are environmentally destructive is overwhelming.
Holistically Managed livestock are completely different.
Only a short time ago the Earth supported staggering numbers of huge herbivores, called megafauna. These megafauna lived for millions of years without causing global warming.
This is despite the fact that the total biomass of these animals was significantly higher than the total biomass of all large animals, including humans and livestock, on the Earth today. All of these animals were emitting methane from their digestion and exhaling carbon dioxide. How is it possible that this did not effect the atmosphere?
The answer lies in the soil. Through their specific patterns of grazing, trampling, and digesting, large herbivores greatly stimulate soil microorganisms. These soil organisms are responsible for sequestering carbon and methane in soil.
Conventionally Managed livestock do not behave like a natural herd. Their beneficial relationship with the ecosystem is broken. In these situations they are not sequestering carbon, or methane, and become significant contributors to global warming.
Holistically Managed livestock replace the essential ecosystem services that the lost herds of megafauna used to provide. The ecosystem immediately begins to regenerate, and carbon is stored in the soil at an astounding rate.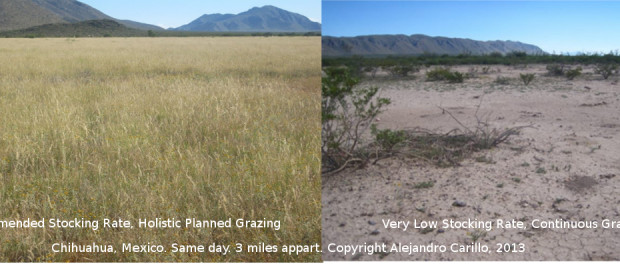 How much carbon do Holistically Managed livestock sequester?
Although the idea of sequestering carbon with Holistically Managed livestock has only entered public consciousness very recently, there is already a surprising amount of data documenting its effectiveness:
Using the average rate of carbon sequestration across all of the data above (1.7 tonnes/acre/year), Holistically Managed livestock could sequester over 21 Gt of carbon annually if they are put on all of the world's 12.5 billion acres of farmland. This would return the Earth's atmosphere to its pre-industrial state in just 13 years!
For more information about this calculation please refer to "The Calculation: Soil organic matter needed to bring down atmospheric carbon".
Conclusion
Eating more meat from Holistically Managed livestock is actually one of the best things we can do for the planet. As environmentalists, we need to stop making generalizations about livestock and meat which do not account for the dramatic differences between management systems. We also need to push researchers and policy makers to explore the potential that Holistic Management has for healing our planet.
Please refer to "Letter To A Vegetarian Nation" for more information on this topic.
More
Regeneration of Soils and Ecosystems (by Íñigo Álvarez de Toledo; Research Assistant: Luna Politi for The Institute for Applied Ecology)
Sheldon Frith
Sheldon grew up on the edge of the Amazon rainforest in Brazil. The destructive deforestation he witnessed as a child left him with a deep passion for environmental restoration. After years of searching, Sheldon discovered Holistic Management and realized immediately that this was the answer he had been looking for. Sheldon currently lives in Canada. In the winter he writes about regenerative agriculture on his blog, sheldonfrith.com, and in the summer he works on various regenerative farms around Canada. Sheldon is currently writing a book about regenerative livestock, and he is also working to establish a rewilding research site in Canada called "Rewild The North".