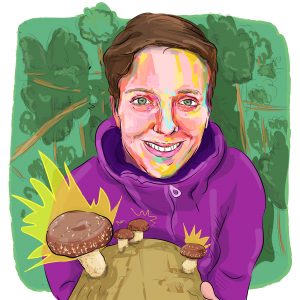 Welcome back to Chiara's mushroom farm at the foot of the Italian Alps, where there is much to counter the doom and gloom of Covid. Grateful for an abundant harvest, Chiara has been finding solace in fungi as "invisible friends" that inspire us to nibble on while staying anchored in the past. Chiara updates us on her processing facility that is now operational, plans for an online shop, and how her mushroom business is going wild.
Keep calm and nibble on
These first autumn weeks are passing with growing apprehension. With the pandemic restrictions such as a curfew we are living through unprecedented times. Although it's like war time, it is not easy to identify the opponents. There's a microscopic "enemy" we are dealing with. An invisible enemy.
In this sad context it feels good to think we have invisible friends as well!
I am reading the book "Entangled Life: How Fungi Make Our Worlds, Change Our Minds, and Shape Our Futures" by Merlin Sheldrake, a very inspiring 2020 bestseller. Among much of the interesting and little-known information the author relates about fungi, both from a personal and from a scientific perspective, one image stayed in my mind.
A simple difference between animals and fungi is that animals feed by introducing food into their body while fungi feed by introducing their body into food. Hyphal apexes manage to insinuate themselves into their food source growing through complex mechanisms, most still unknown, perceiving the surrounding environment, at the edge of the development of the whole mycelial network.
The author suggests a similarity between this process and our life. The growing apex is our present experience, nibbling at the future while advancing; our past is the rest of the hypha and of the mycelial network.
The mysteries of mushrooms
As mushroom cultivators we are lucky enough to have the chance to observe how the white mycelium of shiitakes grows through the woodlogs through the seasons.
We can observe, hypothesize and plan how to improve the incubation phase for the next year. Much, though, is still beyond our comprehension. Last winter we put the woodlogs into the forest right after inoculation, using a Japanese stacking method for slopes, instead of keeping them in our courtyard as the year before. After some worrying months during which we couldn't see any white mycelium growing on the woodlogs, we finally spotted some white fuzz. This year's weather conditions with a dry spring probably delayed the initial mycelial growth; hopefully before next spring the mycelium will find its way to fully colonizing the logs.
Sheldrake refers to a concept that for me is as simple as it is striking: mycelium, like all other living organisms, is better understood as a process than as a thing separate from the rest.
The ineluctable dynamics of the mycelial growth and their analogy with human life somehow give me some comfort during these current times of incertitude.
A full plate for the farmer
Fortunately summer passed without too many serious changes in our daily lives and the abundance of mushroom growth during this rainy summer has kept our hopes alive.
The total seasonal production of shiitakes exceeded the expected quantity, and the quality of the mushrooms stunned me. This year we mainly had hornbeam logs in production and we hypothesize that this harder wood leads to thicker mushrooms than beech logs. These results are very motivating.
As always though good results come with many difficulties.
Month after month I acknowledge that building up a farm really is a multidisciplinary job.
Sometimes managing all the different aspects from the field to the food lab to the marketing can be arduous. Fortunately the rhythm of the seasons helps us to handle the evolving priorities.
This summer we sold a small amount of fresh mushrooms locally and we cold-dried the rest of the harvest. In the food lab we have been elaborating the processing procedures. We clean the shiitakes and we separate the stems, which we sell at lower prices as a dried bouillon supplement, then we dry either whole caps or slices. We vacuum pack and label them.
We are satisfied with the new activity we've added to our work even though we know we can still improve many aspects of it.
Going wild
This season was a good testbed for arranging all the bureaucratic requirements and developing the processing of our products. Next year we will have to adapt the processing to the bigger harvest we expect and hopefully we will move into the new bigger facilities, whose renovation works have just started.
This season we also developed a new line of products: dried wild mushrooms. We harvested porcini (Boletus edulis), black chanterelles (Craterellus cornucopioides) and other wild mushrooms in the nearby forests and cold-dried them.
Finally we have all the paperwork we need to sell wild mushrooms and we believe this product can find a good niche in the market. Often in the dried mushroom industry it is clear where the mushrooms are processed but not where they were harvested. We are confident there are consumers looking for more transparency related to the origin of food in general and of wild products in particular.
Marketing our mushrooms
Now that temperatures are cooling, the season for shiitake fruiting has come to an end, closing the mushroom yard for winter. We are still cold-drying wild mushrooms while kicking off the new marketing strategy to sell the products we have finally in stock ready to ship.
We have started working on the development of our website including the farm e-shop. In these times of expanding digitalization we are confident this is a good choice. Also we got post-Covid financing from the Province allowing us to pay a good web design studio.
Additionally we are going to use direct contacts and community supported agriculture schemes (Gruppi di Acquisto Solidale, GAS) to market our mushrooms.
I like to give myself certain objectives, such as selling the entire harvest by Christmas, but I know these are just ambitions to lean towards. We don't even know what Christmas will look like this year! I certainly cannot be sure how much it will stimulate sales neither.
In any case, building my practical experiences with fungi, strengthened by intellectual stimulation on the topic (such as reading Sheldrake's "Entangled Life") give me trust in the future. Among the many other possible beneficial applications, fungi look promising to me both for their gastronomical and ecological potentialities.
This historic time will be remembered for the growing concern about the influence of microrganisms on humans – partly negative for sure, as the paradigmatic Covid-19 pandemic. But fungi have many benefits for humans. I will keep doing my best to contribute to the positives.
More from Chiara's Farm
Letter from a Farm – Ruminating on the First Two Years in Italy
Letter From The Farm | What worked from the 1st growing season?