By Good Food Good Farming
As the European Commission is expected to publish a proposal for a Sustainable Food Systems Law in the autumn, Good Food Good Farming launched Food for Talk: days of dialogue that highlight the voices of farmers, fishers, activists and citizens. In a participatory video, the movement now calls for #GoodFood4EU through an ambitious law proposal. Report by Good Food Good Farming.
Since its announcement in 2020, the Sustainable Food Systems Law (SFS) has been termed the flagship initiative of the Farm to Fork Strategy. Stakes are high as a strong law could align all future agri-food policies (such as the CAP) and set crosscutting, ambitious standards. The SFS will also set a definition for sustainable food systems and provide further guidelines on public procurement, food environments and labeling.
While Commission officials take their time to work on the SFS proposal, Europe's citizens are stirring up something big! During May 2023, 11 different organisations across Europe held a Food for Talk visit and started a discussion on sustainable food systems. By coming together at a farm (Ireland), bakery (Bulgaria), fishery (Denmark), hospital canteen (Germany) and many more meaningful places, people exchanged their views on good food and farming.
The participants started with a guided tour around place. Later, they exchanged perspectives and co-created political demands for EU decision-makers to listen. The visits and demands are on video, find out what farmers, producers, activists and citizens have to say:
If you want to support a sustainable food system transformation, share the video above to make sure the European Commission delivers a strong Sustainable Food Systems Law! You can directly retweet the video via Twitter or find more information here.
Let´s talk food systems!
Food for Talk took place in 10 different European countries: Italy, Latvia, Serbia, Romania, Spain, Ireland, Germany, Denmark, Bulgaria and Poland. The voices captured during the visits leave no doubt: people across Europe know exactly what they want their food system to look like! All conversations were solution oriented and commented on aspects such as public food procurement, support for farmers, fishers, producers and the holistic nature of a food system approach:
"A sustainable food system for me is a system that is good for people, providing them with everything they need to eat, but also good for other animals, good for the planet, good for health and good for the climate."
– Maciej Józefowicz, Member of Kooperatywa Dobrze in Warsaw, Poland
"We need policies that support local food economies and direct markets for local food producers and farmers."
– Davie Philip at Cloughjordan Community Farm in Tipperary, Ireland
"We would like to see a much more ecosystem based management of fisheries, looking at the impact of fisheries on the whole ecosystem from the bottom up."
– David Lange at Thorupstrand Kystfiskerlaug, Denmark
"Free access to healthy food in public school canteens is essential especially for children from vulnerable communities, who without it would be at risk of hunger and dropping out of school."
– Claudia Ranja from Slow Food Târgu Mureș, Romania
The participants also received a series of info-comics to inspire their discussions. Following the path of a carrot through its food system, the comics touch upon the obstacles (agro-industrial lobby) and solutions (agroecology) for a just transition. The info-comics are available in 14 different languages and raise awareness for the need of a food system transformation.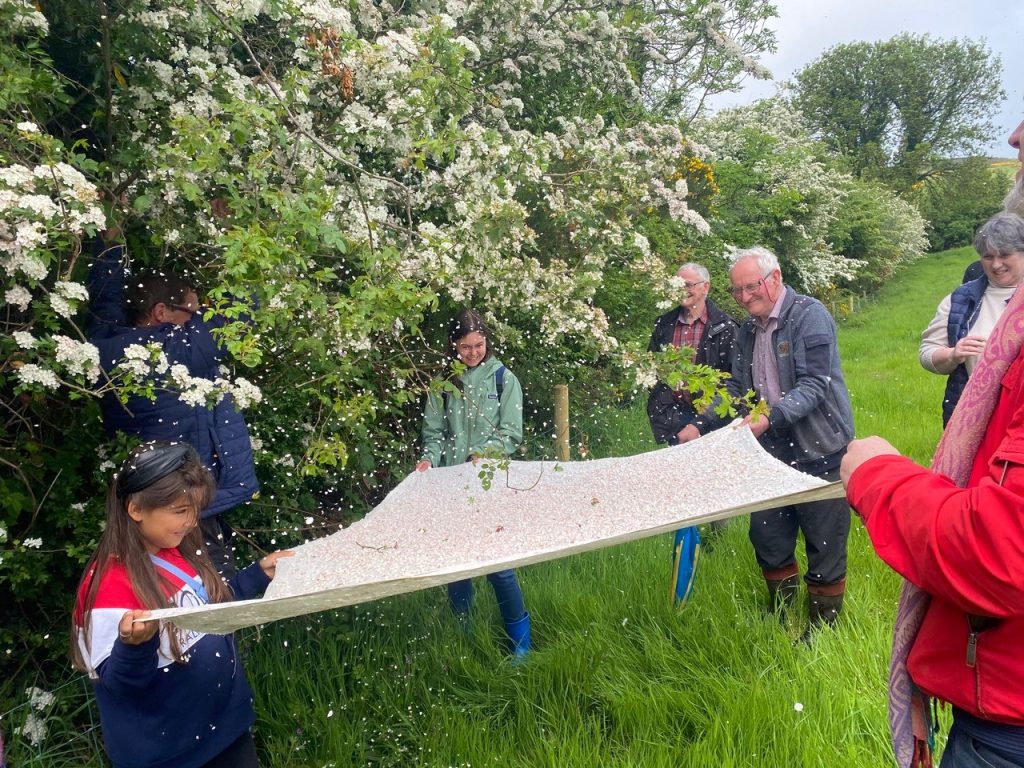 The EU commission's time is running out
A first proposal for the Sustainable Food Systems law is expected in the fall of 2023. With their action, the Good Food Good Farming movement underlines the need for an ambitious law and urges the EU Commission to deliver their proposal in time. Timing is key, as the government in Brussels has to translate its Green Deal promises into law before the upcoming EU elections in 2024.
However, despite the many calls for a timely proposal from civil-society, EU Commission officials have refused to confirm the long-awaited publication date in September (source: POLITICO). A recent pushback from the Regulatory Scrutiny Board has caused further uncertainties on the SFS's timely publication. Thus, now is the right moment to demonstrate support for the SFS proposal and defend the legislation against conservative lawmakers who are attacking Green Deal proposals. As Food for Talk shows, European citizens are waiting for change. They are counting on the Commission for a strong law – based on science and social needs – to defend our food system from industrial, toxic practices and ensure healthy, affordable and sustainable food for all!
For more information, reach out to:
Wiebke Beushausen, Good Food Good Farming Campaign Coordinator, beushausen@goodfoodgoodfarming.eu
Mia Mancini, Good Food Good Farming Communications & Networks Officer, mancini@goodfoodgoodfarming.eu
More on Sustainable Food Systems
Meet the Movement Linking Civil Society with Philanthropy for Food System Transformation
COP26 | Corporations Team Up With CSOs To Push Big Data Solutions For Sustainable Food & Farming Systems
"It's More A Call To 'Armies' Than Arms" – Interview with Pat Mooney, Lead Author of 'A Long Food Movement'