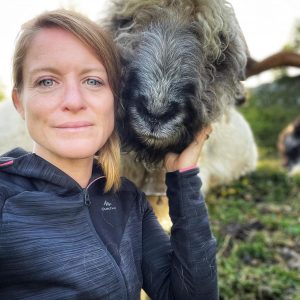 We humans are beings grounded in the earth, or 'humus'; when we move a herd across ground, it's described as 'transhumance'. Twelve years ago, Claire Jeannerat had never heard of that term. Now the transhumance is the pinnacle of her family's farming year, bringing with it a seasonal shift in their home life. With the summer transhumance behind them, the Swiss Shepherdess sits down to catch her breath. Claire reflects on why her family has chosen to practice traditional pastoralism, and to embrace the magic, the symbiosis and the sacrifices of this way of life.
You may be wondering, why in this modern world, with its challenges, and in the small country that is Switzerland, with little space, do we still practice such an ancient tradition as the transhumance?
Well firstly we don't have trailers or trucks big enough to transport all our flock. Our biggest trailer fits a maximum of 40 – 50 sheep. Renting or contracting transport costs a small fortune, particularly when moving as often as we do. Working that way would mean splitting animals up into lots and multiple trips back and forth. We have tried it in the past, but it ends up taking just as long as moving by the flock by foot, but with considerably more planning and much less enjoyment.
From the day we leave the farm in spring (around the end of April) to start grazing in the village pastures, to the day we return to the farm in winter (come the first snow in early December), we are almost in constant movement, changing pastures every couple of days. Mountain pastures aren't always so big and are very rarely joined one next to another. So, we move from pasture to pasture by foot, in a game of snakes and ladders, making our way slowly but steadily up the mountain, following a patchwork of grazing, edging slowly towards the ultimate prize: the alpage.
We call the big journeys of 25 – 30 kilometres in June and October the summer transhumance and the autumn transhumance, but we are in fact nomads for at least eight and, if we are lucky, nine months of the year. Our goal is to keep our animals grazing on grass until the arrival of the first snow and the start of winter.
Some shepherds in Switzerland also practice a winter transhumance [a horizontal transhumance – see Claire's explainer below], meaning they will constantly move all winter, in order to keep their animals grass grazing all year round. It is my husband's dream to do this as well one day too.
Secondly, moving the animals by foot is something we are passionate about, not only because it keeps the traditions and heritage alive, but also because it's natural. It is a privileged moment between shepherd and animal, an experience like no other. Both parties know what is expected of them, coming together as a team, walking towards a common goal in symbiosis. A moment where the bonds of trust and understanding are paramount and evident. It's physically and mentally challenging, but exhilarating. That sense of achievement and satisfaction when you reach the new pasture with the animals is second to none. Leading the herd by foot is the pinnacle of the hard work you have put into their wellbeing. That sense of pride when they recognize you as their leader, and look to you for guidance, ready to follow is second to none.
Like many things in life it's about teamwork. Ideally you need to have a person or people responsible for 'bringing up the rear'. This means making sure all the animals are following, there are no casualties, stragglers or strays. I also enjoy following the flock, having the opportunity for a different view point. From the back, you can see the bigger picture, which being in the front doesn't always allow. Watching as the group of animals disperses for a furtive forage, only to regroup mere seconds later. Metaphorically it's like a breath of fresh air. And quite literally too: the wave of movement reminds me of lungs, in one fluid action, expanding to take in a breath, and then condensing as the air is expelled, all the while remaining intrinsically connected. It's a very special encounter you never forget, and it always leaves you longing for more.
There is also something powerful and humbling about moving animals by foot, and participating in the transhumance. It gives me a sense of gratitude and happiness to keep this ancient tradition alive. Knowing that you are walking the same paths that men and women hundreds of years before you have. It's like you are actively taking part in a piece of living history.
For me, the transhumance really represents who we are, and how we farm, a foot in both the ancient and the modern world, bridging an ever-increasing separation between both. But it's much more than just one thing. There is also a human element to it that is undeniably magical. Often it throws together a group of people, some who have barely known each other for more than a few minutes. You combine, united by a common purpose, with moments to find your feet as a team. A few volunteers come once, never to be seen again. But most become extended family, bonded by an experience that no matter how hard I try, still remains indescribable!
Arriving at that destination, the satisfaction of knowing that the challenge has been achieved, seeing the animals grazing on fresh grass, makes all the struggles and hard work worth it. Suddenly, your weary legs could jump for joy. I defy anyone not to have a smile on their face watching this moment. It is like nothing I had ever experienced before. Beautiful, incredible, challenging and tough in equal measures. Quite often, the mix of Mother Nature, modern life and sheer exertion pushes you to your very limits. Yet we would do it all again in a heartbeat. The nostalgia kicks in almost as soon as the adventure is complete.
Finally, the transhumance helps regions and people to conserve a local identity in an ever increasingly globalized Earth. Not only are there tangible reasons to keeping this tradition alive, there is also a great potential for cultural, ecological, and educational purposes, creating interest and increasing awareness [see at the end of the article].
Where the journey takes us
Our transhumance is across the valley, from one mountain to another, and covers a distance of 25 – 30 kilometres. We do this journey twice a year, once in preparation for the summer season in early June (leaving to the other mountain). And once again in autumn, around the end of October/early November, for the return journey to home territory.
For us, the buildup to the transhumance is all consuming, incredibly busy and full of excitement and anticipation. There is much work to do to prepare for this big occasion: lambing, preparing the animals (putting the bells back on, deworming and hoof clipping, shearing the wool), constantly checking the weather and grass growth at altitude, transporting all the equipment and supplies needed for the season, as well as preparing and transporting the accommodation for the alpage season.
And in preparation for the actual day itself, making sure we have a competent team of volunteers for the journey, organising the logistics – road use and timing with local authorities and the police, transport for any animals unable to continue the journey, the food and provisions for the volunteers and setting up pastures for rest stops along the way, the list is endless. The alpage is the highest mountain prairies, where the animals can graze freely on the best grass the land has to offer, under the watchful eye of their caretaker the shepherd/shepherdess, who will live with them permanently during this season. This is where the animals will reach their peak physical condition.
Damien, my husband (aka the shepherd), will live with our flock of sheep and livestock guardian dogs (LGD) between a caravan and a mobile shepherds hut (transported to a remote area by helicopter) on the alpage, from June to November. His job is to guide the flock to pasture and work with the LGD against attacks from wolves and other predators.
This year he will have 400 sheep, over 120 lambs and 10 livestock guardian dogs (two of which are puppies in training) and three sheep dogs with him. Orzival, the alpage where he and his "community" reside, during these months, is a well-established area for wolves, with a pack of up to 12 spotted in recent years. To reduce the risk of predator attacks, the shepherd will set up a night pasture where he will steer the flock back every evening, once the day's grazing is complete.
The night park is set up on a patch of grass close to the shepherd's accommodation, with temporary fencing. Wolves attack at night. Keeping the sheep in the fencing prevents individual animals from wandering off, making themselves easy pickings for the wolves. This considerably helps the livestock guardian dogs with their task of protection. The dogs mainly act as a deterrent to any predator by barking at usual sights, smells and sounds, warning them off from coming near the flock. Unlike many shepherds, we are also farmers: the sheep that graze on the alpage are our own. In many cases in Switzerland, the shepherds on the alpage do not own the sheep, goats or cows that they tend to, but have been employed by a farmer for the summer months to watch over the animals, as often summer grazing is far from the farm or home.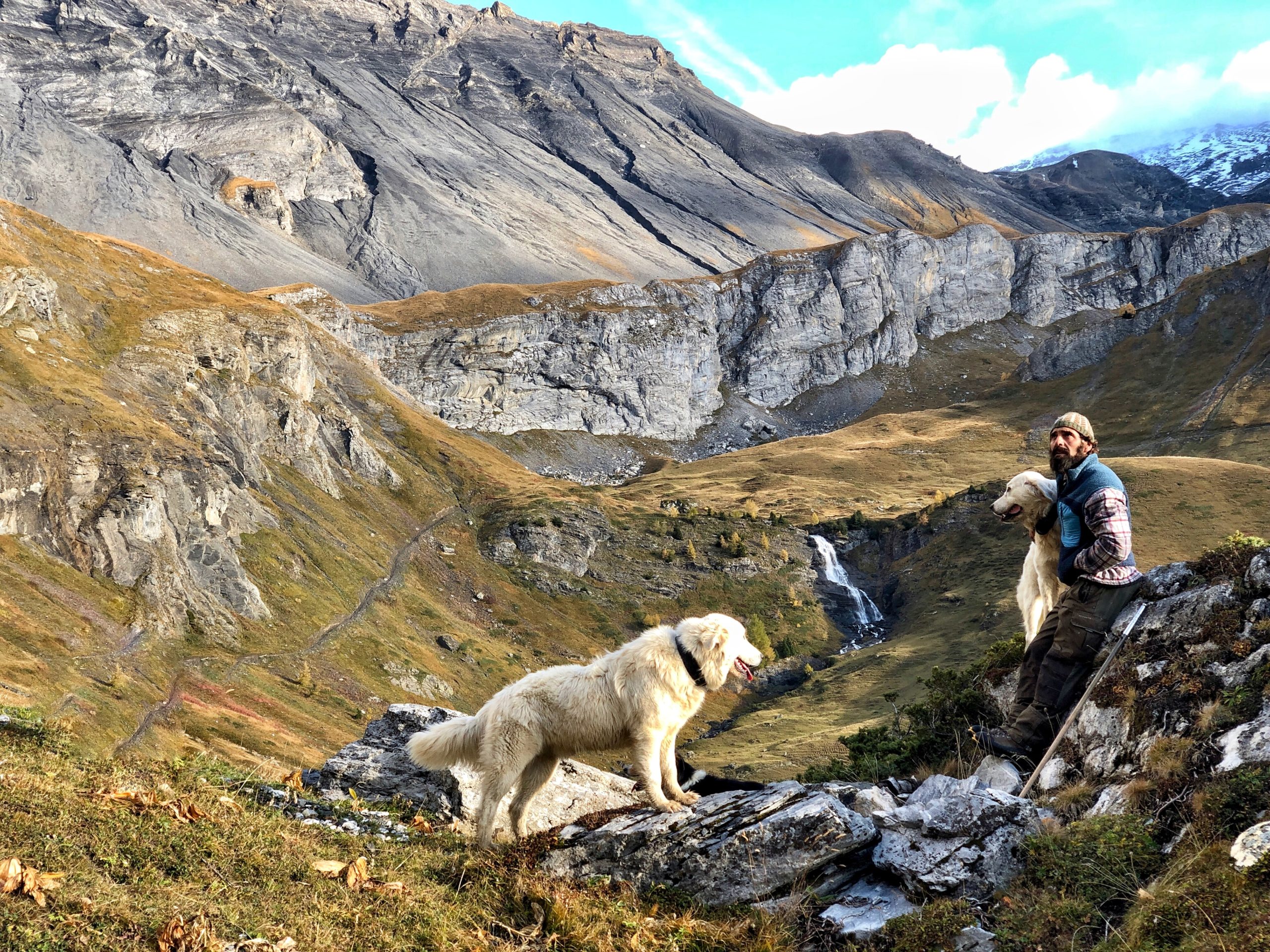 Way of life
The shepherd's permanent presence during those months is essential, but it also means a considerable change for our home life and family dynamics. His absence is felt by all of the family, be it as a father, husband or work partner. There is always a period of adaptation to the new 'norm'. The kids and I visit Damien as often as we can to regroup and recharge as a family. But the shepherd will not sleep another night in our home until his return with the autumn transhumance at the end of October.
It is a sacrifice that comes with the way of life we have chosen. I say "way of life" because this is not and never will be just a job. For all the hours and hard work this vocation entails, first and foremost it must be a passion. Otherwise, the sacrifices could feel too great. When it's a passion the beauty outweighs the hardship (…only just sometimes), and if it doesn't, well it's not the right choice for you.
"Way of life" is the only way of describing it, as there is little to no separation between your private life and your work. Often, we work as a family and everyone has their role to play. The kids learn to help out as soon as they are able to, be it at home or on the farm. They experience early on the joys and heartbreaks of life and death, and most quality family time is spent amongst the animals.
And if you asked me my favourite way to spend my down time, I would have to say, in all truth: with my family around the animals. It's where I feel happiest, without a doubt.
---
Explainer: What is transhumance?
I am aware that a number of readers may not know what transhumance is. Twelve years ago, I would have been in the same situation as many of you. Transhumance is the seasonal moving of livestock from one grazing ground to another, this journey can take days and cover numerous regions. There are generally two types of transhumance: horizontal, which travels across territories, and vertical, which is more typical in mountainous areas such as ours and involves a movement up and down mountains. Typically, a vertical transhumance will be from the lowlands in winter to the highlands in summer. Grazing in the cooler higher elevations in the summer preserves the lower elevation and warmer pastures for the autumn/winter. Thus, returning from the highlands to the lowlands as autumn sets in, making the transhumance a bi-annual event. The transhumance of livestock has represented a vital strategy for managing livestock in environmental variability.
In many ways it can be likened to rotational livestock grazing. In simple terms, a transhumance can be described as a form of migration. Born from the constraints of seasonality and the need to avoid overgrazing, it is one of the oldest practices of pastoralism in the world, one that has existed since Neolithic times. The main benefits of transhumance, in particular the vertical transhumance, are the wellbeing of the animals and environmental sustainability. In 2019 UNESCO inscribed the practice of the transhumance on the "Representative List of the Intangible Cultural Heritage of Humanity", an initiative led by Italy, Austria and Greece. UNESCO has now officially acknowledged its uniqueness, as well as its cultural and environmental importance.
Transhumance creates bonds and connections between people, animals and ecosystems. It encompasses a multitude of knowledge; sharing social practices, rituals and history, the pastoral care of animals, the management of environmental resources (land, water and forest), awareness and understanding of the ecology and climate change, all of which would be lost with its disappearance. If managed correctly, this practice remains of great importance for the conservation of ecosystems and biodiversity.
It is also a form of nomadism which is sadly a dying tradition, practised less and less these days as life becomes more fast-paced and green pastures give way to residences and roads. In some cases with great economic and cultural cost to certain communities. This being said, it is still possible to find a form of transhumance represented on each continent of the world.
---
More Letters from the Farm
Letter From The Farm | Watching, Waiting and Knowing When To Help
Letter From The Farm | Cresting the Peaks of Constant Change
Letter From The Farm | Learning from a Campesino Family in Cuba
France | Meet The Farmer-Bakers Proving Their Skills – part 2