Soup & Talk – an event that celebrates food and farming changemakers all over the world – takes place on Saturday, January 21 from 4 – 7 pm CET. People working for fair and ecological food systems will present their successes, struggles and ideas in 5-minute interventions at the Heinrich Böll Foundation, Berlin. After two years as an online event, it is possible to join Soup & Talk 2023 either in-person or via the livestream, with simultaneous interpretation in English and German.
Socially just food system transition – Practical ways forward
This year, demonstrators at the We are fed up (with agri-industry) rally in Berlin will unite under the motto "Good food for all, instead of profits for a few!", and call for a socially just agricultural and food transition. Directly after the demo on January 21, Soup & Talk is the place to warm up with food waste defying soup made from wonky vegetables, and to talk about practical ways forward in food systems transformation. In 5-minute turns, participants will present what they have already achieved or are currently starting, how others can participate, and what is next for farming, eating and sharing.
The programme for Soup & Talk 2023 is brimming with inspiring people and their projects, including a milk collective of the landless, farmers against facism, a network working for the acceptance of queer people in agriculture, an organisation helping new farming entrants earn a living from the land, Zimbabwe's first school for agroecology, and much more.
Soup & Talk 2023 takes place on Saturday, January 21 from 4 to 7 pm CET at the Heinrich Böll Foundation, Berlin. The livestream will be available at this link. 
In anticipation of the agroecological party of the year, ARC2020 highlights five presentations to look out for at Soup & Talk 2023. 
16:19 CET | La Via Campesina: Young farmers go to the FAO
Worldwide, the agri-food sector struggles to maintain and attract young people. Young people can be agents of change in food systems transition, but they need support in order to have decent, fairly remunerated work that contributes to social, economic and environmental well-being. The Food and Agriculture Organisation and the High Level Panel of Experts on Food Security and Nutrition have dedicated reports to the place of young people in food systems transformation, and in the EU, there is much talk of the extra CAP subsidies for farmers under the age of 40. But what more can we do for our young farmers? At Soup & Talk 2023, Tyler Short, a member of the youth component of Via Campesina North America, will talk about his work campaigning for the participation of young people in agriculture and food systems. 
17:41 CET | Arbeitsgemeinschaft bäuerliche Landwirtschaft Mitteldeutschland (AbL): Land for whom? Fair leases!
It is somewhat of a paradox that trends of depopulation and barriers to land access co-exist in rural Europe. In many countries, including Germany, farmers and new entrants struggle to afford high land and lease prices. One possible solution is through new forms of fair leasing. AbL (the German member of Via Campesina) campaigns for a public welfare-oriented leasing practice. 
17:59 CET | Rechtshilfebüro – Lützerath:  Lützi forever!
Hear from frontline activists fighting for the coal to remain in the ground beneath Lützerath. A decision of the German government to allow energy company RWE to expand operations means this village in North Rhine-Westphalia is set to be razed so the lignite underneath it can be extracted. Lützerath has become a key focal point in a David vs Goliath battle for climate justice. 
18:05 CET | Stop Gene Drives: Gene Drives? Voices from 5 continents
Gene drives are self-replicating genetic chain reactions designed to manipulate or eradicate entire populations and species. The Stop Gene Drives campaign calls for a global moratorium on the release of gene drives into the wild. This is an important conversation to pay attention to with the European Commission due to table a new legislative proposal on gene editing rules in June. 
18:47 CET | BROT-BRÜCKE Ukraine: Bread bridges to Ukraine
Since the start of the tragic war in Ukraine, bakeries all over Germany have been delivering durable wholemeal bread to families in Ukraine through the BROT-BRÜCKE (Bread Bridge) campaign. As a result of the destruction of homes and vital infrastructure, many people in Ukraine are unable to meet their basic needs, including for shelter, food, water and medicine. The delivery of assistance is difficult in many parts of the country due to ongoing conflict and the lack of safe humanitarian access. The UNHCR expects the needs inside Ukraine to "remain enormous" in 2023.
For more information on Soup & Talk, including the full programme, and Wir haben es satt! visit the website. Soup & Talk 2023 takes place on Saturday, January 21 from 4 to 7 pm CET at the Heinrich Böll Foundation, Berlin. The livestream will be available at this link.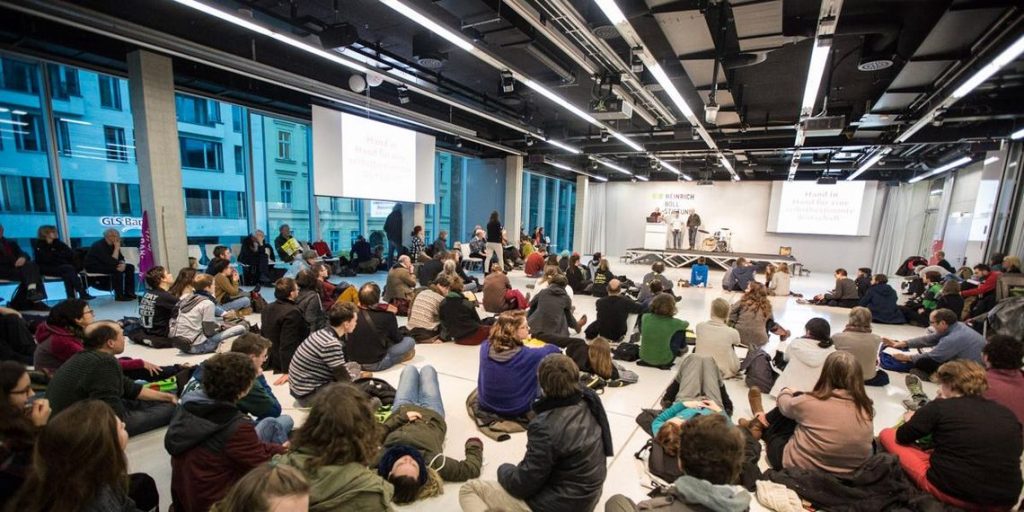 More  
Soup and Talk 2021 – Tell the World about Your Good Food Initiative!
WHES2020 | 27,000 Take to Berlin's Streets for a Better Farming and Food System
Beets, Beats and the Fight for Better Bites – Berlin Rocks this #WHES19 Weekend