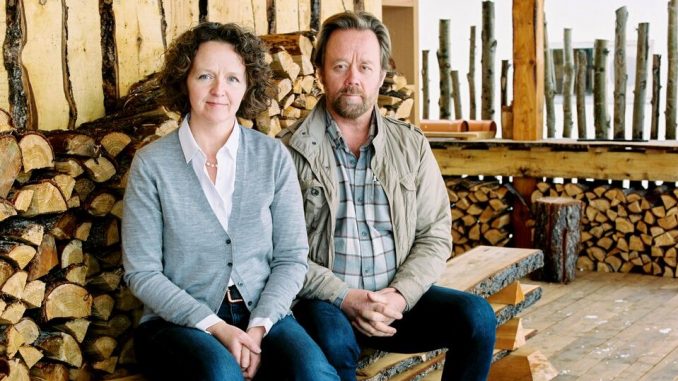 Welcome to Mother Earth – Móðir Jörð – an organic farm in Vallanes, East Iceland, where people have lived and farmed since the 12th century. Here, Eygló Björk Ólafsdóttir and Eymundur Magnússon grow grain and vegetables, and cultivate local food culture in their on-farm shop and café.
The couple are in many ways ahead of their time. In the seventies they helped bring back barley at 66°N. In the eighties they got started on planting one million trees on the farm. In the nineties, their farm was one of Iceland's first to be certified organic. Now, with the season of the midnight sun almost upon us, Eygló shares her first letter from the farm.
In Iceland we celebrate the arrival of summer around the 20th of April according to the old calendar. This date does not in any way guarantee the arrival of this fertile season and this year it turned out to be snowy.
However the first day of summer represents increasing bird populations as many of the birds migrating to Iceland for nesting have arrived by then, such as the geese, the puffin and the European golden plover (Lóa).
The days are getting significantly longer. In May we enjoy 24 hour daylight lasting until mid July. With as little as 4 hours of daylight in the wintertime, the bright summer nights make up for the dark winter. In spite of the generally harsh climate the energy and light in the spring and early summer are every year an adventure for us natives. Not in many countries can you enjoy gardening or go horseriding at midnight!
Watch them grow
Herbs protected in our polytunnels grow fiercely in this period, so fast you can almost watch them grow. More experienced plants out in nature, like the native Betula tree, wait until it is safe from frosty nights. We grow our vegetables outside and the season is short and unpredictable. Slow and concentrated growth is said to give more nutrition and flavor.
But produce coming from our organically grown soil has something extra: there is a certain sweetness in the flavor of our vegetables. Icelandic soil is volcanic (Andasol) and East Iceland is the oldest part of Iceland.
We have been fortunate with our land. The farm sits a sheltered valley, while at the same time we are almost at sea level. Add to that a glacial river system which has deposited minerally rich soils, and a layer of volcanic ash from the Katla eruption in 1918. All of these factors combined provide very good natural prerequisites for farming and our farm is protected by forests and rivers in each direction. This year we have completed 25 years of being certified organic.
Bringing back barley
At this time of the year we are doing general preparation for the summer, preparing the soil, sowing, planting out etc. Our biggest crop is barley, a plant that was brought to Iceland soon after the settlement in the 9th century. It disappears due to a cold period for a while, comes and goes, but is finally brought back in farming in the mid eighties due to the enthusiasm of a few farmers like my husband.
We supply shops and restaurants in Iceland with a range of barley products that we market under our own brand Móðir Jörð. We take on the whole process, from growing it to marketing and distribution. By definition barley is a superfood which plays a significant role in our farm café where we use our kitchen to introduce different recipes of vegetarian dishes to the public. We have taken on food processing as well and market around 20 different products based on this powerful wholegrain.
Our vegetables also tend to end up in jars. We have found food processing to be important not just to prevent waste but also to grow the farm and create consumer interest, apart from the fun of creating tasty products.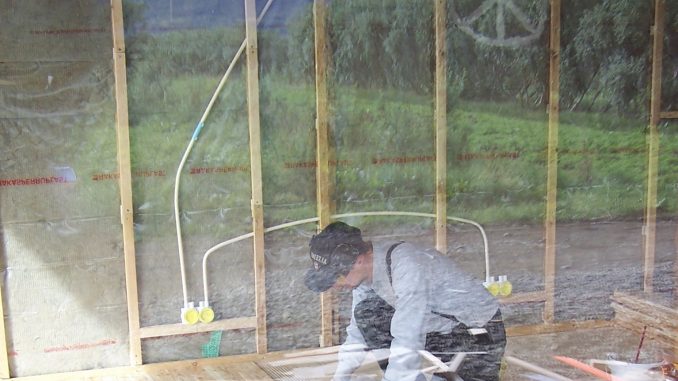 One million trees
The café brings us to the role of our forest. In Vallanes we have planted 1 million trees. Shelterbelts with rows of aspen, pine and willow surround our fields to protect the crop from the wind and cold. They shape the farm and tell the story of reforestation in Iceland which started in the seventies and now gives an obvious fruit.
We built the café in 2016 with aspen trees that were planted in Vallanes in 1986, and it is still the first proper house where Icelandic wood was used as the main building material and certified as such. The interior, floor and furniture are all made with our own wood, and the interior design and craftsmanship done by locals.
Natural and elegant in design, the Aspehouse is now our centre where we can share our food with family, staff and guests and be hands on in preparing the food we grow. Chefs can now visit and taste our products any time of the year but it also gives us opportunities to create events where farming meets culture.
Local cuisine
In this food project our approach is to be as loyal to the idea of "local cuisine" as much as we can. While offering a plant based menu, it is surprising how little needs to be brought from the outside in a local vegetarian restaurant at 66°N. We grow and forage around 100 different types of plants and herbs; our shopping list contains hardly anything beyond dairy products and coffee.
With a disciplined approach to cooking, we train young chefs that join us in the summer to look at and experiment with what is in season, what is in front of them. Replacing sweet potatoes with yellow Icelandic turnip, and skip the avocado for once in their life is fun and delicious, just with a bit of training and focus on seasonality and local ingredients.
We are looking forward to the coming season, in spite of the thin flakes of snow that I am looking at out the window. In the weeks ahead there will be a race, sowing our barley, rapeseed and the experimental crops hemp and fava beans by May 20th. Work hard and don't keep all the eggs in one basket has to be our motto, and to enjoy the ride.
More letters from the farm
Letter From The Farm | Freedom, Forgotten Places And The Future Of Farming
Letter From The Farm | Rasputin The Ram & The Ethics Of Lamb For Easter Dinner
Letter From The Farm | Three Years In: Realism And Planning For Utopia
Letter From The Farm | A Conscientious Objector to the Meat Industry
Letter From The Farm | Half The Price Of Your Food Is Paid By The EU
Letter From The Farm | The Resilience and Privilege of a Rural Homestead
Letter from a Farm | Saving Carrottop – the Life of a Cow in Mayo