Street Goat is a new urban farming project that grazes goats on disused land around the city of Bristol, UK. Run by a 20-member community cooperative, it provides local people with sustainable, healthy milk and meat, while helping to recover overgrown land for horticultural use. Ursula Billington reports.
Viral videos were a feature of many locked-down lives in 2020, and a candid local news clip captured the imagination of the UK earlier this year: a wild Kashmiri goat herd, emboldened by the deserted streets of lockdown, trotting into Llandudno in north Wales and making themselves at home in the town. Roaming the streets with wild eyes askew and tongues lolling, they raised a collective smile from people across the country isolated in their homes.
Now a new project settling into Bristol, in south west England, is making those remarkable scenes from locked-down Wales a part of the urban everyday: take a stroll around the city – the largest in the region with a population of almost 700,000 – and clusters of goats pop into view grazing pockets of disused land and municipal allotments.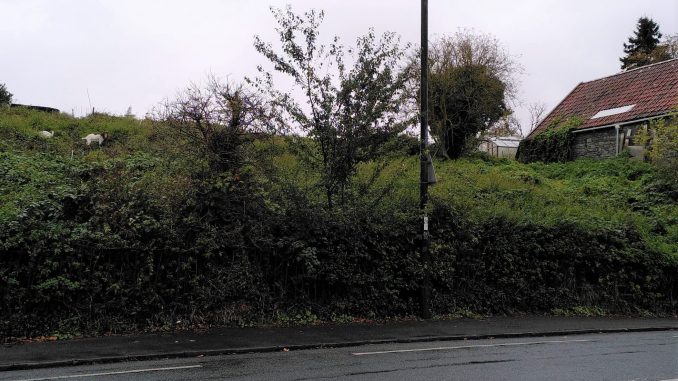 Street Goat is a thriving urban agroecology project producing sustainable food. The first goats arrived on an abandoned allotment site just 3 miles from the city centre, following a fruitful community engagement and crowdfunding campaign in 2016. The purpose-built roundwood timber milking parlour was sourced from local, sustainable woodland. The project has been transformative.
The original Street Goat concept focused on turning disused land into productive space: bringing goats in to clear scrub, improving sustainability whilst providing a workable model for non-intensive urban dairy production. The team hoped to encourage engagement in farming by exploring innovative ways to integrate these activities into city life. The unfolding project revealed that goats bring a myriad of benefits to the urban setting. Their playful nature amuses and endears in equal measure – as members Bex Ashton and Simone Davis attest.
"Goats are approachable. They greet you and want attention. They have interesting characters," say Bex and Simone. "They're cheeky, stubborn, really funny; and they're smart. They're lovely animals to work with, even when it's hard work."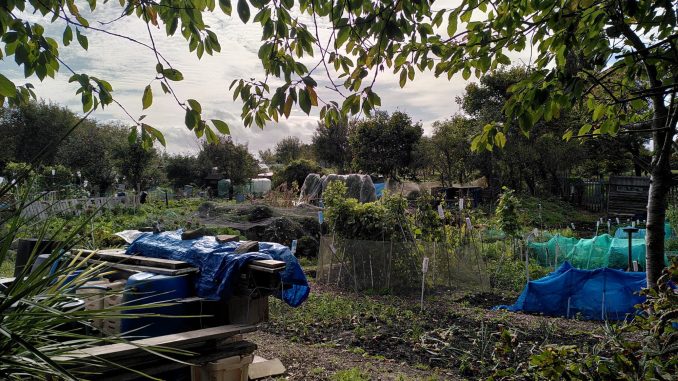 Reimagining a city
Simone Davis found her initial curiosity in the project turning into more of a lifestyle shift. Her interest arose from concern for the environment and questions around ethical food consumption, particularly the poor conditions of industrial dairy farms – but now:
"I know where my milk's coming from, I've worked for it, it's raw and I believe there are health benefits to that. I don't have to buy processed milk that's unethical for the animals, there's no packaging – all this appeals to me."
But she found there's far more to it than that. Connection with the animals brings a sense of perspective that might otherwise be missing for a typical urbanite:
"Waking in the winter at 7am, it's pitch black and freezing cold, but when I'm milking and leaning my head against the warm belly of a goat – then it's worth it! I watch the sunrise and it grounds me."
Street Goat is a cooperative. Members pay an annual fee for a milk share, then book milking shifts in on a weekly basis to suit their schedules. Herein lies its glory: many Bristolians dream of adopting land-based lifestyles but love the city. A pragmatic model based on shared responsibility and workload enables the best of both worlds. It's farming, first and foremost, but structured to fit with an urban style of work, play and social life: "Owning a goat is a huge commitment, the animal needs you twice a day without fail. But being part of a coop, it's possible to live in an urban environment and you don't have to be a farmer every day," explains founding member Bex Ashton.
It's a way of reimagining a city, making it happier and healthier for people and planet, with greater food sovereignty and environmental connection. It brings the benefits of rural life to the culture and opportunities of the urban environment. But that doesn't mean involvement is a frivolous affair: animal husbandry is a serious endeavour. The Milkers' Agreement states the project is 'not a petting zoo' and workshops teach butchery, skin-stretching and tanning hides.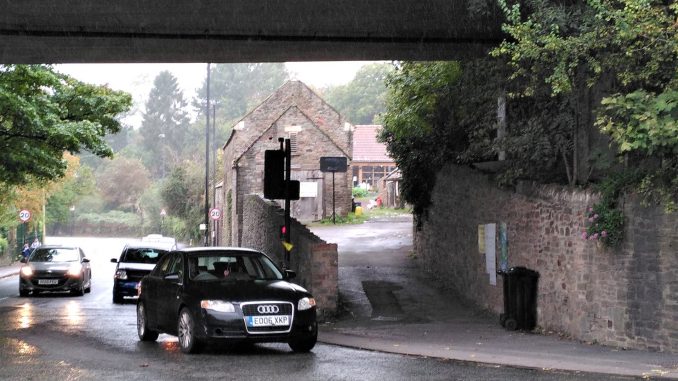 Full community involvement
The original group found learning together strengthened members' commitment, and choosing a non-hierarchical model has been beneficial: "We're sharing the responsibility. It's completely outside of any other organisational structure because it's all of our responsibilities, with these lives at the centre of it. It's what ties us all together."
Building relationships has always been central to Street Goat, whose ethos is full community involvement. Local support was instrumental from the outset. The City Council was supportive, keen to uphold Bristol's reputation as a 'green city' and backing the valuable use of otherwise unworkable land. The regional Wildlife Trust took on grazing goats to encourage wildflowers, maintain limestone scree and increase biodiversity and grassland habitat. Goats are helping to clear land at the Bridge Farm eco-community. Grazers will soon be employed to maintain land around wind turbines.
Founding member Carol Laslett leads on the grazing aspect: "The land is being managed in line with sustainable, resilient principles which bring levels of benefits, much more than machines. It takes longer but is gentler and more sympathetic to the surrounding area. There's a lot of community benefit, opportunity for education and huge benefits to the environment."
Carol is also instrumental in the Meat Goat arm of the project, explaining that meat production is integral to the sustainable farming model given few billy goats are needed for breeding purposes: "We take a waste product of the dairy industry – the male kids – raise them on waste or wild land for conservation grazing, give them a good life for 9-18 months, and then they become a food source."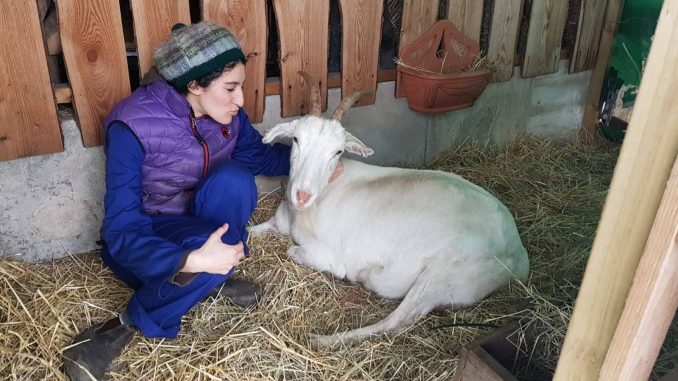 "Know it's possible, take a risk and throw yourself in"
Challenges are so far a sidenote in the life of Street Goat and its popularity is on the rise. This year Bex, in her day job at one of Bristol's two city farms, saw a boost to food growing; from there she anticipated an increased interest in Street Goat: "We've never seen that many people on their allotments. We sold more seedlings than ever before. We felt, people are going to want a connection, a green space to go to. We predicted it." Now UK estate agents are reporting record levels of interest in rural homes from city dwellers looking to escape the concrete jungle for the countryside; whilst those at home in the city seek a greater connection to environment and community. A wave of enthusiasm for the project has resulted in three new sites being established around the city this year.
Street Goat are currently working on blueprint resources for other cities inspired to boost their green credentials with goats. The model is financially sustainable, the interest is on the rise and the tools are simple. Simone is enthusiastic about the potential for much more grazing in our cities: "Know it's possible, take a risk and throw yourself in!"
And, if any urbanites need a little more encouragement – with goats, it seems, there are endless ways to inspire. Simone introduces the concept of goat yoga: "It's outdoor yoga with little kid goats jumping on you – picture people doing downward dog surrounded by goats on top of them. It could be coming our way in Bristol!" Or, perhaps, to a city near you…
More on Agroecology in the UK
UK | RSA Report finds 'Our Future in the Land' should be Agroecological
More on Urban Farming
Urban Farms Won't Feed Our Cities, But They're Still A Great Idea