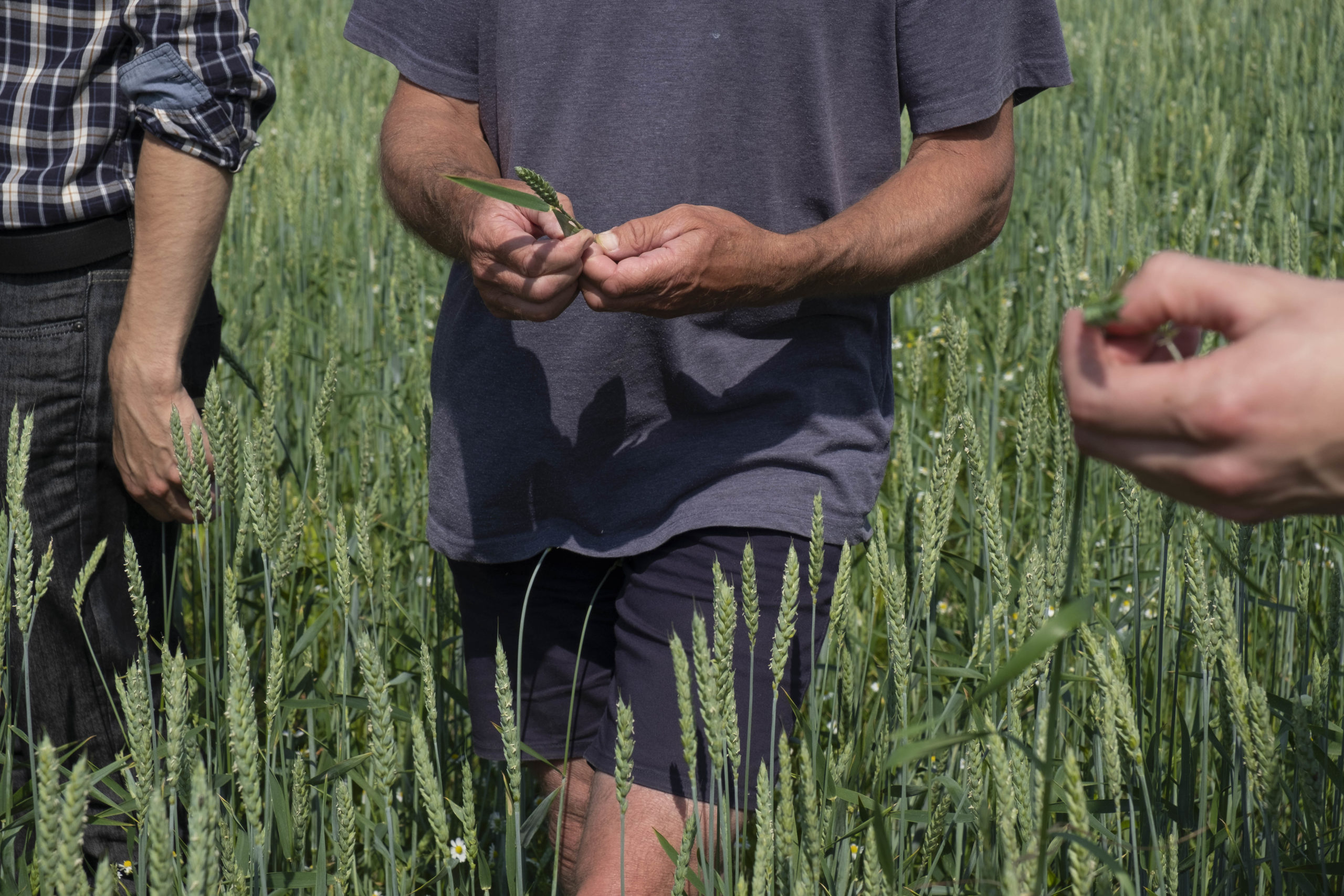 It looks set to be another stimulating start to the year for real foodies and regenerative farmers as the Oxford Real Farming Conference, "the largest gathering of the agroecological movement on the planet", returns from 4 – 6 January 2023. The packed programme encompasses food sovereignty, nature-based land work, ancestral knowledge and climate justice. To whet your appetite for the days ahead, UK-based writer and environmentalist Ursula Billington highlights 16 sessions to look forward to at this year's ORFC. 
The Oxford Real Farming Conference's (ORFC) first online edition in 2021 was borne of necessity, but it enabled the event to expand significantly with access to expertise, perspectives and audiences from around the world. This year's hybrid event welcomes both in-person attendees and virtual audiences, with over 500 speakers from 130 countries taking part.
The programme offers a heady mix of sessions exploring overarching themes of reconnection, healing and cultural transformation, and deep dives into scores of interests that seed the movement: insect life, forest communities, heritage baking, carbon markets, mycelium, seed saving and so much more.
There's a continued focus on social justice, embodying the underlying principle of strength in diversity; and a spotlight on the youth arm – supporting the next generation of agroecological farmers and envisioning a future of positive change.
Last year's conference ended on an uplifting note, with a reinvigorated movement forging hope from solidarity. But 2022 brought new challenges. The war in Ukraine put agroecology on a back foot as some European policymakers sought to roll back progress in a misguided approach to food security concerns. Cost of living crises put pressure on small-scale producers and bolstered the heavily-subsidised industrial food system. The climate crisis continues apace and COP 27 paid inadequate attention to food system transformation as a meaningful solution.
So it seems the ORFC may be more necessary than ever this year, providing the agroecology movement with a vital opportunity to reconnect, exchange knowledge, show solidarity and mobilise for change. 
Tickets are still available for the online programme beginning January 4, with free places on offer for those from Majority World countries. Here's a selection of highlights to whet the appetite…
The Big Picture
1. Reconnecting to Food: Healing our planet and ourselves
Setting a solutions-focused precedent, global grassroots activists introduce initiatives underway to protect and restore local economies, communities and nature. A screening of "Planet Local: A Quiet Revolution",  a film that counters the conventional economic narrative that "bigger is better", is followed by a discussion about how local food projects create multi-faceted positive change for people and planet.
2. In the Name of the Farmer: Vandana Shiva recalls a lifetime campaigning for small-scale farmers
Dr. Shiva reflects on four decades at the forefront of the campaign for farmers' rights, indigenous knowledge and food sovereignty. Attendees should strap in for a dynamic journey led by one of the movement's most prominent living activists and be prepared to leave with an illuminated glimpse of the path forward.
3. Nyéléni Global Process: Working together on people's solutions to transform the global food system and achieve food sovereignty
La Via Campesina launch a new phase of the food sovereignty movement. 25 years after the concept was established, the Nyéléni process aims to galvanise hundreds of thousands of peasants, small-scale landworkers, Indigenous peoples, consumers, NGOs and scholars into intersectional action for system change at local, national and global levels. 
4. From Sri Lanka to Mexico: Government failures and grassroots solutions to advancing agroecological policy
Insights and advice for advocating for public policy that supports food system transformation. A sweeping presentation of attempts to implement agricultural reform, including the democratic food council of Valencia (Spain), the failure of the Sri Lankan government to shift to organic farming, and Mexico's efforts to transform its agri-food system through public policy reform. 
Zooming In
5. Averting the Insect Apocalypse
Invertebrate experts Vicki Hird (Sustain; Rebugging the Planet) and Dave Goulson (University of Sussex, Bumblebee Conservation Trust; Silent Earth, The Garden Jungle) consider the trouble our insect populations are in, why it matters and what can be done. Expect to leave with a practical rebugging plan for food and farming. 
6. Mycelium's Moment: Understanding the growing fascination with fungi
Merlin Sheldrake, author of 2021's hit tome Entangled Life, discusses how these extraordinary beings – a hugely diverse range of organisms that support and sustain nearly all life on earth – change our understanding of the world in which we live. 
7. Living Bread: The way of the peasant baker
Bread is a universal staple food. A peasant baker focuses on local production, working with landrace heritage grains on a small scale. Discover the key elements, equipment and techniques that bring a peasant bakery to life.
Current Affairs
8. Eating in a Time of War: Food crisis or distribution crisis? Analysis by La Via Campesina
The grassroots landworkers movement calls into question the mainstream narrative that the only answers to the global food crisis are free trade and new technologies. Expect international peasant-led perspectives on the impacts of conflict, and solutions that lie in rebuilding local food sovereignty. 
9. Agroecology as a Climate Solution: Grassroots advocacy strategies at COP and beyond
Grassroots activists outline how they advance agroecology with governments as a climate resilience strategy – where the global industrial food system is currently responsible for over 1/3 of global emissions – and frontline campaigners discuss their experiences at COP 27. 
10. Farms Across Four Nations: Towards a more inclusive UK subsidy system
The post-Brexit shift from area-based agricultural subsidies to those incentivising more sustainable farming practices is a largely welcome one, but the question of small farms' place in the new policy landscape remains. Panellists from England, Northern Ireland, Scotland and Wales discuss subsidy reform in their respective nations and advise on how policy can better support small farmers.
Rural Affairs
11. Young Farmers and Food Systems Transformation: Struggles and opportunities towards a globalised youth response
Hear directly from young people around the world on the challenges they face – including toxic contamination, climate change, land access and ineffective leadership – whilst working to transform food, farming and environmental systems. Digitalisation is often justified as a way to make farming and rural lifestyles more appealing to young people – but is it really what they want?
12. Finding Solutions to the Fertiliser Crisis: Practical on-farm innovation for homegrown fertility
Farmers have long been investigating nature-friendly fertility practices, and the recent price hike of major fertilisers presents an opportunity to expand their use. Here, researchers present the latest data on homegrown fertility methods, including herbal leys, living mulches, composting and cover crops.
13. Strategies for Farmers Markets to Connect Disparate Communities: Building bridges beyond the rural/urban gap
Experience has shown that delivering programmes that build social cohesion makes for better markets, creating a more reliable income for farmers, healthier public places and more inclusive access to good food. Hear more on maximising the potential of these producer-led local food havens from the World Farmers Markets coalition and practitioners from Ghana, Denmark and Canada.
Social Justice
14. Agroecology and Feminism: Transforming our society and economy
Exploring the obstacles marginalised genders face when attempting to build an agroecology movement centred on valuing all life and ending discriminative power relations; and revaluing the 'unseen' work – without which the global economy could not function.
15. Cultivating Belonging: Exploring diasporic relationships to land
A sharing and comparing of diasporic experiences on the land, considering what it means to work the land when our ancestral relationship to it has been disrupted, and how diasporic people can reclaim the role of land stewardship to cultivate belonging.
16. A Journey via Land: Breaking the silence on land struggles in Europe
The European Parliament has acknowledged that land concentration undermines European food sovereignty but policies continues to allow land speculation and commodification in favour of industrial farming. Farmers from Italy, Poland, Belgium and the Netherlands explain their role in the resistance against land-grabbing corporations and why they are fighting for land as commons over commodity. 
More from ORFC over the years
Oxford Real Farming Conference 2022 | New Dawn For Solidarity
Oxford Real Farming Conference 2021 – Eleven Sessions Not to Miss